« The Grumpecuey: all things Grumpecue | Main
November 28, 2005
I'm feeling a bit Japanese
You know, sometimes stupidity happens, and you don't even want to blog about it.
Example 1: deciding that the easiest way to take apart my Niddy Noddy was to hold one wing between my knees, and pull on the other. Evidence of stupidity: Niddy Noddy-shaped welt on my chin. Ow! Example 2: deciding that I desperately need to start knitting a sweater right now, and going forward with this decision… without much any thought. Evidence of stupidity: several balls of frogged yarn.
So, let's take a step back, and while we will not discuss further the odd bruise on my chin (ow!), we will take a moment and talk about sweaters.
I've been on an odd streak of sorts. Look over at the FO gallery on the sidebar, specifically at everything after the orange Filati sweater: Candy footlets, dog bed for Annie's book, cream-colored socks for grandma, Sharfik for my dad, and Grumpecue. In the near future, the secret sewing project, another pair of socks for grandma, and mom's Leaf Lace Shawl will join the FO ranks.
I have a problem – I haven't knit a sweater in forever! I've been stuck in some kind of accessory rut, and it's time to, well, change that.
As soon as this realization firmly set in, I cast on with some soy silk yarn from the stash. No, there wasn't much thinking or planning. I may or may not have measured the circumference of my neck, and I may or may not have written it down in my notepad as 31" (it's actually 13"). Perhaps there was a gauge swatch, maybe not. The whole experience was sort of embarrassing and, like I said, stupidity is sometimes not worthwhile reporting – don't want to give others any "brilliant ideas." :)
But something about the experience was very satisfying, and I feel ready to actually sit down, think, sketch, measure, and knit with some sort of plan in mind.
And what I have in mind is this Kimono-inspired sweater: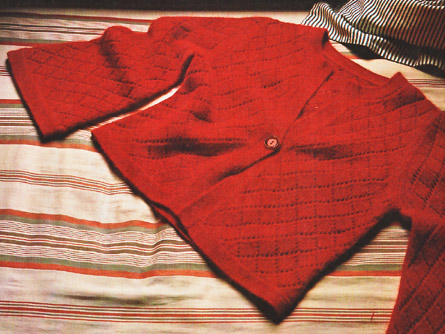 (click here for a mannequin shot)
I don't have to tell you – it's from that store, and I think it's gorgeous. Maybe it's the release of Memoirs of a Geisha as a movie (the book is one of my all-time favorites), or maybe it's my constant fascination with Asian cultures, but this jumped out at me as soon as I saw it. The sleeves are my favorite part, no question about it :).
But this sweater can use some "improvements," so I won't be buying it from the store. For starters angora content is not acceptable to this allergic girl! Also, I'm not crazy about cardigans in general, and specifically cardigans held together in the one place where buttons don't like to meet for me :).
But imagine that same sweater, minus the angora, and as a pullover with what I think is called a Mandarin collar. I'm diggin' it!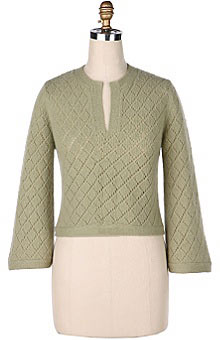 Now, to create (recreate?) the pattern.
The great thing about the Anthropologie website is that you can zoom in pretty close on the texture of this sweater. Check it out!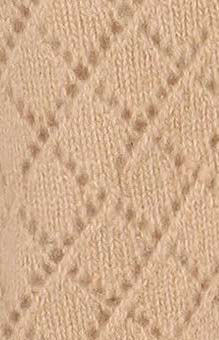 My juvenile lace skills jumped into action, and I came up with the following chart for the pattern. I would greatly appreciate any lace-knitting gurus (June?) checking it for accuracy: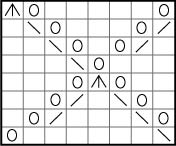 ETA: chart shows right-side rows only. All wrong side rows are purl each stitch. I determined this by realizing that each diamond has twice as many Vs in the vertical direction than in the horizontal direction. Thanks, Emily for reminding me to include that info.
Next I have to pick a yarn and do some swatching. I have three candidates in my stash; all are 100% superwash merino wool, approximately the same gauge: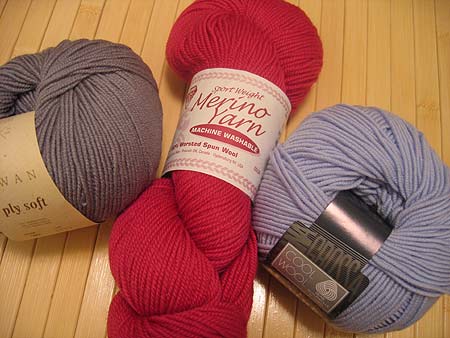 From left to right: Rowan 4 ply soft in Rain cloud, Louet Gems Opal in Crabapple Blossom, and Lana Grossa Cool Wool 2000 in the creatively-named 430.
Which will it be? I would say, "you decide!" but that would be disingenuous. How about, you vote, I listen, but when all is said and done, I decide? :)
ETA: This poll changed the background color of my blog, and, well, that's totally uncool in my book >:( . I tried Snappoll, as someone suggested last time, but that totally messed things up, so we're back to the odd background color. I'll take the poll down eventually, and then things will be back to normal :).
Posted by Kathy on November 28, 2005 06:43 PM
Comments
I adore that sweater and while I love the cardigan, I really like your pull-over version. I agree - the sleeves are indeed the best part!
Posted by: Stephanie at November 28, 2005 06:54 PM
boy, is that one going to be a stunner.
Posted by: eunny at November 28, 2005 07:05 PM
That will be a lovely sweater!
Posted by: Pumpkinmama at November 28, 2005 07:05 PM
Oh, the pullover version will be awesome. Much better than the cardigan. I'm no lace expert, but it looks right. I voted for the crabapple blossom, but the blue will be lovely if you go for that as well. And just keep in mind your mother's shawl will be a greyish color, so if you go with the grey, well, that's a lot of grey.
Posted by: Purly Whites at November 28, 2005 07:10 PM
WHY OH WHY DO I COME HERE! That sweater will be gorgeous and I love the v-neck instead of the cardigan. My boobs don't like the one button thing either.
Here's how you fix the background color: put this in the code right after the code for the polln (with your specifics of course):

It worked for me!
Posted by: Cara at November 28, 2005 07:17 PM
This is hilarious, because I was actually thinking to myself, I like the new background color! Yeah, anyway...
I'm looking forward to seeing your sweater! I think the pullover will be much nicer than the cardi.
Posted by: Laura at November 28, 2005 07:17 PM
Ack - it read it as code. DUH!
link rel="stylesheet" type="text/css" href="http://www.yourblogURL.com/yourstylesheet.css" /
with around it and your own information of course.
That's what I did and it worked for me. Sorry for the double comment.
Posted by: Cara at November 28, 2005 07:19 PM
I love your version of that sweater! The cardigan action, especially when only one button is used to fasten isn't all that flattering on most people.
Posted by: Angela at November 28, 2005 07:24 PM
I'm sure your finished version will look great.
The lace chart looks good, as long as you remember to work the wrong side rows plain (purl). In a lace pattern, you can tell if all rows are patterned or if just the right side rows are patterned by whether there are one or two strands separating eyelets on the diagonal. One strand means that it is patterned on all rows, two twisted strands means that it is patterned only on right-side rows. It looks to me like there are two twisted strands separating eyelets.
Posted by: Emily at November 28, 2005 07:25 PM
Again, I love everything you do. That will be an awesome sweater on you!
Posted by: Teresa C at November 28, 2005 07:54 PM
oh that book is my absolute favorite, too. can't wait for the movie. and i am so looking forward to your intepretation of this kimono sweater.
Posted by: blossom at November 28, 2005 07:57 PM
The color you have in the pullover version isn't technically a mandarin collar. A mandarin collar goes up the neck for about an inch or and inch and a half, and kind of splits in the middle. You can see the more traditional one at http://www.chinatowner.com/storefront/listCategories.aspx?idCategory=22&OVRAW=mandarin%20collar&OVKEY=mandarin%20collar&OVMTC=standard. Another mandarin inspired would be http://www.vermontcountrystore.com/jump.jsp?itemID=29331&itemType=PRODUCT&searchid=inceptor. I like the neckline you've chosen, but I think if you could figure out how to do a true mandarin collar, that would be pretty cool looking too.
Oh, and if you're going for an Asian theme, you can't go wrong with red. Red is the traditional color for luck, wealth, and good fortune. Just don't wear it to a funeral. Bad mojo.
Posted by: Jennifer at November 28, 2005 08:06 PM
I love the new collar you gave the sweater. (And the green background, too)
Posted by: twig at November 28, 2005 08:09 PM
In the minority again....
;-)
Posted by: claudia at November 28, 2005 08:44 PM
Ooh, I saw that sweater in my catalog and loved it! But I ain't got no skillz, so I'll let you make the pattern! :) Please? Pretty please? And post it for all of us?
Posted by: Jenn at November 28, 2005 08:46 PM
I was going to say that it wasn't a mandarin collar but I see that someone else has already said that.
Having worn mandarin collars (albeit on nonknit garments), I vote against putting a true mandarin collar on. They are uncomfortable. But then they scream "ASIAN!" which is another reason that this Asian girl avoids them. :-)
Posted by: Laura at November 28, 2005 09:02 PM
first time to read your blog, I am now learning hard to knit lace shawls.

Posted by: handknit168 at November 28, 2005 09:05 PM
http://members.iinet.net.au/~scotted/Pictures/Clementines_cardi.pdf
this is a kimono inspired sweater you may like :)
Posted by: gleek at November 28, 2005 09:27 PM
Wow - I love the sweater and your take on it. I do hope you'll work your magic and create a clever pattern that you'll have published somewhere so I can make one too! I can't wait to watch/read your progress!
Posted by: Amanda at November 28, 2005 09:36 PM
I love love love that sweater. :) I would buy that pattern in an instant... hint hint hint :) be a brilliant genius and make it in my size too, will ya? :)
Posted by: Korin at November 28, 2005 09:40 PM
I love your pullover version, but I'd kill for a v-neck version...
The sleeves are my favourite part, too. Beautiful, and looking forward to seeing what you create :-)
Posted by: Lee Ann at November 28, 2005 10:01 PM
Let me rephrase that, since a couple of people think that your version actually is a v-neck...
I mean a true, deep v-neck with possiblities for...well...
Cleavage.
I totally blame this tendency on your red yarn.
Posted by: Lee Ann at November 28, 2005 10:04 PM
Do I see a mistake in the middle of the zoom-in pic? There seems to be an eyelet missing.
I can't wait to see your version--I'm sure it will be lovely.
Posted by: Jenny at November 28, 2005 11:06 PM
Can't wait to see what you come up with, as always. I agree with an Asian theme, you can't go wrong with red. don't you hate/love that store? I'm in love with the Origami dress from there.
Posted by: Christie at November 28, 2005 11:41 PM
I love the proposed sweater! With the hint of Asian influence, IMO the red will be the best choice. I will look forward to eventually adding yet another fabulous Grumperina pattern to my files.
BTW, you may already have seen this pattern, but it may offer some additional stitch pattern or other design ideas for the new project. I've got this pattern, and it's on my WIMs list, but of course it will need substantial adjustment to fit a person who weighs over 98 lbs and is rather broad in some dimensions!!
http://www.knitpicks.com/Projects/Projects_Display_Yarn.aspx?itemid=50388220&yarnid=5420111
Posted by: CatBookMom at November 28, 2005 11:48 PM
I voted for the red yarn, in Chinese culture it means good fortune, good luck and prosperity! If you go for a mandarin collar and add a satin sash across the waist, it will look totally Asian :)
Posted by: lyn at November 29, 2005 12:13 AM
I have marked that same cardigan in the Anthropologie catalog... the minute I set eyes on it, I loved it. I thought "someday I will recreate this". So funny that you felt the same way... well, except making it a pullover (which I think is a great idea too!) Can't wait to see what you have in store... I will watch with great interest! ;)
Posted by: Lolly at November 29, 2005 01:42 AM
I love the sweater. Great choice for reproduction.
The lace pattern for the sweater is the same as I used for the pewter lace shawl I just finished. I'll bring the pattern next time I see you.
Posted by: diana at November 29, 2005 06:11 AM
As we say in Milano: cinc ghei pussé ma ross (five cents more, but red)!
Posted by: Alice Twain at November 29, 2005 06:21 AM
I think the sweater looks very "zen". And it would look even more zen in Rowan Rain... see? Even the name is zen. :)
Posted by: betty at November 29, 2005 06:21 AM
When it's done, perhaps you should pose in front of a "Memoirs of a Geisha" movie poster for your FO shot -- maybe get a little parasol in there as well. ;-)
Posted by: Sarah at November 29, 2005 08:34 AM
I don't know why, because I'd ordinarily vote for the pink/red candidate, but I voted for the Rowan 4-ply. It just seems like it would go with a lot of things.
Posted by: Judy at November 29, 2005 08:35 AM
Gotta go with the red.
I cannot wait to see what you come up with, because I know it is going to be absolutely fantastic.
Posted by: Sarah at November 29, 2005 09:13 AM
Oooh -- I really like the way the sweater looks with your planned modifications. It looks like it would be a fun project to do as well.
Posted by: Jennifer at November 29, 2005 09:13 AM
Wow, everyone has an opinion, huh? I voted for the Rowan 4-Ply Soft, mainly because as I read your post I thought how nice that stitch pattern would look in some 4-Ply Soft I have sitting around at home... I've done a similar basic lace like that in that yarn and it was fantastic.
Posted by: J Strizzy at November 29, 2005 09:51 AM
Lace chart looks fine by eyeball, but you'll know it when you swatch it. The closeup *is* missing an eyelet. Isn't this the same (or very similar to) the pattern that Bestitched used for her Pewter Lace shawl?
The yarnovers in thicker yarns are huge - big enough to get fingers stuck in the holes when you put the sleeves on, etc. It's fine for wraps and stuff, but I personally would not knit lace for clothing using anything bigger than a US 3 needle. I'll bet the yarn used in the original sweater is much thinner than any of the 3 you are considering.
Posted by: June at November 29, 2005 10:03 AM
Hi, I'm not sure if I've ever commented on your site before, but I have a thought about the lace pattern. Of course, as June said, you'll know if it's right when you swatch it, but the way you've got the decreases, it would make a much more defined line at the tops of the diamonds. when the line of the diamond slants right, if you use a right leaning decrease like a k2tog, then you get a very distinct line of stitches, but if you use a left leaning decrease (like ssk) on a right leaning line, then it looks smooth and the line of decreases doesn't stick out. To make it smooth without obvious lines in the decreases, the decreases should angle in TOWARD the yo. I don't know if this is making any sense, but like... the second line of your chart would be yo, k2tog, k3, ssk, yo, k1. Your ideas for modification are BEAUTIFUL! and if you make it up I'd love to knit it!
Posted by: Miriam at November 29, 2005 10:45 AM
I love the pullover! Should be very lovely on you. I voted for the Rowan mostly for the color. Can't wait to see how it works up!
Posted by: Melanie at November 29, 2005 11:00 AM
Fun post -- I enjoyed following your thought process. I love your ideas and think you've got a real winner with this sweater. Enjoy the knitting!
Posted by: nona at November 29, 2005 11:10 AM
That is one gorgeous sweater! I like all your yarn choices, but really like the red. Have you seen Debbie Bliss' new 100% silk yarn? It would make a gorgeous Japanese style sweater.
Oh, and congrats on the Grumpecue! I love it!
Posted by: Kristy at November 29, 2005 11:22 AM
My vote goes to the Gems, it's a gorgeous color, I think it'd be perfect for this project. I can't wait to see you get started! I'm digging the kimono look.
Posted by: hpn-ariane at November 29, 2005 11:31 AM
I think you should be able to find that diamond pattern in a pattern book, if you want--I'm sure I've seen it somewhere, I'll check when I get home, see if I can dig it up. Maybe I'm hallucinating. And as for the structure, it looks kind of 50's fab the way you have it mocked up with the mandarin collar, and I do love 50s fab.
Posted by: Martha at November 29, 2005 12:45 PM
To my eye it looks as if the decreases should be leaning in a different direction. Basically, if the line of eyelets are moving left the decrease immediately following should be right slanting, like a k2tog. For the line of yos moving right I would precede the yo with a ssk. Looking forward to seeing how it swatches up and what you decide to do.
Posted by: anmiryam at November 29, 2005 01:12 PM
The style of the red Anthropologie sweater reminds me a little bit of cosmicpluto's Cavern cardi. I would love to see how your lace sweater turns out, because I'm sure it'll be good.
Posted by: Patricia at November 29, 2005 03:30 PM
I think that any of those yarns would be fine, it's just a matter of which yarn will knit at a good gauge AND allow the lace diamonds to have the right shape. Swatch woman!
Posted by: Colleen at November 29, 2005 04:20 PM
This is one you'll share with us when done, right? If it's Mandarin, it must be red! Love it!
Posted by: margene at November 29, 2005 04:26 PM
About the Cool Wool: I have used it for 2 projects now, and it is beautiful and soft and washes well - but the quality of the yarn was VERY VARIABLE. Several of the balls had big frayed areas, like 2 or 3 of the plies were broken, so I'd cut that part out, then a couple of yards later the same thing. Frustrating. Just a warning :)
Posted by: Jen M at November 29, 2005 05:25 PM
First, love the blanket...love it. I am working with the handwork cora now...not too bad...but ok. I know what you are saying...I need to get back on the sweater thing. I may even finish the sleeves for one that I wasn't planning on doing until the new year...screw the christmas knitting. Can't wait to see your design...maybe a little more shape and I will be loving that sweater!

Posted by: Carolyn at November 29, 2005 06:26 PM
Is it mere co-inky-dink that Amy talked about things Japanese yesterday in her blog on knitty.com? I think NOT! ;-) It'll be a pretty sweater -- looking forward to the play-by-play. Mason-Dixon Knitting is looking for test knitters for their "perfect sweater", in case that's up your alley....
Posted by: Mary at November 29, 2005 07:25 PM
Gorgeous sweater and gorgeous plan to make it. I wouldn't limit myself to the specific diamond lace pattern that the Archeologie sweater has. For example, Barbara Walker's first book of Treasury of Knitting Patterns has a very nice open work diamond that doesn't create the diagonal row effect that the store's sweater has. See page 212. Also, if you like diamonds but want to move a little more "delicate" you could try the English mesh lace, on page 193 of the same book. Of course, swatching always helps to make the decision. i truly admire your determination!
Posted by: gail at November 29, 2005 09:38 PM
Red is definitely traditional, but there's something about the Rowan's pewter color that screams kimono to me. I have vague memories of a gorgeous fabric in that color with pale blue embroidery.
Posted by: Jess at November 29, 2005 09:45 PM
Post a comment