« October 2005 | Main | December 2005 »
November 30, 2005
Oh, it's Corded, alright!
Hey look! A cute little baggie, and a cute little baggie pattern!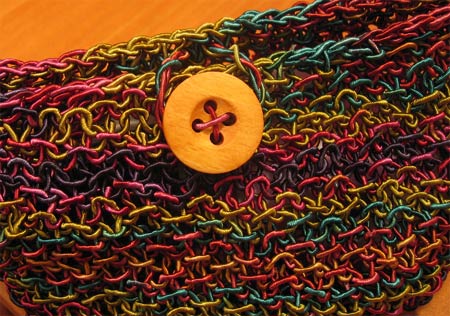 I was approached by MagKnits to write up this little bag pattern back in July, and now it's finally here - enjoy!
Posted by Kathy at 05:27 PM | Comments (19)
November 29, 2005
Life isn't all peaches
Warning: picture-less post. Lots of rambling. I attempt to crack jokes, but it's bad, real bad. Lots of opportunities for all of you who seem so invested in the project to give me advice, though :).
Contrary to what you might imagine based on my typical jovial predisposition (ahem), Grumperinia is NOT the land of milk and honey. We have issues here, serious doubts on a regular basis, and I don't have to tell you that the MO is grumpiness. We make wrong choices, and sometimes we stick with them for far too long - Adrienne Vittadini sweater, anyone? Curlicue? latest pair of socks for grandma? I'm notorious for picking really difficult projects, giving them a run for their money, but eventually deciding that they aren't going to work out.
And so with my latest obsession, the Kimono-inspired sweater. I'm really excited and inspired by all your enthusiasm, flattered by your claims that this will come out "just perfect," and surprised by premature pattern requests (Uhm, maybe I should knit a swatch first?). But I can tell you right now - I'm getting myself into a pickle, a really big pickle, and although I have the absolute best intentions and will give it my all, as I always do, I do not exclude that this will be a short-lived dream.
And it all has to do with gauge.
As all of you know, and as I painfully learned when knitting the orange Filati sweater, lace stretches during the blocking process, and in fact should be gently encouraged to stretch in order to open up and look pretty. Now, combine that with my desire for a well-fitted sweater and you get what I call obstacle #1: this project needs serious, diligent swatching in order to account for the stretching the lace will do when blocked. And this is NO easy task. If not done properly, I will knit something that grows to potato-sack size upon first contact with water (like those little foam animals that I used to get from the 25¢ toy vending machine).
Preliminary results indicate an 18% stretch in both directions, but I need a bit more time to have a firm number. In any case, yes, the lace will stretch significantly. I'm very worried about bound edges - the stitches at the edges of the sleeve cap and along the neckline, for instance. How will all that expanding lace be accommodated within these physical boundaries? (I learned to worry about this from the Curlicue, of course).
Moving on to obstacle #2: a lacey pattern knit with fingering/sportweight yarn looks remarkably dissimilar to the original sweater, which is knit in something closer to laceweight yarn, and much more tightly. As June pointed out, "yarnovers in thicker yarn are huge - big enough to get fingers stuck in the holes when you put the sleeves on, etc. It's fine for wraps and stuff, but I personally would not knit lace for clothing using anything bigger than a US 3 needle." I know, June, I realized it as soon as I swatched with a US 4 needle.
I have since moved down to a US 3, but I'm still only approximating what the original looks like because the yarnovers are much more noticeable in my version. I'm not sure if they are big enough for fingers to get stuck, but they are big enough that I'll have to wear a camisole beneath this sweater. I'm willing to entertain that idea for now, but there's also
obstacle #3: this stitch pattern bores me to tears. Oh my God, does a more boring pattern exist? It's complicated enough that I can't knit without looking as I do for stockinette and ribbing, but boring enough to put me to sleep. And, hello, did you notice that I'm swatching this on US 3s, assuring me that this won't be a quick knit? Mama mia!
So, we'll see. I'm swatching diligently and deciding if this lacey fabric will work for an entire garment. If not, I may keep the beautiful sweater shape but knit it up in simple stockinette. I just don't want another Adrienne Vittadini disaster - not being able to finish that thing upset me for like months (did I tell you I cried over it? I cried. So much work, a ton of pressure, such high hope, and at the end, bubkes) (didn't cry over the Curlicue - that just caused pure and unadulterated rage).

Oh, and I've decided to use the light blue Lana Grossa Cool Wool 2000, absolutely contrary to all your votes. Like Claudia, I'm typically in the minority. This yarn is like little angel baby kitty bunny goodness foofoo, if that makes any sense :).
Posted by Kathy at 10:55 PM | Comments (35)
November 28, 2005
I'm feeling a bit Japanese
You know, sometimes stupidity happens, and you don't even want to blog about it.
Example 1: deciding that the easiest way to take apart my Niddy Noddy was to hold one wing between my knees, and pull on the other. Evidence of stupidity: Niddy Noddy-shaped welt on my chin. Ow! Example 2: deciding that I desperately need to start knitting a sweater right now, and going forward with this decision... without much any thought. Evidence of stupidity: several balls of frogged yarn.
So, let's take a step back, and while we will not discuss further the odd bruise on my chin (ow!), we will take a moment and talk about sweaters.
I've been on an odd streak of sorts. Look over at the FO gallery on the sidebar, specifically at everything after the orange Filati sweater: Candy footlets, dog bed for Annie's book, cream-colored socks for grandma, Sharfik for my dad, and Grumpecue. In the near future, the secret sewing project, another pair of socks for grandma, and mom's Leaf Lace Shawl will join the FO ranks.
I have a problem - I haven't knit a sweater in forever! I've been stuck in some kind of accessory rut, and it's time to, well, change that.
As soon as this realization firmly set in, I cast on with some soy silk yarn from the stash. No, there wasn't much thinking or planning. I may or may not have measured the circumference of my neck, and I may or may not have written it down in my notepad as 31" (it's actually 13"). Perhaps there was a gauge swatch, maybe not. The whole experience was sort of embarrassing and, like I said, stupidity is sometimes not worthwhile reporting - don't want to give others any "brilliant ideas." :)
But something about the experience was very satisfying, and I feel ready to actually sit down, think, sketch, measure, and knit with some sort of plan in mind.
And what I have in mind is this Kimono-inspired sweater: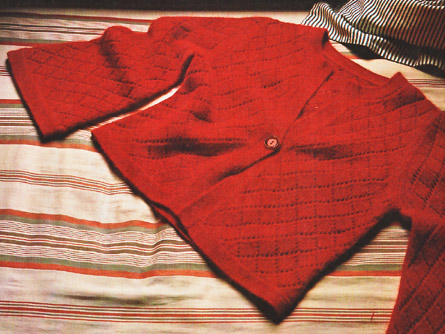 (click here for a mannequin shot)
I don't have to tell you - it's from that store, and I think it's gorgeous. Maybe it's the release of Memoirs of a Geisha as a movie (the book is one of my all-time favorites), or maybe it's my constant fascination with Asian cultures, but this jumped out at me as soon as I saw it. The sleeves are my favorite part, no question about it :).
But this sweater can use some "improvements," so I won't be buying it from the store. For starters angora content is not acceptable to this allergic girl! Also, I'm not crazy about cardigans in general, and specifically cardigans held together in the one place where buttons don't like to meet for me :).
But imagine that same sweater, minus the angora, and as a pullover with what I think is called a Mandarin collar. I'm diggin' it!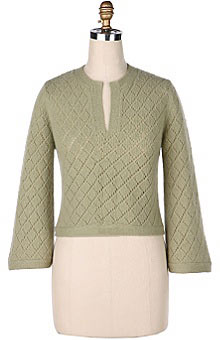 Now, to create (recreate?) the pattern.
The great thing about the Anthropologie website is that you can zoom in pretty close on the texture of this sweater. Check it out!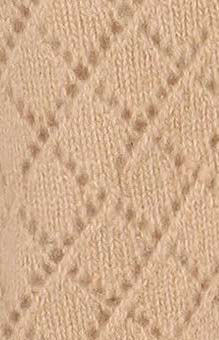 My juvenile lace skills jumped into action, and I came up with the following chart for the pattern. I would greatly appreciate any lace-knitting gurus (June?) checking it for accuracy: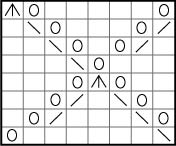 ETA: chart shows right-side rows only. All wrong side rows are purl each stitch. I determined this by realizing that each diamond has twice as many Vs in the vertical direction than in the horizontal direction. Thanks, Emily for reminding me to include that info.
Next I have to pick a yarn and do some swatching. I have three candidates in my stash; all are 100% superwash merino wool, approximately the same gauge: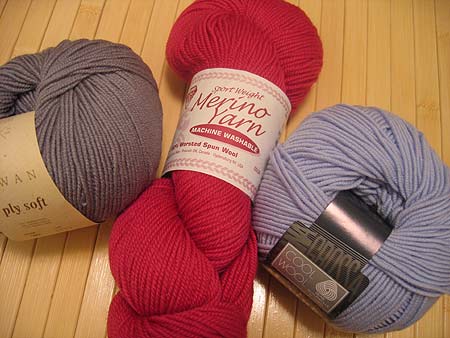 From left to right: Rowan 4 ply soft in Rain cloud, Louet Gems Opal in Crabapple Blossom, and Lana Grossa Cool Wool 2000 in the creatively-named 430.
Which will it be? I would say, "you decide!" but that would be disingenuous. How about, you vote, I listen, but when all is said and done, I decide? :)
The poll has now been closed! Thanks for voting :). Here are the results: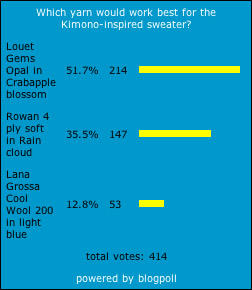 Ahhh! Blog background color back to normal :)
Posted by Kathy at 06:43 PM | Comments (52)
November 27, 2005
The Grumpecuey: all things Grumpecue
Well. Sigh. Sigh of relief!
The Grumpecue is done, and I love it. I. LOVE. IT!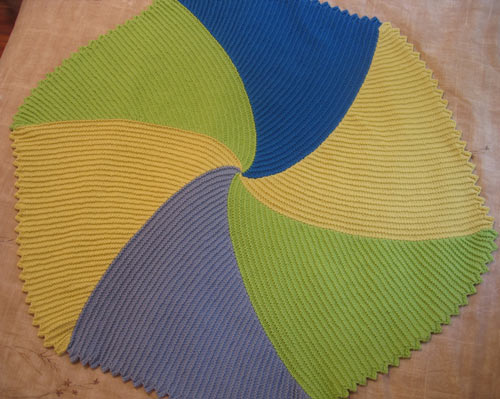 Montse
was right - six sections fit perfectly together, and there is NO puckering. Mind you, I did not block this severely at all - it's machine-washed and dried, that's all! If you can even call that blocking :).
The regulars know that this project has been a long time in the making. I started by challenging myself to knit Oat Couture's Curlicue, but abandoned the project when it became clear that the overall design of the pattern was flawed. I took the aspects of the pattern that I thought were good, and combined them to make a simpler, more colorful blanket, which I called the Grumpecue.
Pattern: Although it may seem like I came up with a whole new pattern, I just simplified the original Oat Couture Curlicue design. I put my modifications in the extended entry in case you want to make one of your own.
Yarn: Hand Work Cora, 60% cotton/40% acrylic, 1.5 skeins for each of the six wedges (9 skeins total). Although the yarn is very soft and squishy after it's washed and dried, it's pretty crappy overall. I elaborate in the extended entry.
Numbers: I used Boye circs
, US 6 (4.25 mm), which gave me a gauge of 21 sts/4 in in st st. The finished Grumpecue is 38" in diameter, and as far as I can tell (contrary to my initial predictions), it is a perfect 360° circle :).
It was a struggle, but I'm SO happy. The Curlicue was a bitch, and I had no idea whether the Grumpecue would even work when I conceived it. I'm relieved, I'm pleased, and most importantly, I think my coworker will love this blanket for her baby girl, due to arrive in mid-January.
I'll even take this one step further: I'd knit another Grumpecue, but with a better yarn next time :).
More detailed pictures in the extended entry - enjoy!
Noteworthy details:
Scalloped edging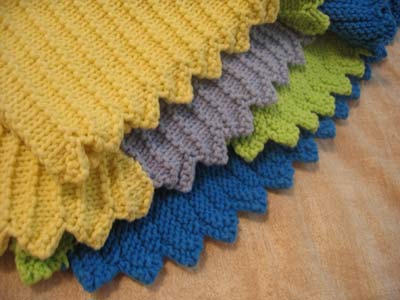 Spiral center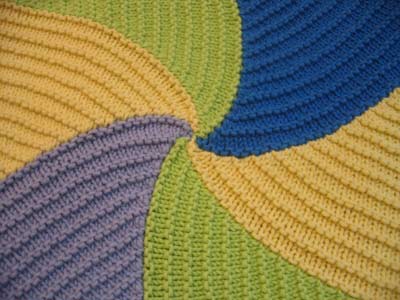 Color transitions (including the yellow-light blue transition, which was grafted)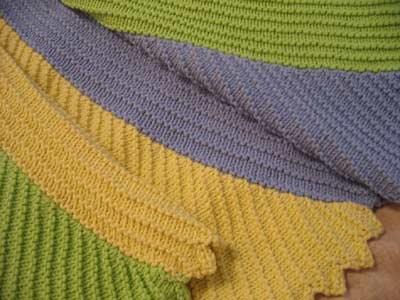 A sense of scale
Since I don't have a baby of my own, nor a stuffed animal or doll that could serve as a baby, I substituted the next best thing - a pillowcase stuffed with yarn wearing sunglasses to, you know, indicate where I think the head would go. (Shush! This is much better than my original plan to wrap my Dooney & Bourke bag in the blanket!)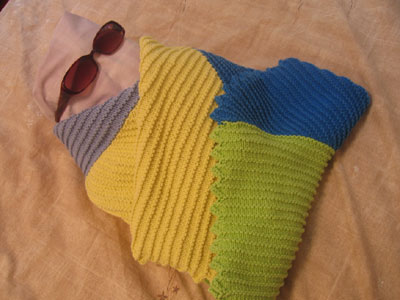 Gift tag
There didn't seem to be a good place to stick one of my typical custom labels, so I just made a nice tag. Yes, the artwork is a Grumperina original :).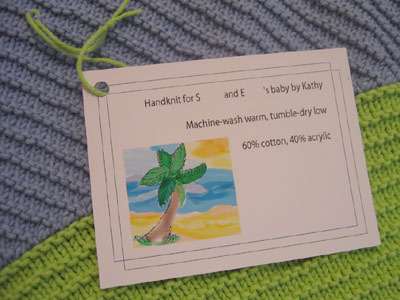 To make your own Grumpecue: (schematic here)
1. Buy Oat Couture's Curlicue pattern.
2. Using a provisional cast-on, CO 89 sts. Turn work, p89. Work Section One of the pattern until 20 scallops are formed on the outside edge (i.e., repeat rows 9-16 19 times more). Row 105: when making the 21st scallop, if you wish to switch colors, BO 4 sts with the first color, but knit to end while picking up wraps with the second color, and continue using it throughout the second section.
3. Work Section One as described a total of six times, switching colors on Row 105 if you desire.
4. When working the last section, switch to the color used in the first section for Rows 105 and 106. Remove provisional cast-on and graft the last and first rows together.
Yarn:
While I'm ultimately happy with the way the yarn looks and feels in the finished object, it didn't provide the best tactile experience while knitting. There were at least two knots or other imperfections in every skein, which led to a whole lot of unwanted ends, but that's only half the story. It feels like paper when you're knitting with it - stiff and dry and very unpleasant - and it seriously chafed my hands. Furthermore, all the colors differ in texture: the darker colors are softer and fluffier, but the plies separate very easy, while the lighter colors are stiffer and thinner. The dark blue bleeds like nobody's business, and I am grateful that June held my hand during the blocking/washing steps. With her coaching, I first tested colorfastness on a swatch, then machine-washed the blanket twice - first in hot water with Synthrapol, and then in hot water with Tide - followed by tumble-drying. Suffice it to say that although the sticker price is very attractive ($1.78/skein), I'm not sure I'd use it again for such a large project.
Posted by Kathy at 02:33 PM | Comments (52)
November 24, 2005
Thankful
... not so much for the (unsolicited) check that accompanied this (unsolicited) note, but for having the sweetest dad in the whole wide world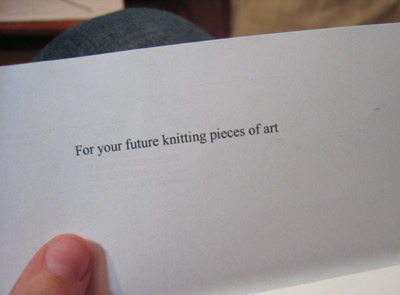 Also thankful for the most delicious Thanksgiving dinner EVER. The homemade vanilla ice cream sealed the deal :).
Posted by Kathy at 10:40 PM | Comments (18)
November 23, 2005
The brink of delirium
This entry has been edited to add information about the Soviet Revolutionary march that's quoted. Check the extended portion of the entry if you're interested in learning more.
Follow this and entertain me for a moment, would you? It involves knitting, really :).
Exam week in college was always very tense and stressful. My roommate and I would spend the entire exam week studying our butts off, day and night, night and day... We were tired, exhausted, overwhelmed, overworked, and perhaps malnourished since we sustained ourselves exclusively on grapes and grape tomatoes every single day (they make no mess whatsoever and are quite tasty!).
I'm not the type who can study in the presence of distractions, so I would excuse myself to the library, but my best friend would coup herself up in our apartment and not even change out of her pajamas. Every day of exam week I would come back around midnight and find her in the exact same position she was in when I left - at her desk, books spread out everywhere, with that look... that look of too much. I looked exactly the same, of course. We were both on the brink of delirium.
That's when I would drop my bag, take off my jacket, and break into my favorite Soviet Revolutionary march, complete with singing in Russian and marching all around our apartment. Roughly translated, it goes something like:
There isn't so much, there is just a little bit.
The last battle, it is the hardest.
And to my homeland, to my home I want to go,
It's been so long since I've seen my mom.
Suffice it to say that the first time I put on this performance, my roommate was seriously confused - the marching, the singing, the Russian (which she doesn't speak), the feverish tears running down my cheeks. After I explained to her what I was doing, and translated the song, it became our special thing - what I would do to break the tension, to pause our exam studying for a second, to remind ourselves that although the last battle was the hardest, there was just a little bit left, and that we would see our families soon enough.
And so, I sang as I grafted the last row of the Grumpecue to the first. I sang out loud.
There isn't so much, there is just a little bit...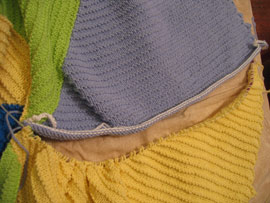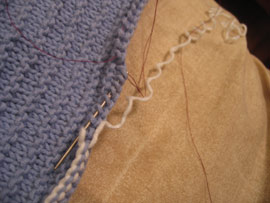 The last battle, it is the hardest...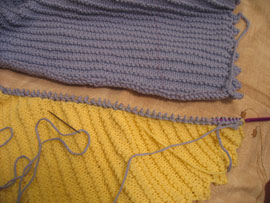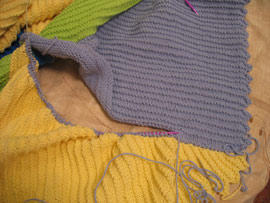 The last battle, it is the hardest.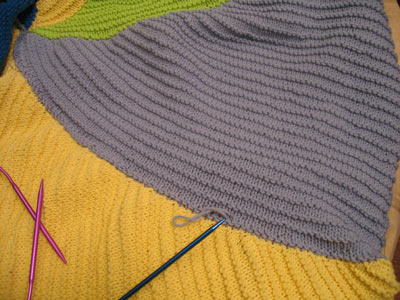 The needles are out, the rough draft of the grafting is done, and soon... soon there will be an FO.
As for the Curlicue - you see over on the sidebar I claim to be a "trouble maker"? I'm not kidding. I offered, and Oat Couture took me up on my offer - a week ago I mailed them the two-thirds completed coverlet and enough yarn to finish it; hopefully it will be useful "evidence" for their "investigation."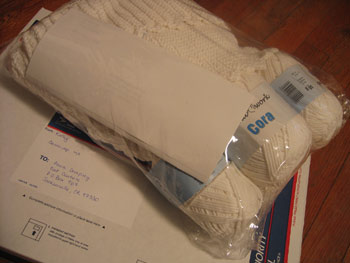 They received it on Saturday, and I am eagerly waiting to hear what they make of this whole mess.
I did a little research about the Soviet Revolutionary march that I quote above.
It is called Guys of our regiment (Ребята нашего полка) and is from the movie The Last Battle (Последний бой). Based on the lyrics it's a march from WWII. Personally, I only knew the chorus, but the rest of the song goes as follows:
It's been so long, it's been so long since we've rested.
Rest has been the last thing on our minds.
We have ploughed on our stomachs through half of Europe,
And tomorrow, tomorrow, finally, the last battle.
Chorus:
There isn't so much, there is just a little bit,
The last battle, it is the hardest.
And to Russia*, to my home I want to go,
It's been so long since I've seen my mom.
And to Russia, to my home I want to go,
It's been so long since I've seen my mom.
It's the fourth year that we have no livelihood from these Germans (slang),
The fourth year of salty sweat and rivers of blood,
And I'd like to fall in love with a good girl,
And I'd like to touch my homeland with my hand.
Chorus
Tomorrow is the last time we'll engage in hand-to-hand combat,
The last time we'll be able to serve Russia,
And for her it's not even frightening to die,
Although each hopes to survive.
Chorus
*In the version I know, "to homeland" (на родину) appears instead of "to Russia."
I found a site where you can listen to a version of this song. It's a 2004 remake which is much more lyrical and much less march-like. Nonetheless, it's true in spirit. If you visit this site and click on the "real 28" or "real 56" button, the file will open with Real Player. Enjoy!
Posted by Kathy at 04:17 AM | Comments (21)
November 21, 2005
First thing in the morning
I SO didn't want to show you the progress I've made on grandma's sock. I'm sort of embarrassed! In fact, I considered Photoshopping the shit out of the picture to obscure... well, to obscure those hellishly wonky stitches.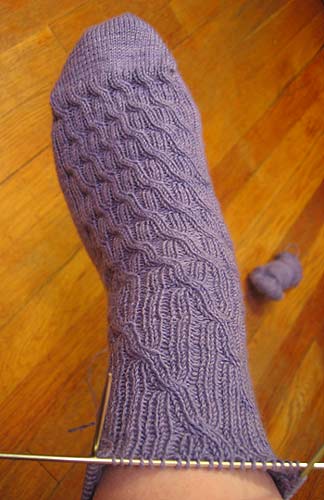 Without any doubt, I have frogged and reknit this sock more times than any other project I've knit. I think I'm in the double digits at this point! I frogged twice even after I told you last time I didn't think I'd need to frog again!
This is the equivalent of what I look like first thing in the morning - eyes half open, hair all out of place, pajamas on backwards, and once again I knocked over my drinking glass while reaching to turn off the alarm. Just not all there, you know what I mean?
The yarn which makes up the sock right above the heel is just tired - worn, split, fuzzed, wonked, crimped... you name it! The stitches are in desperate need of some blocking. AND, from handling this sock so much, it's already started to pill, and I'm not even done!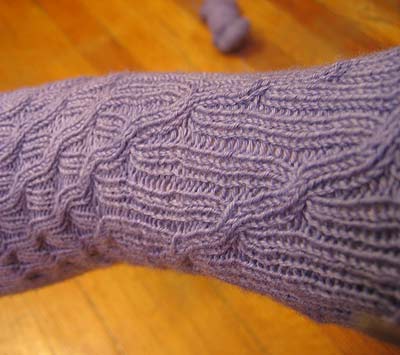 But lesson learned - lots of cables crossed all on the same row draw in the knitting for a tourniquet-like effect.
I would say that I think I finally got it, that perhaps I won't need to frog again, but I'm not even going to go there.
In other news, do you notice anything different about my Niddy Noddy? (For reference, here's what it looked like a week ago)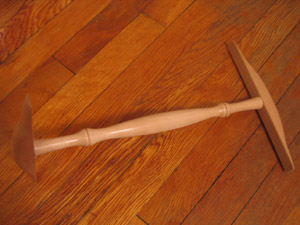 Shiny!
I'm so glad you all knocked some sense into me! I was being silly and not thinking straight - of course I have to finish and seal that wood, or every dirty fingerprint and non-colorfast yarn is going to ruin my new toy in no time!
I received lots of suggestions, and decided to simply coat it with some polyurethane - semi-gloss, water-based, and clear.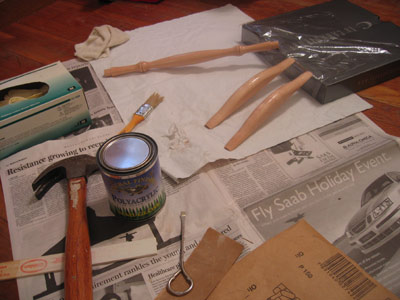 Other than occupying valuable dancing space for two days (hehe), the process was entirely painless. I didn't use the best brush, though, and despite picking off all the loose bristles I noticed, two ended up getting lodged under one of the four coats I applied. Oh well, small beans.
Posted by Kathy at 01:26 AM | Comments (10)
November 19, 2005
INSANITY: it's not just for dads anymore!
November 15, 2005, 9:10 p.m., phone conversation with my mom
Me: Did dad like the Sharfik?
Mom: Yeah, he liked it. He wrapped himself up in it, and he's prancing around.
Me: Did he like the color?
Mom: Yeah, it's a nice color, it's nice and neutral, and when he gets it dirty, you won't be able to tell.
Me: You know, you can wash it. Cool water with a little detergent, then lay it out to dry.
Mom: Oh yeah? Well, I'll wash it in the spring when I put all the scarves away.
Me: It was nice to knit for him. And I like knitting for grandma.
Mom: Those last socks you knit for her were spectacular.
Me: You know one of those came out smaller than the other. It's because I knit the second one after I had graded a pile of reports, and I was so pissed off and tense.
Mom: (Laughs) They are still so nice. Grandma coordinates her socks with her outfits when she goes to the doctor.
Me: That's cute. So, yeah, scarf for dad, and socks for grandma, I guess that's my knitting! I don't have much to knit for you - you're like me, but worse - always hot.
Mom: Yeah, I can't wear wool socks, and my scarves are light silk, I guess.
Me: I guess there isn't much more for me to knit except more socks for grandma! Although... there is one thing that has really interested me. So there is this really challenging technique - you take very thin yarn, and fairly thin needles, and knit this delicate scarf-like thing. What do you call that in Russian? Grandma has one, except it's not knit... the green and gold one with fringe. It's like a big square, and you can throw it over your shoulders when it's cold inside the house or wear it under a coat.
Mom: Poncho?
Me: (uttered with a tone of disgust rather than protest) NO! I will not knit any ponchos. It's like a big square, maybe a meter or meter and a half across.
Mom: Shawl?
Me: Yes! Oh yeah, in English it's also called shawl. So yeah, the technique for knitting a shawl has really interested me, but you know I wouldn't ever wear a thing like that! I was thinking that if Grandma ever asks me to knit one for her, I would be up for it. It would take at least 6 months, I think, so it's a long-time investment, but I would enjoy it.
Mom: Yeah, I imagine a thing like that takes a while. But it's so fancy, where would she wear it?
Me: It doesn't have to be fancy. I mean, it can be as fancy or as simple as she wants.
Mom: Isn't it a triangle?
Me: Well, sure, some are triangular, and some are square or round and you fold them on a diagonal. Anyway, I am not going to offer to knit it for grandma because I don't want to force my knitting on her, especially such a big project, but if she ever thought of it herself, I would knit it for her. Maybe you could ask her about shawls, give her the idea? And then tell me if it seems like the type of thing she wants.
Mom: You can knit me a shawl.
This is where I choked on my tomato salad.
Me: What do you mean?
Mom: Well, if it was light... Forget it, it's such a huge project!
Me: I know, but remember how I started the whole conversation - the most important thing is that I'm already interested in the technique - I am only looking for a reason to knit one. So if my only grandma asked for one, even though it's a huge project, you know I would do it.
Mom: Yeah...
Me: And if my only mom asked for one, same story.
Mom: Yeah... I could wear it to the cafeteria at work - it's always so cold.
Me: So, you know, hypothetically speaking, how complicated would you want your shawl to be? There are ones with leaf and flower designs, and simple ones with geometric designs, and even simpler ones with hardly any design at all.
Mom: I guess one with leaves would be nice.
Me: What color?
Mom: Well, my coats are either blue or purple...
Me: Maybe light blue? Or something neutral like beige or cream? Or gray?
Mom: Neutral is the thing, it would match many outfits. Yeah, gray would be nice. Like a bluish gray. You know how many metals, like steel and pewter, have that blue undertone? I would like a shawl that color... the color of steel.
Me: Okay, so leaves, and bluish gray. I already know a few shawl patterns that have leaves - I'll e-mail the pictures to dad, and he'll show you on the computer. Just like I did for his sharfik.
Mom: No, don't send them to him, just send me the shawl when you're done.
Me: You mean you want it to be a surprise?
Mom: Yes, I want it to be a surprise.
Me: So...
Mom: (interrupts) A surprise. Just send it to me when you're done. Are you clear on the color?
---
Well. What can I say? I come from a long line of very precise individuals. Even surprises are specified to minute details - triangular, with leaves, bluish gray yarn, not too warm.
She is my mom, though, one and only. Considering that in many respects I'm just like her, she will get exactly what she wants.
The beauty of blogging "in real time" is that readers have honest-to-goodness input into the knitting process of the blogger. I can't tell you how many times I thought of one thing or another, blogged about it, and based on readers' feedback changed my mind before even getting a chance to work on the project again. It's wonderful.
However, as you can see, that conversation took place on the 15th, and since then I've had the time to chat with some knowledgeable lace knitters and make up my mind about various aspects of this project.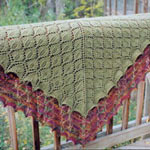 Pattern: I know it's been knit absolutely to death, but I'm going with Fiber Trends Leaf Lace Shawl. From what I've read, this is a nice pattern for a beginner lace knitter like myself, and even more importantly, it features the design elements my mom wants - triangular with leaf motif.
Other patterns I considered: Rowan Birch, All Tangled Up Kiri, Fiber Trends Flower Basket Lace Shawl, Lotus Blossom Lace Shawl from Shawls and Scarves: The Best of Knitter's Magazine
, Charlotte's Web, Florence Triangle Scarf from Fiddlesticks, Daisy Meadow Scarf from Fiddlesticks, Triangles within Triangles Shawl from Heart Strings, Hydrangea Shawl from Jade Sapphire, The Woods are Lovely, Dark and Deep from MagKnits, and a few others :).

Yarn: I'm definitely aiming for laceweight yarn. It doesn't have to be as thin as thread, but I hope to be able to knit with something thinner than fingering weight. It's a challenge I welcome, especially considering I won't have to do much knitting! First, the shawl is already a triangle, and second, I think I'll be aiming for a generously sized scarf rather than something bigger - the tip of the shawl should not reach lower than mom's waist. That's a comfortable and familiar size, similar to the other "shawls" she and my grandma have. And if she decides that she wants something bigger, I'll just knit her another :).
Shopping for laceweight yarn is a very tricky process, especially if it has to be the precise shade of bluish gray my mom wants! My impression is that unless you want to play the "hit or miss" game, you have to order online - LYSs just aren't well or reliably stocked. Of course shopping online is its own "hit or miss" game, sigh...

This colorway (Everywoman) from Schaefer Yarn really caught my attention since it seems to have the right combo of gray and blue. I could order their laceweight (Anne) in this colorway, but it has mohair in it - yuck, yuck, yuck! Plus I think it's just a little too dark and too blue. For those reasons I'm currently looking into having some non-mohair laceweight custom-dyed into approximately this shade :). And if that avenue isn't fruitful, perhaps I can bear the mohair... perhaps.
Other yarns I considered: JaggerSpun Zephyr, Lorna's Laces Helen's Lace, Jade Sapphire Lacey Lamb, one of Skaska Designs yarns, a hint from June (I thought it would be pretty cool to call and speak to Galina in Russian!), one of Treenway yarns (another June hint), and a few others.

My eyes and brain are so tired from surfing the web for all this crap... The planning for this project is definitely more challenging than for dad's sharfik.
Posted by Kathy at 09:11 PM | Comments (43)
November 17, 2005
Grumperina vs. Lace
Knitting a shawl, and more generally, knitting lace, has always interested me. I must admit that I've tried lace before but without great success. In fact (and this speaks of my challenge-hungry nature), only two months after I learned to knit I equipped myself with very thin two-ply black silk/cashmere blend yarn and attempted to knit this: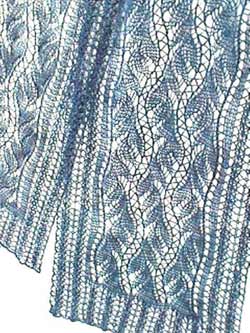 Hello?!? Anyone insane here? Me! Me!
I'm not the type of knitter who has a lot of long-term works-in-progress, but I do have one, and it happens to be lace: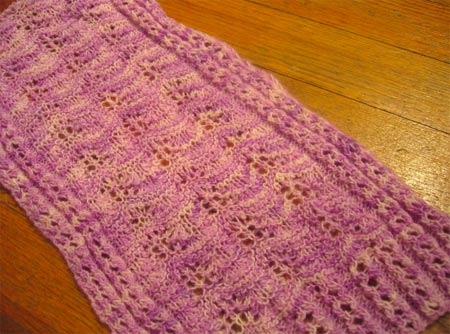 I've been working an inch or two a month on this project for about a year now. With no deadline and no recipient, however, my level of motivation is always a bit low.
So, what's the hold up? Why do I say that lace hasn't been a success for me? Why am I not cranking out shawls left and right?
I know all the tricks in the book, and I can follow them like a pro. I know how to knit and purl and decrease and increase, and I know how to use (but not abuse) stitch markers, and I know how to read, follow and write charts, and I know how to run lifelines and count stitches - you've seen me do all those things right here, just not in the context of lace.
My hold-up seems to be the actual physical manipulation of very thin yarn with significantly larger (compared to the yarn) needles. I just find that whole thing very frustrating and my hands don't like doing it.
Maybe I haven't tried the right needles? Or maybe the lace yarn I previously tried was just too thin for a first-time lace knitter? (not to mention black)
And so, I've been itching to give it another try, and Mom Dearest has finally provided me with a reason to get into the action - and I'll tell you all about that next time :).
Posted by Kathy at 09:10 PM | Comments (22)
November 16, 2005
How's that working out for you?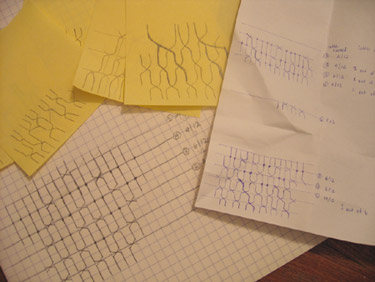 Don't even ask.
DON'T EVEN ASK.
DON'T. EVEN. ASK.
Eh, shit.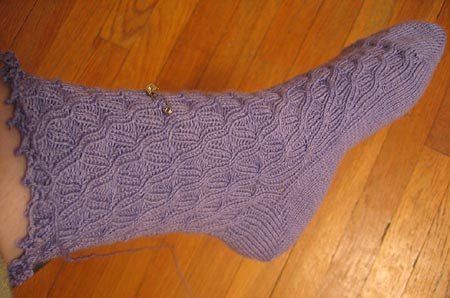 Well, I completed the first sock of the latest grandma sock pair and it SUCKED ASS.
Despite having switched needles from US 0 to US 1 for the leg portion of the sock, it still came out too tight. The cabling rows were like little tourniquets, cutting off my circulation entirely, which is really bad news for grandma whose legs are bigger to start with, and swollen most of the time.
You see that safety pin? That's the last cabling row that I thought was "acceptable" in terms of circumference. Everything else got frogged so quickly that I had to stop myself to take that photo (look - the needles are already out!).
I brainstormed a few ideas with June's help; they were all along the lines of increasing the total number of stitches. I tried several different things, including making the cables wider and even adding more cables (uhm, ugly, anyone?) but the results just weren't doing it for me. I must have frogged... six, seven times.
Wait a minute! Seventy-two stitches on US 1s should produce a perfectly reasonable sock circumference if there are no constricting cables! And that was my light bulb moment, which occurred as June and I exchanged e-mails about shawls (Shawls? What shawls? Heh).
I decided that I would gradually decrease the number of cable crosses, until the sock just becomes k2, p1 rib. I planned out the first row - it would have only 10 out of 12 possible crosses - and when I knit it, I totally botched it up. Of course, there's no other way! And I didn't catch it until I was ready to do the next cable row. Man! All the frustration and the worn yarn messed with my head.
So I'm back at the beginning...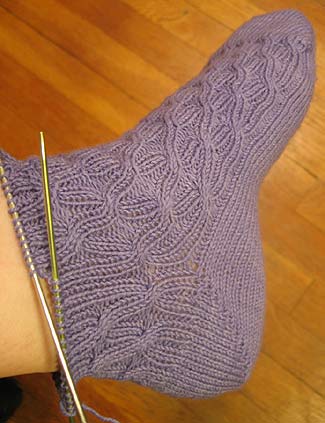 I think I need to take it nice and slow because if I have to frog again, it will be the entire sock!
---
Little baby grumperina.com has been growing beyond any of my expectations, and I'm as proud as a website mama can be :). I ran short on bandwidth last month, and I'm on my way to a repeat performance this month. As a result, I have purchased another domain which provides me with 350 times as much bandwidth. What does this mean for you? Absolutely nothing! My blog remains at the same address, all links and URLs should work, and I will not be republishing any old entries. If you spot something that isn't quite right, you let me know, okay? The only difference you'll see is bigger, less-pixilated pictures, and perhaps even more of them - oh yeah! Those of you with dial-up connections - I'm keeping you in mind, don't worry - I'm not about to go nuts :). You will continue to not see pictures taken in natural light, though, since no fancy shmancy website can ever supply me with that :).
Posted by Kathy at 10:39 PM | Comments (14)
November 15, 2005
Just a little pop quiz
Die, poorly fitting pink sweater, die!!!
I've had this 100% wool JCrew sweater for many, many years now, and at some point or another the lack of shaping and sleeves that are too long finally annoyed me enough to put it in the "donations" bag. There it sat for at least a year as I plucked other clothes out of the bag and actually made donations… I just couldn't part with this particular sweater, but at the same time, I couldn't put it back into the closet either.
There are two reasons I couldn't easily give away this sweater. First, contrary to what you may think, not all pink looks good on me (gasp!). This particular tweedy pink, which (hey, Betsy!) borders on rhubarb, I find very flattering to my bluish skin tone. So, if I was to knit something for myself out of this yarn, I know ahead of time that the color would look good on me. Second, being highly sensitive to all animal fibers, and downright allergic to some of them, I couldn't dismiss the fact that I could wear this non-merino wool sweater over a t-shirt for many years. Let's face it – that's just a yarn ball band short of a miracle!
So, I decided to recycle the yarn from this sweater. Winding onto my arm, as I typically would when frogging, seemed restricting, since it would leave only one arm to manipulate the sweater. I heard of devices used for winding skeins of yarn called Niddy Noddies and June suggested to check Mind's Eye Yarns, a new-to-me LYS, to see if they had one.
Score! I got this Ashford Niddy Noddy for a very reasonable price.
Question 1: Why did my Niddy Noddy come with a little piece of sand paper?
When checking out, the LYSO asked me if I had seen all the fiber in the other room. I answered, "yes, but I'm not a spinner." A quizzical look followed.
Question 2: Do only spinners buy Niddy Noddies?
A properly armed woman is a dangerous, dangerous thing.

With the exception of a few wrong snips here and there (good thing I'm not a medical doctor!), frogging was painless, and the Niddy Noddy worked out great! I recovered most of the yarn, but there was a surprising number of cleverly-hidden knots that I chose to cut out. Also, there were plenty of little pieces of hay or other VM – always causes a "precious!" reaction from me, since it reminds me where the wool comes from :).
So, what's the bottom line? I recovered 237.4 grams of yarn, which is about 1130 yards, plus another 100 yards in those little scrappy balls in the middle of the picture. The yarn is two-ply, and approximately fingering weight, I'd knit it on US 2-3 (the gauge was 6.5 spi, 11 rpi in the original sweater). What am I going to make from it? I don't even have a sense of scale!!! Is this enough for a hat, a scarf, a vest, a baby sweater, an adult sweater? Beats me!
Question 3: For those of you who have recycled store-bought, machine-knit sweaters, and have actually hand-knit something from the recycled yarn, were you able to get a garment of the same size? Smaller? Larger?
The yarn is slightly felted and seems fragile, which is a bit disconcerting. Maybe it would be stronger doubled? Doubling certainly makes this yarn better suited for sweater knitting… or at least sweater knitting in a reasonable amount of time.
Question 4: For those of you who have recycled store-bought, machine-knit sweaters, did you end up doubling the yarn so that you could knit on reasonably-sized needles?
I await your answers before deciding what to do with all this pink goodness. And as with my real-life students, this pop quiz will be graded. HARSHLY.
Posted by Kathy at 03:13 PM | Comments (28)
November 14, 2005
Informer
… A licky boom boom down.
(I apologize for having grown up in the 90s)
I know I sounded very confident when I laid out the Grumpecue plan, but in reality my overwhelming thoughts went something like, "You're wasting your time, you have no freaking idea if this is going to work."
Shhhh!!!
I told the voices in my head to shut up and completed the first section. It looked… promising, so I allowed myself to become hopeful and plan the colors of the blanket. I knew each section would take 1.5 skeins, and after examining my stash of Hand Work Cora I came up with the following color plan:
No white in this blanket, I'm convinced it's bad luck :).
Before I got a chance to proceed any further, Betty (en español), the informer that she is, sent me the following e-mail:
"Maybe you already know about this, but I received my copy of Montse Stanley's Knitters Handbook, and today was looking through it when I spotted your Grumpecue! :) It's on page 104 in my edition, Fig. 2.113 (Short Rows chapter, Medallions). I think this is very funny! The book drawing even has the Curlicue garter lines!"
Sure enough, look at that!
By the way, I was extremely pleased to see so many great knitters list Montse Stanley's Knitter's Handbook as the best knitting book when answering Carolyn's meme. I'm happy you have all discovered this gem of a resource – I'm in great company!
Betty's e-mail prompted the biggest sigh of relief ever! So while waiting for yarn for my dad's Sharfik, and while waiting for Sharfik to block, I knit and knit and kept on knitting the Grumpecue. Look at her now!
This is one of those situations where my plan is so fucking insane, that it might actually work. If Montse says it's going to work, well, then it better!
Look at the color transitions, and at the waves that are formed at the joins – very pretty! I think they (along with the scalloped edge) feminize the blanket, which otherwise very much resembles a beach ball.
Now, kids, get out your calculator and your protractor, we're about to talk a little Maths!
Having completed a little more than 3 sections of the Grumpecue, I wanted to double-check my modeling. Remember, I hypothesized that 6 Grumpecue sections would complete a 360° circle, but I based that prediction on Curlicue sections. Trusty protractor in hand, it actually seems to me that each section is coming out to be 65°, and that six such sections would therefore amount to 390°. Computer modeling confirmed my prediction.
Not to worry! I'm not much of a lace knitter, but I've certainly heard of "more than circular" shawls. This blanket is likely to become a "more than circular" blanket, and that's just fine by me! Oh, and I now have a definite deadline for blanket completion – November 29th. Plenty of time! All good signs :).
---
And what of the Curlicue? I am still exchanging e-mails with Oat Couture, convincing them to take a closer look at the pattern. Apparently they haven't been able to find any evidence to contradict what I'm saying – no yarn shops have sample-knit this pattern for display!
Then again, maybe in some instances it can work? For example, Betty didn't have nearly as much trouble with her Curlicue as I did! Check out her before and after blocking pictures! (and click on them to be taken to the corresponding blog entries)
Amazing. Of course seeing the miraculous transformation made me question whether my Curlicue could be blocked into submission. Betty told me that she thinks even after the blanket is washed, it will not pucker (as much). Really? I'm intrigued! Would my cotton/acrylic yarn behave the same as her wool/acrylic yarn?
If I get a spare afternoon at some point, I may put the two-thirds-completed Curlicue to a two-step test. One: bind off what I currently have and block severely. If the Curlicue's puckers are able to be blocked out, then I will move to step number two: machine-washing and drying the Curlicue to see if the puckers reappear (because I'm not interested in giving the mom-to-be a blanket that will distort after the first washing – no compromises).
Then again I've already offered to send the two-thirds completed Curlicue to the Oat Couture people as "evidence." Ha!
Posted by Kathy at 12:05 PM | Comments (21)
November 12, 2005
I have never cut my own bangs... for a good reason!
As soon I stepped outside to take some outdoor photos of Sharfik, tripod in hand, I stepped into a pile of dogshit. What is up with that, people?!? I am starting to have such a low opinion of dog owners in my area. Hrummphh!
Indoor photos it is!
So cute! But manly, of course. Seriously, the only thing that's stopping me from "adopting" dad's Sharfik is the color - brown is NOT for me.
An idea of length:
Pattern: a very simple combination of loosely-crossed cables and broken rib. I wrote it down, though, just for you - now go and make one of your own!
Needles: US 7 Boye (Addis didn't work for me on this project at all).
Yarn: Karabella Aurora 8 in #1362 "kangaroo"; 4 skeins for the actual scarf, and a bit of the 5th for the fringe. I bought the yarn from Yarn Country, and I would recommend them - quick responses and very quick delivery.
Finished size: 53" long, plus 2" of fringe on each side (two strands every other stitch), and 6.5" wide (my dad ended up changing his mind about the width).
I'll be mailing Sharfik to my dad shortly, and I'll let you know if he likes it! I hope so... but then again, I would love to design and knit him another if he doesn't like this one :).
For the extremely curious, click on the extended entry link to read my thoughts on the yarn and why cutting my own bangs would have been a terrible idea!
I have really mixed feelings about the yarn for this project, Karabella Aurora 8. I loved knitting with it. It is so springy, so soft, so uniform. There wasn't a knot or a splice in a single skein, and knitting with it was a treat.
But I fell out of love after blocking. First, the yarn grew, as I told you earlier. Not just by a little bit, but by a whole 20%, from 53" to 64". I could have easily accounted for that by first knitting and washing a swatch, but isn't the whole beauty of scarves that you don't have to do that? Also, I didn't block severely at all - I just washed the scarf in a little detergent to get rid of any grime, then laid it out on a towel to dry (no pinning).
To make the story more interesting, when I woke up the next morning, I found Sharfik had shrunk to 60"! What is up with that?!? Really, I don't have time for this kind of nonsense. I would have been super pissed if this was a sweater, even if I had knit a swatch and everything.
I also felt that blocking completely deflated the yarn. It was so bouncy, so full before, and now it is limp, deflated, even without putting the scarf under any sort of tension while blocking! A little while ago I saw a woman wearing a Backyard Leaves Scarf knit out of Karabella 8, and it looked completely worn and depouffed. I thought maybe she had had the scarf for a long while... but now I think the yarn takes on this look as soon as it's wet. I hope that perhaps with a little wear it may become bouncy again; I'll have to ask my dad in a month or two.
So, the verdict is that this yarn is great to satisfy tactile cravings, but I have serious reservations about its usability for a garment, especially a sweater. How would one write a pattern for the ever-changing gauge?!?
Now, onto my bangs :)
I had bangs for about 10 years, from the time I was 12 until I was 22, and I never ever, not even once, cut them myself. Those of you with bangs will say that I'm truly insane! But I have proof why this would have been such a bad idea:
There are two things wrong with this picture. First, the fringe is attached on the wrong side (d'oh!), and second, it is completely crooked. I aimed and aimed, and it still came out completely stupid-looking. And you know my parents have serious concerns about stupid-looking stuff :).
I was smarter the second time around: I attached the fringe on the right side (incredible!), taped down the ends to indicate where I wanted to cut, and used little scissors for precision. That worked well.
Maybe you can see that the tips of the scarf are wet. Just like hair is wetted before it's cut to get every strand to line up, I decide to wet the fringe ends before cutting them. I think this assured that the whole thing came out even.
Nonetheless, I obviously wasn't meant to be a hair stylist ;).
Posted by Kathy at 12:04 AM | Comments (51)
November 10, 2005
My personal devil
Sharfik is a-blockin'
I don't know why, but I have a resolute inability to cut the yarn until the FO is ready to come off the blocking board.
And let me tell ya, it's a good move :).
You see, sharfik was a perfectly-behaved 53" in length before blocking, and now… now he has grown to a monstrous 64" – my measuring tape doesn't even go that far! As soon as the scarf is dry, I will frog 11" to get it back to dad's desired length. Eleven inches! Just think of all the progress I could have made on another project instead of working those extra 7 repeats! Not to mention the fact that I didn't need to order and wait for the fifth ball of yarn (and, uhm, pay a crazy amount for shipping a single ball).
Oh Karabella Aurora 8, I was going to say such nice things about you, but not anymore. Sigh.
But I'm not pissed, no sirreebob. You know why? The same crazy devil that prevents me from cutting off the ball of yarn until the very end slapped my wrist when I considered attaching fringe before blocking. Imagine wasting all that time attaching fringe to a scarf whose end would need to be frogged! Aaaahh! I feel like the Queen of the world!
(I know this is a short entry, I may post another very soon about one of my other projects :))
Posted by Kathy at 06:31 PM | Comments (27)
November 08, 2005
Sugar, nanana na nana, honey, honey
Sugary socks for my honey nana:
Don't ask how*, but while working on my dad's scarf** and the Grumpecue***, I also managed to turn the heel on the first sock.
So far this project is working out wonderfully! The yarn is great to look at and to knit with, the pattern is simple to memorize, and I think Grandma will like the results.
After turning the heel, I switched from US 0s to US 1s - with all that additional ribbing and cabling in the cuff (but no additional stitches), I think the sock would become unbearably tight if I continued on the 0s. Then I checked the original pattern and it actually instructs the knitter to do something similar. This great process is called unventing - coming up with something clever that has, well, already been done. Very satisfying nonetheless!
*How? Some kind of stomach bug. It's not pretty. I had to take the day off today, and I'm still feeling very icky. However, plenty of knitting time between all the naps ;).
**Dad's scarf is more than halfway done! Click here for a sneak peek! The folks at Yarn Country where I bought the yarn have been very responsive, and a fifth ball of Karabella Aurora 8 is on its way. The written pattern is in the final stages of revision, but I'm stuck for a name! Suggestions are very welcome!
***Not that much Grumpecue progress, but I spoke to the mom of the future recipient today for the first time in a while, and was promptly reminded to get crackin'!
Eh, I'm not so sure I like the asterisk thing, but, hey, it was worth a try!
Posted by Kathy at 01:07 AM | Comments (47)
November 07, 2005
Sharfik
My dad called today and asked about his "sharfik" - that's the diminutive of scarf in Russian, sort of like, "scarfy-poo." My dad IS the cutest.
I told him that I have a solid idea of what I want to do, but as with every pattern written from scratch, a few things need to be tweaked along the way.
Dropping a column of stitches to fix one at the bottom, or in this case, to change an entire column of purls to knits, is a great technique to know, but it doesn't work so well close to the edge. I didn't take a picture of the loose mess that followed this procedure, but I think you can use your imagination ;).

In any case, visions of blocking miracles weren't going to stop me from frogging the whole thing - I frogged quicker than you can say, "Damn, I might as well be knitting with blunt-ended dowels, they sure would be cheaper than these $15 Addis, and probably would work better, too! Now that I have a reason to start over, hand me a pair of sharp-pointed Boyes, wouldja?"
Having a decent pair of needles makes all the difference, and once I had ditched the Addis, I was knitting much quicker. At this moment, I have knit through 1 skein out of 4, about 11" worth.
The quick among you will surely notice that at this speed, 4 skeins will take me to only 44", a scarf length that my mom says looks "stupid," and is clearly less than the requested "53 inches plus fringe." I sent YarnCountry.com an e-mail, and I hope that they'll have one more ball of the same dye lot for me - we'll see.
The pattern I came up with is quite handsome - it's for my dad's sharfik, it has to be :). Rather than post a picture of it now, I think I'll hold off until the scarf is done (and blocked, and fringed), and then I'll post pictures together with the pattern. At this speed, it will be in time for holiday gifts ;).
Speaking of patterns, are any Jaywalker knitters other than Cara interested in featuring your Jaywalker FO in the gallery? I am currently conceiving a new sock pattern, and I'd like to first see what happened of the Jaywalker! Leave me a comment, drop me a line, send me a picture, whatever :).
Posted by Kathy at 12:15 AM | Comments (25)
November 05, 2005
INSANITY: it's a family thing
November 1st, 2005, 8:30 p.m., phone conversation with my parents
Mom: Grandma likes her new socks, I think she finally threw out the first pair you made her. At least she's stopped wearing them, but I bet she's keeping the ratty things for sentimentality value anyway.
Me: Uh-hah, she'll never throw them out, no matter how many replacements I knit.
Mom: You know what else you can knit? A scarf for your father. He needs a scarf, the one he wears right now is too short.
Me: (trying hard to contain excitement) Yeah, I can do that! What does he want?
Mom: Well, something beige or brown, like the scarf he has right now, because he has a green winter jacket with beige lining.
Me: (as though beige or brown is a scarf category!) Give him the phone, I want to ask him.
Dad: Yeah?
Me: What kind of scarf do you want?
Dad: Simple. And beige or brown.
Me: Alright, I'll think about it.
Dad: Don't think too hard.
---
November 1st, 2005, 9:15 p.m., e-mail
From: Grumperina
To: Grumperina's dad
Subject: your scarf
4 Attachments
Do you like any of these? I would make it light brown/beige, of course.
---
November 2nd, 2005, 7:05 a.m., e-mail
From: Grumperina's dad
To: Grumperina
Subject: RE: your scarf
1 Attachment
Hi.
Seems to me Scarf4 is simple and very pleasant.
---
November 3rd, 2005, 10:38 a.m., e-mail
From: Grumperina
To: Grumperina's dad
Subject: RE: your scarf
2 Attachments
I found some more that I thought you might find interesting. Do you like any of these better than scarf4?
---
November 3rd, 2005, 10:53 a.m., e-mail
From: Grumperina's dad
To: Grumperina
Subject: RE: your scarf
Hi.
Can we talk on the phone at 8 p.m. tonight? I need to talk to mom about all of them.
---
November 1st, 2005, 8 p.m., phone conversation with my parents
Me: So, did you talk to Mom about the scarf?
Dad: Yeah, we still like scarf4, but we like how in scarf5 the braids are separated by other patterns, and also how the braids are not too tight. (aside, to my mom) Anna, can you come here with the tape measure?
(rumbling in the background, my parents talking to each other. Dad: No, you hold it here, and I use the tape measure. It's not straight! Hold the scarf straight! Mom: I'm holding it straight! You should also measure the width.)
Dad: I want the scarf to be 7-8" wide, closer to 8", so I was afraid scarf4 would be too narrow. Can you put other patterns between the braids?
Me: Sure!
Dad: I want fringe. Not too long, though. (mom grabs phone)
Mom: He wants fringe, but not too long. Without the fringe the scarf should be maybe 53" long, and with the fringe, 58". The scarf he has now, even with the fringe, is 42" long - it looks stupid.
(rumbling in the background, my parents talking to each other. Mom: What are you doing? Are you going to throw it over your shoulder like that? Then she should make it even longer! That looks stupid, you're not going to do that with your sporty winter jacket, are you?)
Mom: 53" long, plus fringe. Light brown or beige would be great. Can you do that?
Me: (goodness, I already forget what color they want) Can you give the phone to dad? (phone handed over) Dad, I'll make something for you, but because I'm making it from scratch, it may not be exactly like the photos.
Dad: That's fine, don't worry too much about it.
Me: I won't. It will be a close approximation, if not the exact thing.
Dad: Okay. If I don't like it, you can knit me another (laughs). Are you all set with the color?
---
I think this qualifies as light brown, no?
"This" being Karabella Aurora 8 in 1362, Kangaroo. I bought 4 balls (about 400 yards) - I think that will be enough. The website of the place where I bought it seems to be down, though - I hope they haven't gone out of business already! I bought some other stuff from them that I need to return!
Now I have to write a pattern :).
Posted by Kathy at 11:15 AM | Comments (46)
November 02, 2005
Speculation
... or, how I learned to stop worrying and love the Curlicue
... or, this was meant to be yesterday's post, but I was too tired to pull it together
Don't get me wrong: I hate the Curlicue pattern. I'm currently exchanging e-mails with the folks at Oat Couture, informing them of the evils that are embodied in their pattern. It just makes me so angry that the one time I followed a pattern "to the t," the designers totally let me down.
But I love the concepts embodied in the pattern. I love the short rows, I love the piece-by-piece construction without seaming, and now that I know how the whole thing is pieced together, I love the idea of making each section a different color. It is clever, it is unique, it is difficult - yeah, baby!
From the little glimpse I showed you yesterday, you might be thinking that I've started to knit a second variation of the Curlicue. Trust me when I say that that would be the stupidest thing to do. Some say that insanity is doing the same thing over and over again and hoping for a different outcome, and, by most standards, I'm not insane :). This pattern needs drastic changes if it even has a chance of being pucker-free.
But the entire pattern does not need to be eliminated - it does have some good and promising design features. My heart pitter-patters at the cleverness and beauty of the outside wedges (blue in this picture). Do you remember how they start out looking very triangular, but once the short-row wraps are picked up, become cute curlicues? They even pucker a little bit at the join, but in a totally attractive, wavy, unbound way, like a fan opening up and closing a bit. They are keepers. The middle star (green), however, would require way too much work to be fixed: it needs to be entirely redesigned, and I'm not up for that challenge - it is out!

Once I decided that the middle star needs to be eliminated in order to not bring the whole team down, it became clear to me how to redesign the Curlicue - just place some number of outside wedges all next to each other, and voilà! - the circle would be completed. How many wedges? Six! How do I know? Photoshop!
Okay, I don't know for sure, but seeing how the wedges behave when two are near one another, I am speculating that this would indeed be the case.
However, 6 wedges straight out of the pattern placed side to side would result in a very small round blanket, about 25" in diameter. What will happen if I make the wedges longer? Once again, this is just speculation - I think 6 longer wedges will still fit together because the angle of each wedge would remain the same... they would just extend further out. For the number-crunching types, I'm aiming for a blanket that's about 40" in diameter, so I'm working wedges over 89 sts instead of 57 as the original pattern specifies.
The good news is that I only need to knit two sections to see if my speculations will hold. I have really high hopes for this redesign because, as planned, each wedge is only bound on two edges, giving it a lot of space to breathe, spread out, and arrange itself with the give of the unbound edge. In contrast, the real Curlicue pattern has that middle star section the components of which are bound on four edges... think of knitting a square, then picking up stitches around the edges and binding off way too tightly - no blocking miracle is going to help there.
And of course now that I know how the whole thing is constructed, I plan to make the wedges different colors. Once the first is completed and I see how much yarn it eats up, I'll have a better idea of what combinations I can create and we'll revisit the topic :).
Posted by Kathy at 07:58 PM | Comments (26)
New beginnings
The humble beginnings of the grumpiest Curlicue in the world (Grumpecue?). Will this actually become a non-puckered blanket? I have no freaking idea, but because I'm stupidly superstitious, I'm using different needles and different yarn... well, at least a different color of the same yarn.
In other news, my dad requested that I knit a scarf for him. This is incredibly exciting for me because he never asks me for anything. At the same time, he's an even more picky person than I am, so this project will take a lot of planning. I will surf the web and my library far and wide to find the perfect mix of yarn and pattern. I'm sure at one point or another a spreadsheet will be made and several e-mails discussing it will be exchanged with my dad. Yeah, I'm psyched!
Posted by Kathy at 12:18 AM | Comments (18)
November 01, 2005
Switcheroo
I know, I switched things up on you.
I was willing to work with the splittiness. I was willing to work with the weird-ass pooling. I was even willing to sacrifice the tactile sensation and knit with what truly feels like fiberglass to me.
But then my hands started to blister, right under my fingernails... sort of like someone chafed my fingertips with sandpaper. They were irritated with every mohair fiber that came in contact with them.
And even then I kept going, waiting to see if the pooling might become more pleasant after the heel was turned and the cabled pattern began to encircle the entirety of the sock. (I love my Grandma, what can I say?)
But it didn't, and the blisters weren't going anywhere, so it was time to put the mohair down and step away from the knitting!
The substitute yarn is Lorna's Laces Shepherd Sock in periwinkle - I bought it a while ago, it was the yarn originally intended for Grandma's last pair of socks.
So, here's the fascinating tidbit: I was knitting the Mountain Colors Bearfoot on US 1 needles, and 74 sts formed just the right circumference. Now I have the Lorna's Laces Shepherd Sock, which is slightly thinner, I'm knitting it on US 0, and it still takes only 74 sts to get the right circumference! Explain that!
P.S. My apologies to those of you who couldn't access my webpage last night - it's official! I've finally broken my 10 GB/month bandwidth limit! Good thing it's now November and I have a fresh new batch ;).
Posted by Kathy at 07:35 AM | Comments (21)