« September 2005 | Main | November 2005 »
October 30, 2005
Portable knitting required
A long weekend in New Hampshire's White Mountains screams of knitting (even though technically every minute of every day I was there was filled up with various activities).
But what to bring? Curlicue is in time-out (more about that later), and my secret sewing project is just as huge and unwieldy.
It's sock time once again! A few weeks ago I purchased a lovely hank of Mountain Colors Bearfoot in the Indian Corn colorway (here's a pretty good picture) for another pair of socks for Grandma.
This yarn is splitty as all hell.
Many people use this superwash blend (60% wool, 25% mohair, 15% nylon) for socks, but I was warned in advance by Black Olive Paula, Smart Cookie Extraordinaire, to pay attention to the yarn's lack of elasticity when choosing an appropriate pattern – that's what a 40% mohair/nylon content will do for you.
Mohair feels like effing fiberglass.
A ribbed sock immediately comes to mind – it will have enough stored elasticity to slide over the foot easily and maintain its shape after wear.
The splittiness of this yarn is evident in the first stitch of each needle.
And also in the last. And the ones between.
Furthermore, one specific pattern sticks out in my mind – the Sockapal-2-za socks Carolyn knit for her pal. The pattern is Broken Cable Rib Socks from Interweave Knits WebKnits, and I think it's just precious.
Seems like the perfect kind of thing for this hank of yarn!
The yarn especially likes to split when I'm
crossing cables, and that totally pisses me off.
With only 350 yards in each hank, and my Grandma's huge feet, I knew I had to separate the yarn into two equally-sized balls and work from the toe up. And so I did! I am using the same toe-up resources as for my Candy footlets, and here's what I've got so far:
Since I'm allergic to mohair, I can't really wear and photograph the sock on my bare feets – keeps the socks clean, at least ;).
I am very happy with how the sock's fit is coming out. I think I chose just the right number of stitches (74) and just the right needle size (US 1), and I can feel the stored elasticity – a sigh of relief!
I would rather rub my face in a pile of pine needles
than have it come in contact with mohair.
Oh, and you can see that I took some creative liberties with the cables on the instep – the pattern didn't call for them, but I decided to put them in anyway.
Have I encountered a more splitty yarn than this one?
I don't think so.
I know you've noticed the pooling. I must admit that of all the different pooling I've seen in my own knitting and in the knitting of others, this is one of the ugliest examples. However, just as with everything else, I have a firm opinion on the subject: if pooling really bothered me, I would not knit with variegated yarns. So, I'm not allowed to complain :) – the result is interesting, how's that?!?
As for the yarn… I'm still formulating my opinion.
---
Now, the Curlicue. Your comments were really interesting to me because I think you're underestimating two things – first, I don't think you realize how long it will take me to finish those remaining five sections. It's very easy to say, finish it, block severely, and see how it turns out, but (to be perfectly blunt) you aren't the one doing the knitting. Second, you're underestimating the level of perfection that I consider my mundane, average, everyday existence. So, that's that.
And there's no doubt that an e-mail with supporting pictures has already been sent to the lovely folks at Oat Couture, although I haven't received a response yet. Snail mail may be in order.
HOWEVER, the Curlicue story is not over. I think this particular pattern sucks (royally), but I have something else in mind along the same lines that may work much better. But first I need to do a lot of math and a protractor is most definitely required ;).
Posted by Kathy at 08:34 PM | Comments (18)
October 27, 2005
The return (and exit) of Miss Q
The Q is back!
Although I've been devoting a lot of my time to a secret sewing project, I have squeezed in a few repeats of the Curlicue here and there.
But I'm feeling really down. As more and more sections are attached to one another, the puckering along the middle "star" portion is impossible to ignore. I mean, impossible to ignore. Betty (en español) noticed it, too!
While you look at the following photo, keep in mind that pictures of handknits tend to flatten and smooth the fabric, okay?
GAH! I'm not sure what to do. It's not pretty and I would be embarrassed to give this as a gift.
The other frustrating thing is that I can see exactly what's wrong with the pattern, what needs to be changed to make it flatter. However, this is a 100% inflexible pattern, there's no wiggle room whatsoever, so changing it would involve completely and totally reworking the directions, from the first row to the last, and test-knitting a few big-ass blankets in the process (and no one is paying me the big bucks to stay home and do that).
I'm THIS close to switching to a different pattern while the baby is still in the mommy's belly.
What a disappointment and waste of time.
Edited to add: Since the yarn is cotton/acrylic, and since I don't expect the mom to do anything other than throw the blankie in the washer and dryer, I have no hopes for any sort of blocking miracle. Also, there is no hope of additional sections helping matters because the puckered sections (5, for example) already have all the other sections around them attached.
Well, I'm off for a long weekend sans internet access - see you all on Monday!
Posted by Kathy at 11:15 AM | Comments (51)
October 26, 2005
A meme makes its way here?
I was just thinking the other day that although memes are fun, I haven't seen any that are specific to knitting.
Lo and behold, Carolyn creates a knitting meme! Oh, I'm SO psyched! Not only do I have strong opinions about the topics the meme addresses, I can plaster my answers right here!
Carolyn, thanks for creating this meme, I am gladly answering it!
What is your all time favorite yarn to knit with?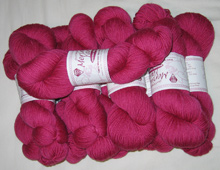 Oh, there's no hesitation about this one: Louet Gems Merino. I've only used sportweight (Opal) so far, but it comes in all kinds of thicknesses, as well as colors. What do I love about Louet? Let's just say that there's nothing I don't love about it. I am not much of a yarn hoarder, but at the moment I do have a sweet little stashette of Louet ;).

Your favorite needles?
This one is harder to answer because I'm a needle whore. You see, some people are yarn whores, and some people are project whores, but nothing brings me more joy than having one of each kind of needle. In every style/brand, size (smaller than 8), and color.
Here are some of my favorites:
As an alternative to the blunt-tipped Addis, I use INOX/Prym Express, and if I want something even more pointy, I reach for my trusty Boye
or Susan Bates Silvalume
. I'm also a big fan of Bryspun needles, all the different varieties - straights, dpns, and circs. When I want to use metal dpns, I like INOX/Prym aluminum, although the way the sizes are marked on the packages is weird.
The worst thing you've ever knit?
This little baby sweater. Simply, I didn't know any finishing techniques back then and put a whopping two stitches into the seams. I would do a much better job with that pattern now ;).

Your most favorite knit pattern? (maybe you don't like wearing it...but it was the most fun to knit)
Carolyn, I'm with you - it has to be Forbes Forest from Scarf Style that I knit for Meg. What a fabulous pattern!

Most valuable knitting technique?
Willingness to try anything - the more challenging, the better.
Best knit book or magazine?
Without a doubt, Montse Stanley's The Knitter's Handbook
. Talk about comprehensive! If you're passing up this book only because of its affiliation with Reader's Digest, well... good for you.
Your favorite knit-a-long?
I enjoyed Stitch Ya Neck Out because almost everyone seemed to be a great knitter and photographer. It was a joy to read everyone's updates!
Your favorite knitblogs?
Purly Whites and Black Olive are easy answers because I know the girls behind the blogs and their writing style just speaks to me. The things common to all the other blogs I love are nice projects, great photos, posts and projects which don't drag, and good writing. There are SO many blogs which fit this description, but let me list two which always keep me coming back: cosmicpluto knits! (fab projects despite a busy school season), and Misocrafty (her sewing turns me green with envy!).

Your favorite knitwear designer?
I don't think I really have one. The thing is that I get overcritical about the patterns themselves, specifically the sizing, and so I eventually stop thinking of them as a design, a look, a sentiment, an idea, and start thinking of them as math problems. And that's asking for trouble when I'm thinking of a favorite knitwear designer, since I can't even remember the designer's style.
The knit item you wear the most? (how about a picture of it!)
I don't wear my handknits that much because I find them very hot. However, nowadays I can be spotted wearing the Lace Leaf Scarf Polly knit for me almost every day ;).

Tag time! I know Miss Paula, Laura, Joelene, and another Laura will all have insightful things to say! Can't wait to read all about it!
Posted by Kathy at 05:24 PM | Comments (7)
October 24, 2005
I never sleep in socks, but it sure makes for a cute photo
Even though I don't wear socks to sleep (especially woolly ones), I always stick my feet out from under the covers:
Pattern: Child's First Sock in Shell Pattern, Knitting Vintage Socks
by Nancy Bush.
To be perfectly honest, I didn't follow the pattern. I used the pattern repeat, and incorporated it into a sock of my desired dimensions. The recommended cast-on, cuff and number of repeats? Don't know anything about them. The heel, gusset, toe, special instep instructions? Completely ignored. If I paid attention, I'd have to modify them anyway because my Grandma's feet are long and wide.
Needles: INOX aluminum dpns, set of 5, 2.5 mm (corresponds to US 1.5, although they were marked US 2 on the package).
Yarn: KFI Cashmereno, 55% merino wool, 33% microfiber, 12% cashmere, color 01. I had 3 skeins left over after knitting my Mia Shrug, and now I've used them up - destashing! I was worried about running out of yarn, especially considering my Grandma likes to have the leftovers for darning. I think my worries were justified - I only had a tiny bit left over.
As before, I wove in reinforcement thread into the sole of the sock. I have no idea if this helps even one bit, since my Grandma is reluctant to say anything other than, "they're perfect." But I keep doing it anyway, hoping it will allow socks made out of buttery yarns last longer.
Things I would change next time: I've already knit a pair of socks out of this yarn using these same needles, but those had cables and ribbing in contrast to this very lacy pair. As a result, I feel this pair is much looser, and I think were I to knit this pattern with this yarn again, I would go down a needle size to create a more dense fabric, comparable to the fabric I got last time. Also, I would make the two socks mirror images of each other - so that the "scales" swoop to the right on one sock, but to the left on the other. That would be cool!
Posted by Kathy at 11:34 PM | Comments (48)
October 23, 2005
There's the easy way...
and the pretty way!
Like all good things, the pretty way of picking up stitches along the heel flap came about as a happy accident. I think when I knit my very first pair of socks, I didn't understand what picking up stitches meant! Once I learned what I was supposed to have done, I knew that I had discovered something unique in the process.
You'll need a spare needle to pick up the stitches this way; it doesn't have to be the same size/type as what you're using for the sock.
(click for big)
Step 1. Upon completing the heel flap and turning the heel, you're faced with a row of slipped stitches. Typically you would pull a loop of yarn through both "loops" of the slipped stitch and place it on your right-hand needle. Here, hold the spare needle in your left hand, and use it to physically lift up only the front "loop" of the slipped stitch. Effectively, you now have a stitch sitting on your left-hand (spare) needle; it is comprised of a single strand of yarn, and it is the front "loop" of the slipped stitch.


Step 2. Next, knit this "stitch" through the back, i.e., twist the stitch while knitting.

Repeat steps 1 and 2 until all slipped stitches are picked up. Then repeat for the other side of the heel flap. That is it! Clear?!?
So the comical part is that I now realize that when I read, "pick up and knit 15 sts along right side of heel flap," I did just that! I physically picked up and then knit (for whatever reason, through the back) those slipped stitches! I tell ya, I think in my own way.
Posted by Kathy at 11:53 AM | Comments (39)
October 21, 2005
It's pretty you want?
Thank you all for your wonderful compliments on Grandma's sock Número Uno! For those of you who missed it, the pattern is NOT my own; it is Child's First Sock (how ironic) in Shell Pattern from Nancy Bush's new book, Knitting Vintage Socks
.
I fully intend to disclose to you how to pick up the stitches the pretty way, but don't you think that instead of making a mock heel and showing you right now, I should just knit Calcentín Número Dos and take pictures when I'm at that point? Now THAT's the motivation I need to immediately cast on for the second one!
I have!
I hope the pretty instructions will be here by Monday morning, but no promises - I've had a busy week and may use this weekend to take a nap or, you know, wash my hair for a change ;).
OH! And look at what I saw today in the Anthropologie catalog!
Wow! If that store (the one where all the jeans fit) is starting to sell a "learn to knit" kit, it MUST be cool! Since I actually hand over my money to them willingly on a very regular basis, I think I'm not allowed to comment on the kit price. But you go ahead and feel free to do so. Ahem.
Posted by Kathy at 12:13 AM | Comments (32)
October 20, 2005
Better than before
You knew I was going to do it – I frogged the heel and half a repeat right after I posted last night. And now I'm past where I was before!
Uhm, yeah. Did I mention sportweight yarn?
Since I was already re-knitting the heel, I shortened it by a few rows because I thought it was a little too long in its former life.
Also, as though these socks needed any more prettiness, I used the pretty way to pick up stitches along the heel flap:
Oooo, these are SO Grandma socks!
Look, ma, no ladder! (Yes, there was a dpn join right down the middle of the sole)
I feel much better having rescued that bit of yarn, all while making the sock better than before – now I will definitely have enough. I think ;).
Now, I hear I have to knit another, but wow, I have zero motivation to cast on. I think this Saturday ruined me – all that casting on, ripping out, trial and error – it's as though I've already knit another sock!
Oh, and the new Vogue? Man, what a disappointment, hence its proper use as a sock rest – don't want to get these oatmeal puppies too dirty! I'm so ready to knit a sweater, and although a pattern would have been nice, I would have settled for at least some inspiration. But, alas, zip, zilch, nada, and my favorite, BLEH.
Posted by Kathy at 01:44 AM | Comments (59)
October 19, 2005
No Curlicue to see here, move right along!
Oh, I know. It's a winner.
I think it's the yarn. The light-colored yarn really makes every single stitch visible, every slant and eyelet immediately obvious, and the whole thing, simply fabulous.
The sportweight yarn makes the few seconds I've had to knit very satisfying, since I've been able to accomplish inches of knitting in just a few minutes.
I'm questioning the length of the leg - I may have made it too high. My legs are shaped just like Grandma's: fairly small ankles and lower leg, and then very sizeable calves. I aim to make the leg of the sock stop just short of the calf, and in this case I may have knit 1/2 a repeat too long. Plus I'm slightly concerned about the amount of yarn I have, so the 1/2 a repeat may make a difference in the long run. Should I frog now, take out that little bit, and reknit the heel? We aren't talking much work, that's for sure.
Oh, who am I kidding? You know I'm going to do it.
Posted by Kathy at 12:35 AM | Comments (42)
October 17, 2005
La da di da da...
[insert casual conversation voice] Hey, guess what I did today? I hung out with Annie Modesitt. [end voice]
I know! I'm floored, too!!!
Annie is busy traveling throughout New England during this week, teaching classes and giving talks, and I was really touched that she made the time to meet me, to knit with me, to talk to me, to let me pick her brain. Although our chatting was extremely casual (Annie is very warm and friendly - it was easy), I feel I learned so much while spending time with her, and that now I have a much more complete picture of her as a person - a knitwear designer with a car full of yarn, a wonderful family, a passion for history, and a dislike of raw tomatoes.
She even used the very computer responsible for bringing you this blog entry!
And that's all and everything I hoped for in meeting Annie. I mean, she is the reason I still knit today, and I admire her creativity and cleverness wholeheartedly - I consider myself truly lucky to have even met her. Thank you, again, for everything!
I also met Annie's copy editor for Cheaper Than Therapy - hi, Lissy! Nice to meet you, great restaurant recommendation - and I handed off the soon-to-be-felted dog bed (goodbye for now, can't wait to see you in the book).
Not much knitting was accomplished, I was too fixated on what Annie was telling me, and on her amazingly fast knitting - it's SO fast, I've never seen anything like it!
And now I'm just exhausted...
Eight exclamation points.
Posted by Kathy at 09:59 PM | Comments (16)
October 16, 2005
Plans?!? No one told me about no stinkin' plans!
How long have I been talking about starting a pair of socks for grandma? Forever (since June 27th). And how many times have I mentioned it since then? I don't know... a dozen? Aren't you sick of hearing about it? Shouldn't there be a completed pair of socks by now?
This weekend I finally sat down, wound the intended Lorna's Laces yarn into balls, got out my dpns and my sock pattern books, and got started.
And oh my God, it was such a headache.
Originally I wanted to double the yarn for a thicker sock, but that just didn't look good with the patterns I tried. In addition to switching back and forth between using one versus two strands, I tried different needles, needle sizes, patterns, cast-ons, ribbing... you name it, I tried it! If I were to make a blog entry for every time I tried something new and ended up frogging, I would be "entertaining" you for weeks.
BLEH
So I called my Grandma - who's better to advise me about socks than the recipient herself? ;) Did I mention my Grandma is the cutest? Here we are in April - she's proudly wearing the first pair of socks I ever knit for her (also happens to be the first pair of socks I ever knit):
Unlike Paula's Granny, my Grandma is a total enabler. Paula's Granny always puts up a small protest when Paula offers to knit her socks, because she thinks it too much trouble and too much money. In contrast, my Grandma gives me yarn money and suggests different colors and patterns :).
I called Grandma to ask her to measure the last pair of socks I knit for her, which she says are the best-fitting ones to date. One thing led to another, and I hung up the phone convinced that Lorna's Laces aren't the best option right now. (You know what she told me about the Lorna's Laces socks I knit for her? Although she prefaced with, "they are perfect," she said that they stretch out too much with wear. I'm thinking the next Lorna's pair I knit will be on US 0 needles (as opposed to US 1), to make the fabric tighter... what do you think?)
Anyway, she loves the last pair, which I knit out of dark blue KFI Cashmereno (now discontinued, sadly), and I have some oatmeal KFI Cashmereno left over from knitting my Mia Shrug, plus the Lorna's Laces just weren't working for me, so you know what comes next:
Oh, look at that 12% cashmere goodness! The pattern is from Nancy Bush's Knitting Vintage Socks
, and it's called Child's First Sock in Shell Pattern.
Because Grandma loves the dark blue pair so much, I am trying to mimic its dimensions and feel. I am using needles of the same size as before (I must say it's pretty interesting to be knitting this yarn on US 1.5 needles considering the shrug was worked on US 6s), casting on a similar number of stitches (64 now, 70 on the dark blue pair), and I absolutely made sure to keep my Grandma's favorite element - the tubular cast-on. Oh, how she loves the "non-binding" cast-on.
I think (I think) this one is a keeper. Considering the crazy amount of frogging I did to get this this point, I'm not entirely positive, but the great thing about knitting is that I'm the boss, and I reserve the right to change my mind at any time :). And, oh, I've got 185 of Lolly's friends to egg me on - I joined her Socktoberfest!
It's on!
Posted by Kathy at 03:12 PM | Comments (25)
October 14, 2005
Close-ups of the growing girl
Work is not my favorite place to knit. There are chemicals around, and while most of them are not particularly dangerous, many will irreversibly stain and discolor clothing. However, after realizing that I had to stay at work until almost midnight again, and have a Cheerios dinner again, even though I had already had my fill of shit for the day, I couldn't help but sneak in a little knitting between experiments.
What's a scientist to do when she needs a stitch marker, but there are none to be had in the lab? Use a paper clip!
It strikes me that this is the first close-up photo of the Curlicue that you've seen! Am I right? Well, here's another:
Don't you just love clever patterns? In this one, the purl rows match up across curlicue sections! It looks so neat and perfect.
The reason you haven't seen more close-ups of the Curlicue is because she's growing so fast and is now too big to capture the details and the entirety of the progress in a single photograph. It warms my heart to compare the growing Curlicue to the growing baby girl inside of S's belly (group "awww!" because that's all the sentimentality the Grumperina can muster).
In fact, the Curlicue is so big, that she's outgrown all my standing knitting bags, such as the two cosmetics cases pictured below. Instead, I proudly drag the Curlicue around in a tattered CVS bag.
All of this just reminds me that I really need to start some socks - this is definitely NOT a portable project anymore.
Posted by Kathy at 02:01 PM | Comments (15)
October 13, 2005
Solitude (or, I need to knit, dammit!)
I was such a grumpypants this morning. I stayed at work unreasonably late last night, and had to come in this morning unreasonably early. I set my alarm for 8:30 (shut up, I'm a grad student), but couldn't force myself to actually get up until 9:20. I raced to work, and cursed all that's considered holy by others when my left shoe graced a lovely pile of dog shit on the way there. Shit. My best attempts at dog shit removal consisted of soaking the sole of the shoe in a rain puddle, then wiping it on grass. It worked decently well, but I got to work 15 minutes later than I intended.
I was angry at everything, everyone, and their mother, particularly at the lab member who needed my help so early in the morning, and of course the senseless dog owner who failed to pick up his or her dog's shit. Imagine my "delight" when my lab member and I discovered that even though we were both set to go at 10:15 a.m., we couldn't actually do the experiment he planned due to circumstances beyond our control.
That's it, I thought, I'm rebelling: I'm tired and dirty and cranky, my shoe smells like dog shit, and all of this for no freaking reason since we can't even do the experiment - I'm leaving work right now, and I'm going to go knit (for once I actually had my knitting with me).
Easier said than done. First, I headed to a gourmet deli near work that plays nice music and has good sandwiches and pastries. I waited a few minutes to get a seat, but even when positioned at my own little table, I found the place uncomfortably crowded - there were too many people around me and it was too loud. My visions of curling up in the corner of the shop on one of their comfy couches with only a few patrons around, reading quietly, were completely shattered.
I finished my sandwich (roasted turkey and avocado on olive bread with raspberry vinaigrette, as good as it sounds), and left without even taking out my knitting. Off to Starbucks.
I stayed at Starbucks for an even shorter period of time because I decided my hands were too dirty from handling the sandwich, the money, and my Starbucks drink to now knit the snow white Curlicue. This particular Starbucks didn't have a bathroom, and the employees wouldn't let me wash my hands at their sink. Next!
Of all places, I ended up settling at the University Library - the big, ominous building that's on all the postcards. And it was gooooood. I had my own well-lit carrel with a lovely view of campus, a nice desk to spread out my goods, and, at last, some peace and quiet. The Curlicue came out, and I could sense that we were going to have a good time, a few quality hours of knitting until I had to go back to lab and start on my own experiments at 1 o'clock.
Two rows later, a nice gentleman stopped by and asked me to, "stop the clicking."
The thought of shoving my shit-stained shoe into his face crossed my mind. Karate style!
Some days just aren't meant for knitting.
Posted by Kathy at 06:26 PM | Comments (28)
October 12, 2005
Solicitation!
I take a 3-post break from the Curlicue, and what happens? Michelle and Deb (both blogless) specifically write me e-mails, and Zarah leaves a comment demanding to see pictures of Curlicue progress! Aren't you all little grumperinas?!? :)
But your feedback keeps my interest high and prevents me from putting down the Curlicue needles for too long a period of time. Besides, I aim to please ;).
Seven sections completed - that's almost halfway! And, yes, I enjoy selecting the "progress" color for each post.
Speaking of: now that I've knit a good chunk of this blanket and understand how the sections come together, I can tell you that each individual curlicue can be a different color! Imagine the possibilities:
So many Curlicues, so little time!
Posted by Kathy at 06:45 PM | Comments (25)
October 11, 2005
When am I getting voted off the island?
I've been a bad, bad knitter - I've been sewing, and thinking about sewing a whole lot recently. I assure you this blog will not turn into a sewing blog until some miraculous event occurs as a result of which I actually enjoy sewing. Until that moment, I sew as a necessity, nothing more.
I'm not quite ready to reveal to you the first sewing project. Suffice it to say that Ms. Bestitched and I went to Fabric Place and had a jolly ol' time picking out fabrics for our projects (one phrase comes to mind: sensory overload). Our trip became that much more fun when we approached the cutting counter with our rolls of fabric (whatever those are called) and asked for, "you know, this much," gesturing with our hands. The look on the cutter's face was priceless.
The second project is a result of a trip downtown. I've mentioned it before - I should NOT be allowed to go downtown, since that store always has jeans that fit, for the most part.
What was it that I said last time? Oh yeah! Scheiβe! No reason to bore you with details, since we've been down this road once before:
The third project was completely unexpected - I washed my curtains.
What THE HELL happened here?!? They used to reach all the way down to the window sill before, and now... now they provide a magnificent 7" view to all my neighbors across the street and my thermometer feels so exposed.

Fixed!
I confess, working on these projects has been remarkably painless. So, when am I getting voted off Knitter Island? ;)
Posted by Kathy at 06:39 PM | Comments (17)
October 10, 2005
The spiel
I'm done with the felted dog bed for Annie's new book
!
Well, relatively speaking - I'm done with the knitting, which is all I had to do. Annie will do the felting, stuffing, and assembly. I think the stuffing will be really fun! Have you seen the pockets which are cleverly formed during the knitting without any extra seaming or assembly?!?
Although the all-dark-green pockets may not look like they were as much fun to make as the striped ones, they still totally were!
I don't have a lot of specs to report, other than the yarns used in this project, KnitPicks Wool of the Andes and Sierra were very nice to work with, and great at soothing my cotton-chapped hands. I, too, look forward to real FO pics when the book is published! :)
I was thinking, this project and Meg's Forbes Forest have been the two most fun projects I've knit. The thing common to both of them is the captivating details that keep things interesting row after row, repeat after repeat. When knitting the scarf, even towards the end I was still intrigued and fascinated by the winding cables and the technique used to make them, and when knitting the dog bed, the double-knitting as well as the stripes inside the pockets kept me from putting the needles down.
Of course Annie is responsible for teaching me both techniques. What can I say, I'm infatuated with doing things the clever way.
Based on all your wonderful comments to my last entry, I do want to tell you a bit more about Combined knitting. However, because I have a certain verbal diarrhea on the subject, and it's a bit of a rant, I put my thoughts into the extended entry. Click the link to keep reading!
When it comes to Combined knitting, I'm entirely biased, of course. The truth is that if I hadn't discovered Annie's Combined knitting webpage during my formative knitting months, I would NOT be knitting today. So, of course I think it's the bomb diggity (which the urban dictionary defines as, totally the awesomest, just the shit, and awesomeness in its purest form).
To read more about Combined/Combination knitting, you can visit Annie's site or mine. I also have videos on my video webpage in case you want to see what Combined knitting looks like with regular knits and purls, outside the context of double-knitting.
So, to answer some of your questions, the benefits of using Combined knitting are many.
In my opinion, the most important benefit is a deep understanding of how knitting works, how stitches are formed, how they come together to make a knitted fabric. More practically, Combined knitting is intuitive. How many of us self-taught knitters started out by wrapping our purls in the Combined way? SO many. It just makes more sense! The movements are very efficient, the maneuvers are quick, effortless. I timed myself this weekend - when knitting stockinette stitch, I'm 20% faster using the Combined method. Think of it as finishing a project in 4 days instead of 5! More efficient maneuvers also mean less wrist strain, of course. Many say that it helps them with rowing out, and it helped me in the beginning, too, although lots of practice and belief in the miracle of blocking are essential in the long run.
That being said, I DON'T use Combined knitting exclusively. Sometimes when swatching, I decide that I'd like to knit a particular project in the typical Western method. I don't know what criteria I use to make my decision, but it seems to me that the bulkier the yarn, and the more tight I want the final fabric to be, the more likely I am to use Combined knitting. Combined knitting also doesn't apply to projects where every stitch is knit - stockinette in the round, or garter stitch knit flat. "Critics" of Combined knitting will often cite this as a con. My response: a Combined knitter doesn't think of these situations as a con; in fact, we don't think much about it, we just knit the stitches as they present themselves.
Another con the critics cite is that Combined knitters need to translate all patterns to their own language. Pardon me for stating the obvious, but this con has nothing to do with Combined knitting. The real problem is that patterns are written for only one type of knitting, while there are so many ways to achieve the same final result. Besides, we get quite good at translating the instructions without much thinking because of the most important benefit listed above - a deep understanding of how knitting works, how stitches are formed. And if we're too tired to think, I have a conversion table on my website :). The other side of this coin is that knitters who like to follow instructions to the very last detail, without any deviation, may find that although Combined knitting has many benefits, it's not for them.
The last thing I want to say is that Annie, and her book, Confessions of a Knitting Heretic
are not only good for Combined knitting. Annie has this attitude of encouraging knitters to make the knitted fabric however they want, and it makes all the difference when struggling with how your own personal way of knitting fits into (or doesn't) the glossy pictures in the big How To books. Reading her words and her thoughts convinced me to pick up my knitting needles again, even though I was quite ready to give them up for good (hence my bias). Confessions also taught me to cable without a cable needle, to make turning-less, voluptuous bobbles, to make invisible increases, and so much more! All these things, as well as Combined knitting, are certainly worth a try - until you do so, you'll never know if it's for you!
Posted by Kathy at 04:20 PM | Comments (19)
October 07, 2005
New levels of insanity
Cuckoo for Cocoa Puffs? That's me!
What's a girl to do on a Friday afternoon when she's able to escape work early? I know you're going to say, "wash her much-neglected dishes," to which I respond, "As if!"
I got many comments and e-mails about the entry where I introduce the sample felted dog bed I'm knitting for Annie's new book. People were very curious about this double-knitting technique, and how it is that I'm able to knit holding two strands in my left hand.
Well, I made a little video to show you exactly how!
Click on the extended entry link to keep reading.
Before you click on the play button, I want to tell you a few things.
I am now knitting the second section of the bed (I may at some point backtrack and show you more of the completed first section), where both yarns (this is KnitPicks Sierra) are Leaf (forest green); previously one was Leaf, and one Bud (light green). The technique is the same, and the same kind of pocket is still being formed.
When I say "double-knitting," I mean that two fabrics are knit at once, one with each yarn strand, but using the same needles.
In this video, I am deliberately knitting very slowly.
I'm knitting using the Combined method here, so to some of you it will appear that I'm knitting through the back loop (I am), and that I'm wrapping my purls in a different direction (I am). To read more about Combined/Combination knitting, you can visit Annie's site or mine.
I only have access to a Mac right now, so I have no idea if PC users are able to play the video. If you can't and are using Internet Explorer, try Firefox.
The video is short and small because I pay for my own bandwidth. I may even have to take it down towards the end of the day on Tuesday.
The video has been taken down. E-mail me if you'd like me to direct you to its location.
This movie was filmed using my Canon PowerShot S500, and edited in a Mac OSX environment using iMovie. This is a .mov file and can be opened with QuickTime or RealPlayer.
Isn't this the coolest and most clever technique ever?!? Annie is brilliant, and thanks to her hint, I'm cruising right along with this project.
You see my knitting all the time, and pictures of me often enough... is video knitting the next step? Are you getting a warm and fuzzy feeling having seen my hands move in real time? :) :)
Posted by Kathy at 04:50 PM | Comments (31)
October 06, 2005
Waving Lace? Not for me!
You know you're busy when you have to pencil in changing light bulbs, washing dishes, and going to the ATM in your planner.
Have you ever thought that it's not really necessary to shower every day? The thought has been lingering in my head all this week. And vacuuming? I don't know what you're talking about, I'm perfectly happy living with fiber/hair/dust bunnies the size of grapefruits.
That's just my way of saying, not much knitting progress has happened this week. It is in very poor form to talk about one's job on a public forum, so I'll just tell you that my students are keeping me very busy.
However, here is proof that there's been at least a little bit of progress:
I've started section 6 of the Curlicue.
I've started and finished the bottom of the felted dog bed for Annie's Men Who Knit (and the dogs who love them). You can see that it's nothing like the bed's sides - different colors, different stitch pattern, different yarn (this is worked with KnitPicks Wool of the Andes, rather than the Sierra that's used on the sides), but I still love it!
Can we switch gears for a second and talk about socks? Grandma's feet are cold, and I know I've been talking about making her a new pair of socks for a while now. What's the hold up? Well, the original plan was to use some Periwinkle Lorna's Laces and the Waving Lace pattern from Interweave:
But it's like that scarf. Remember when everyone started knitting that scarf? Poo-poo-something? Ca-ca-something? Crap-something, that's it! I, too, loved the scarf at first, but when everyone and their mother had started to knit one, I was no longer interested - my inner knitter changed her mind from "yeah!" to "meh." Same thing is happening with the Waving Lace pattern - if two of my regular blog reads have knit them, and then my Sockapal-2-za sock pal knit them for me, and I see a completed pair on someone's blog at least once a week, the pattern is no longer for me.
What to do? Good thing last week I received Nancy Bush's new book, Knitting Vintage Socks. Although I still like Knitting on the Road better, this one does have a few patterns to work with.
I say, "work with" quite deliberately - a lot of the patterns have calf shaping, which doesn't appeal to me, or sizing that would need to be adjusted for grandma's footsies, or different toes, heels, etc. But, it's something, and it's not the Crapotee. Yet.
And the dishes? Still not washed.
Posted by Kathy at 12:57 AM | Comments (28)
October 04, 2005
Creaky house
Do you know what time it is? Yawn... it's sleepy time.
But not before I amuse (scare? bore?) you with a Curlicue tail of woe and terror, with clear undertones of sleep deprivation, continuing illness, and medicine-induced delirium.
So, Miss Paula and I are hanging out at Trident after the Boston Knit-Out*, and time came to take out the Curlicue.
First, I was completely incapable of showing Paula my progress because I'm currently working on a section where each row is short-rowed on both sides. Therefore, there is never a time when one end of the needle is empty, there are always stitches on both. This is the reason why I often feel compelled to finish entire sections of the Curlicue in one sitting, since stopping before finishing a section is by necessity mid-row.
Anyway, I sort of straighten things out the best I can, and I show Paula that I'm now working on section 5, and I'm incorporating short rows created in sections 2 and 4. I don't want to mess up now, since if I have to frog, I will need to make sure the short-row wraps are not lost, and if they are, I will have to take out sections 4 and 3 to get all the way back to 2 to fix it.
I continue knitting while Paula asks me about the blanket. I tell her that this is easily the most challenging project I have ever knit, that there is constant counting, checking, second-guessing, and an indescribable fear of frogging always looming over my head. MUST NOT FROG. It's like a teenager trying to sneak out of an old, creaky house without waking up her parents. Not that I would know anything about that ;).
And then, and then, and then... I counted. I was supposed to have knit 10 ridges, but there were 11 - one too many, need to frog! Oh heavens, I almost shit my pants. My eyes got really wide, my eyebrows moved to a ridiculously high place on my forehead, little droplets of sweat formed on my temples and on my hands. Paula looked like she had seen a ghost, like I had possibly morphed into a unicorn, like she was ready to take any and all emergency actions, including, but limited to: placing a cold washcloth on my forehead just like Kate's mom when Kate had the Curlicue Meltdown, convincing me that I couldn't count and that there were indeed only 10 ridges and that I should just decrease a few stitches for the fun of it, and/or insisting that I take more cold medicine and perhaps wash it down with a few cosmopolitans.
To check where I had gone wrong, and if there was any way to avoid frogging, I took out the Curlicue directions.
My friends, I had not knit one too many ridges - I had to work all the way up to 12 ridges, so I wasn't even done.
The relief was incredible, but the stress of this project is getting to me! Wow. However, there has been a good amount of progress:
(I'm still at that section where both ends are short-rowed, so I had to move some stitches to a second needle to spread out the project and take this picture).
*It was great to see most of the True Grounds knitters in attendance! I'm also happy to have met new knitters and knit-bloggers - a big "hi" to you, especially Sue, Emma, and Joanna!
Posted by Kathy at 02:05 AM | Comments (33)
October 01, 2005
The Ultimate Faux Pas
Remember the FO report of the socks I knit for my Sockapal-2-za sock pal? I was being brazen, showcasing the goods on my own feets.
A few of you must have psychic powers. Colleen said, "Just don't start wearing them around. I don't want to see those socks on the streets of Cambridge, ya know," and Purly Whites wisely commented, "You're going to have them worn out by September if you keep this up. And you don't even wear wool." Nona chimed in, "Are you sure those socks aren't really meant for yourself -- you seem to have bounded nicely with them! Don't hand knit socks just feel great to wear? Once you put them on, it's hard to take them off."
I present to you the Ultimate Faux Pas:
On my feet. Again. On pavement! Barefoot! What is going on?!?
There's a really good reason, and you can read all about it (and get the pattern) HERE.
And with that, I came to my senses, put on my sandals, and went home to wash the socks AGAIN ;).
Posted by Kathy at 05:00 PM | Comments (28)