« May 2005 | Main | July 2005 »
June 30, 2005
Standardization, shmandardization
Two words to describe my knitting in the past two weeks: slow and painful. I've been spending pretty much all of my knitting time working on the Sockapal-2-za socks. "I thought you'd be done by now," you say. Good point. And they would be done… if I hadn't decided to change the pattern probably six times since Sunday. There's been frogging and measuring and re-knitting, and I didn't even bother photographing the pain. Speaking of, my left arm is killing me. Like a very low, dull, but entirely persistent pain. It hurts when I'm knitting, and when I'm not. Should I get a brace? A Tylenol? Some common sense to take a break?
Eventually I'll catch you up on the Sock Pal Socks. I have not lost hope, and I think they are better than ever! Laugh… come on, I know you want to! At least shake your head! I'm laughing! Because I say that about every version of this project, and then find yet another way to make it "better."
In happier news, Stephanie finished her Tivoli! Another test-knitter goddess comes through for me!
Every day, more and more Tivolis are being completed, I couldn't be happier with how they're turning out. Did you notice that I started a gallery? My goodness, who would have thought playing with stinky yarn would lead to this? By the way, if you are knitting a Tivoli, or have completed a Tivoli, and would like to be included in the gallery, send me an e-mail, I'd love to have pictures of all of you, and links to all your blogs (if you have them)!
Now that Steph is done, and another Tivoli test-knitter is done (but not yet photographed, stay tuned), I finally feel ready to standardize the pattern and write it in a uniform fashion, for many different sizes. For this reason, the three Tivoli patterns remain available as they are, but no new ones will be added until I'm done with this standardization. Cool? We'll all be happier as a result – most likely your size will be available, and I can stop explaining how to work around the varying gauges of all the patterns. If you really want Steph's pattern or any of the other patterns I custom-wrote, but which aren't on the website, send me an e-mail, we'll discuss it :).
Now, it's time to exercise that knitter's elbow. Ahhh! Ouch! Ahhh!

Posted by Kathy at 07:25 PM | Comments (13)
June 28, 2005
A funny grumpy knitter
Happy knitaversary to me,
Happy knitaversary to me,
Happy knitaversary, dear Grumpy,
Happy knitaversary to me!
And many more!
Who knew? About one year ago I went to a friend's baby shower, witnessed the gifting of a hand-crocheted baby blanket, and everything changed. I wanted to be able to do that, too!
I ordered Pam Allen's Knitting for Dummies
, because I thought the blanket was knit, and read it with zest, cover to cover. Even though I didn't know my left knitting needle from my left butt cheek, I made insightful notes like this one:
I also knit pretty much every stitch pattern Pam presents in the book. I happen to have saved my swatches from those days, knit in the delightfully-petroleum-smelling Red Heart acrylic. I totally didn't know any better back then, I didn't even know what LYS stands for! But look how pretty!
Here I made stripes! But look, every other row is twisted because I hadn't yet figured out how to purl to produce untwisted stitches. This is true for all the swatches and all the knitting I did for a while!
I started this swatch before I learned how to bind off, so I k2tog until all the stitches were eaten up!
In this one I was experimenting with making big holes in inappropriate places. Very handy skill and obviously a design element. Obviously. Because everyone needs holes under their bobbles.
Every other row is twisted, AND I make a cool shape, AND I use intarsia. This Red Heart swatch belongs in a museum!
I may have tried my hand at crochet. Ignore if this is too painful too look at :).
After a dozen little swatches and confidence that I can interpret Knitterese, it was time for my first project. Garter stitch scarf? I don't think so. This thing:
My special modifications for this project:

Joining balls right in the middle of the row, right in the middle of the blanket. 'Cuz I'm cool like that.


Weaving in ends for at least 10 inches. 'Cuz nothing is more inconspicuous than long-ass portions with doubled yarn.


Zero knowledge of the existence of "macro" mode in digital cameras. Who needs a good picture of her first knitting project anyway?


"Fixing" the one dropped stitch I made by looking at it with utmost confusion and seriousness.


Knitting the thing on bamboos. Very tightly. With a lot of teeth grinding.
The experience wasn't useless, though. I REALLY enjoyed knitting, and I couldn't wait to start a new project after this one was finished. Also, shortly after starting the blanket, I finally realized that I was twisting every other row (the purl rows). Then I had an AHA moment when someone clued me in - I was purling in the Combined Method, while knitting Western. A short trip to Annie Modesitt's website changed my knitting life.
And here I am, one year later, looking at those funky swatches and wondering how that dropped stitch held up after a few washes... all while working on my own sock and t-shirt pattern. I'm a funny grumpy knitter.
Posted by Kathy at 10:06 PM | Comments (45)
June 27, 2005
Pooling? I don't think so!
First, dear Secret Sock Pal, I washed my feet. When you find out who I am and (possibly) read through the archives of my blog, you will be happy to find this picture, taken at the risk of getting my camera wet:
preceding this picture:
One sock done! With respect to length, I decided to make the socks the same length as my Sock Pal's foot. I came to terms with the fact that the way his/her socks fit on my feet is... an estimation, at best, and really quite irrelevant.
I am working on standardizing the pattern and it will be available, but please, give me some time :). In writing the pattern I thought about all the different sock yarns out there, and decided that it would be quite useful to test another sock yarn, a striping one, perhaps.
In my stash I have some remnants of Lorna's Laces Shepherd Sock from a pair of socks I knit for my grandma.
The colorway is called Baltic Sea, a lovely, complex mix of deep purple, brown, green, and gray. It looks terribly pooled in the photo, forming wide spirals around the foot. In real life, the intensities of the different colors are quite similar and the pooling is not nearly as noticeable. In fact, I didn't even focus on the pooling until someone else pointed it out.
Anyway, what would this yarn look like in the stitch pattern I've been using for my Secret Sock Pal socks? Would it pool? Would it stripe? Only one way to find out!
I LOVE it! Confirmation that this stitch pattern will look perfectly reasonable with a striping yarn like Lorna's Laces.
Speaking of Lorna's...
I visited A Good Yarn this weekend for the first time. Lovely shop! I chatted with Alison, who works there, and just couldn't resist buying three hanks of this drool-worthy periwinkle Lorna's:
Who is this for? Well, I don't wear wool on my feet, and my Sock Pal is all set up... you guessed it! Grandma! Hi, grandmama, you're the best, I love you and your cold feet! The plan is to double this yarn (hence, three skeins) and knit it on size US 3 for a thicker sock, more suitable for grandma's footsies. When? Not until the fall. Pattern? I have ideas ;).
Paula, my partner in crime for the day, couldn't resist the Lorna's either. I'm telling you, the solid-colored Lorna's is like... spectacularness in a hank: lovely hand, durable (according to grandma), and a clean palette for stitch imagination. As for Miss Paula, I can't get enough of her! We spend hours, more like large chunks of a day, together and I don't even notice the time fly by! Hi, Paula! Synapse says "hi", too!
(I had to bait him with something chewable - keys - so he would be still for a long enough time)
Perhaps this is a good time to mention that Paula and I have decided to do a "Not a Secret Sock Pal" sock exchange. Before you go thinking that we're copying Purly and Nona, I'll clarify that we came up with the idea independently: Paula and I decided a while ago, but didn't mention it anywhere, and then I saw Purly and Nona doing that, too! Excellent!
The best part of this exchange is making something for Paula; the worst part of this exchange is biting my tongue about the details to Paula via private communications, and to you publicly. To sort of catch you up, I have selected and purchased the yarn. It will be a simple pattern. That is all I'll reveal at this time :). Paula was over my place yesterday, and it's a good thing the yarn for her socks was all the way at the bottom of my projects basket. She did use my computer, however, I wonder if she noticed anything on the desktop or in my internet browser history? Hmmm... So difficult to be so secretive!
Posted by Kathy at 01:29 AM | Comments (17)
June 26, 2005
That matte quality
Carolyn, the sweetie that she is, sent me some KnitPicks Shine she had left over from a project (thanks, Carolyn!). Experiment time!
Have you read The Tipping Point
by Malcolm Gladwell? I'm more accurately described as a Maven, but I certainly have a bit of an Early Adopter quality to me - I'm the one who buys the new thing everyone says is too good to be true and tests it out. So why has there been no KnitPicks Shine purchase in the Grumperina household, even though everyone has been raving about it?
The swatching I did with the Shine combined with a recent conversation I had with Colleen finally clued me in: it's the matte quality.
I realize that tencel and modal are two different substances, but I think that when combined with cotton, they produce very similar-looking yarns which knit up into similar-looking fabrics. In total, I have now encountered three cotton/tencel or cotton/modal blends: Classic Elite Premier and Cascade Pima Tencel, both 50% pima cotton/50% tencel, and KnitPicks Shine, 60% pima cotton/40% modal. I absolutely adore the softness of these yarns, the smooth manner with which they glide on the needles, and the way the resulting fabrics feel: soft, drapey, with a silk-like quality.
However (you knew it was coming), I feel that these cotton blends aren't appropriate for the kinds of projects I've been considering lately. When I think of cotton, either mercerized or unmercerized, cotton/wool blends, cotton/silk blends, etc., I envision a certain crispness in texture and depth of color. To my eye, the cotton/tencel and cotton/modal blends do not have either. For example, the black versions of Classic Elite Premier and Cascade Pima Tencel look like a brand new black t-shirt that's then washed 10 times. First, a certain fuzz is present, almost looks like there's an angora component. Second, the black color is not a true black anymore, certainly not that crisp and shiny black when you first bought it. It looks like someone took black cotton, fuzzed it up a bit, and then gave it a light dusting of baby powder, making it a bit matte. Does it look like that to you?
Will I be buying any KnitPicks Shine in the near future, at the delicious price of $2.29/ball? Maybe. I think if the KnitPicks Shine came in some other colors I would be more tempted. In the meantime, many of the 100% cottons come in a much more varied palette and cost only twice as much, which isn't that bad, if you ask me :).
Anyway, because no blog entry is complete without a picture, here's the KnitPicks Shine swatch.
Posted by Kathy at 01:13 AM | Comments (10)
June 24, 2005
Some Maths is beyond me!
Wha? Oh my God, I can't believe I'm being sucked into the poor grammar running around on the Internets. You'd think my linguistics degree should be revoked!
Here's a math problem that's giving me a headache: if my feet are 8 3/4" around, and also 8 3/4" long, and my Secret Sock Pal's feet are 8" around and 9 1/2" long (note: sizing has been changed slightly to protect the pal's identity), how should his/her socks fit me? Should they be a little too big on me because the recipient's feet are longer? Or should they fit me like a glove because my feet are slightly wider? Notice that there's 3/4" difference in both measurements, but in opposite directions!
This is what the socks are looking like now:
If these were for me, I would make them about 1/2" shorter - they would stop where I stuck in that pin. But they are for my pal. I've certainly got thoughts on the subject, but what do you think? I'm not grafting the toe until I hear what you've got to say.
And while we're at it, since you're here and still reading (presumably), here's a much more clear shot of the column of slipped stitches which separates the instep from the sole:
If I only had an abacus... sigh... I bet I'd be able to figure out this Maths. Hehe ;).
Posted by Kathy at 01:38 AM | Comments (25)
June 22, 2005
Why is blue such a bitch to photograph?
It's about time to wrap up by grandmother's Best Foot Forward Socks. This project must've been mediated by the powers above from the very beginning. The yarn was joyous, the casting on was new and different, the twisted stitches, deceivingly complicated. There was one fumble in the middle, and perhaps a bit of bleeding, but the injuries were temporary and easily healed with a little cursing and a diet Coke.
Pattern: Best Foot Forward from Knit Socks!
by Betsy McCarthy.
Yarn: KFI Cashmereno, 55% merino wool, 33% microfiber, 12% cashmere, color 06, 3 skeins. The yarn is quite nice, although it did bleed heavily when I washed it, and there were at least 2 knots in every skein. I recommend that you rewind your skeins if you use this yarn to catch the knots in advance.
Needles: INOX aluminum dpns, 2.5 mm (corresponds to US 1.5, although they were marked US 2 on the package).
Details: Just one major one to point out. Because I want these super-soft socks to last grandma a decent amount of time, I reinforced the sole of the foot. Knitting with the reinforcement held together with the yarn didn't quite work out because it produced a super-stiff fabric. Instead, I wove in the reinforcement after the socks were completed in a manner one weaves in ends.
I must've taken 40 pictures trying to capture this, but the yarn is dark blue, and so is the reinforcement. I had to illuminate it with my Ott-Lite and all other kinds of nonsense. Dark blue is just a bitch to photograph, I think, and this is the best I can do.
The sock furthest from you has the reinforcement thread woven in, while the one closest to you doesn't. Can you see?
Off to grandma's they go!
Posted by Kathy at 10:46 PM | Comments (24)
June 20, 2005
Hello, Sock Pal. I've got it under control.
I got it! This time I really got it! (until the next time I frog, hehe)
Six. No funny-lookin' paired decreases on this sock!
Seven. And the fit ain't bad either!
Eight. Once I completed the heel, I visually separated the pattern stitches of the instep from the stockinette stitches of the sole by columns of slipped stitches.
Little details make all the difference :). Hope that makes up for the fact that I'm trying on your socks.
Posted by Kathy at 11:46 PM | Comments (18)
One. Two. Three. Four. Get your knitting on the floor.
One. Yuck. Paired decreases look unattractive when stretched over foot.
Two. The tension of this pattern is tighter than simple stockinette. Yep. Unattractive decreases, and the sock is too small.
Three. Oh, these decreases look better, but they draw in the yarn even more. Plus now it's a hodgepodge of my experimentation.
Four. Spaghetti!
Five. Just. Plain. Weird. Looking.
Six. Six will be in the next entry, Coolio?
Posted by Kathy at 01:51 AM | Comments (13)
June 18, 2005
Are you ready?
Are you ready for the extreme geekness that's about to come down upon you? Grip yourself, sit down, and maybe get your eyes ready to roll.
When I washed the body of the Adrienne Vittadini sweater, the yarn bled like a mofo. It was not pretty. Bloggers chimed in and suggested a variety of remedies: Synthrapol, vinegar, even microwaving! It was time to put these suggestions to the test.
Background and significance: I knew the KFI Cashmereno used for knitting my grandma's Best Foot Forward socks would bleed. How did I know that? It turned my fingers blue after knitting for long periods of time. I was pretty resolved to figure out how to stop yarn from bleeding, so it was time to do some experiments.
Materials:
basin, running hot and cold water
Tide
Synthrapol
vinegar
1 pair of grandma's Best Foot Forward Socks
Experiment 1: Synthrapol. The description of this product is really vague: it's not immediately clear to me whether it's supposed to help all the excess dye leave the fabric, or whether it's supposed to trap all the excess dye particles and permanently set them in the yarn.
---
Hypothesis 1: Synthrapol traps excess dye particles and deposits them inside the yarn.

Methods: I filled the basin with lukewarm water, and added a capful of Synthrapol as well as some Tide. I placed the socks into the mixture.
Results:
The socks bled like mofos. Synthrapol does not attach excess dye particles to the fabric.
---
Hypothesis 2: Synthrapol helps excess dye leave the fabric. Since the socks have already been treated with Synthrapol once and lost a lot of dye in the process, perhaps Synthrapol released all the excess dye into the water already, and no more bleeding would occur. If this is the case, then placing the socks into fresh water will no longer turn the water blue.
Methods: Place socks into a fresh batch of lukewarm water and Synthrapol.
Results: The socks bled like mofos (data not shown). Synthrapol does not eliminate all the excess dye after one wash, since the socks continue to bleed.
---
Experiment 2: vinegar. It looked like the socks had a lot more blue dye to lose after two Synthrapol washes, so I had enough material for a second experiment.
Hypothesis: Vinegar traps excess dye particles and deposits them inside the yarn.
Methods: I filled the basin with lukewarm water, added a bit of vinegar, then added the socks.
Results:
Considering how much excess blue dye I expected after the second Synthrapol wash, I think the vinegar actually helped to trap the dye and deposit it inside the yarn! The water was just barely blue.
---
Follow-up experiment: Since I didn't want grandmother's sock to smell like vinegar, nor did I want them to spontaneously start releasing excess blue dye every time the pair wasn't washed in vinegar, I insisted on following the vinegar wash with a traditional water & detergent wash.
Hypothesis: The vinegar traps excess dye permanently, so the dye never bleeds again.
Methods: I filled the basin with a fresh batch of lukewarm water, added a drop of Tide, then submerged the socks.
Results:
The hypothesis was correct! Following the vinegar wash with a traditional detergent & water wash didn't counteract or reverse the setting/trapping effects of the vinegar. The water was almost unnoticeably blue.
---
Conclusions: I am not sure what the Synthrapol does. It neither allowed all the dye to leave the fabric at once, since the yarn bled after the 1st wash, nor did it permanently set the excess dye particles inside the fabric. Foo on you, Synthrapol! Vinegar, a cheap and common consumable, seems to attach the excess dye particles to the knit fabric, since it stops dye bleeding when it's expected. This effect is permanent: a common soap and water washing does not reverse it. In the future it would be useful to test the vinegar on bleeding fabric that hadn't been washed twice in Synthrapol.
Posted by Kathy at 03:15 PM | Comments (25)
June 16, 2005
Horizontal, vertical, insane
What do you think?
I made it up myself :).
When thinking of a pattern for this yarn, I insisted on thinking horizontally... let me explain.
Consider cables, like the ones which adorn the cleverly-named Cable Rib Socks (Spring 2005 Interweave Knits):
Cables placed in this manner are vertical: they run along the length of the knitted item.
Now consider knitting in the round with a variegated yarn like this Opal. The little segments of color produce horizontal bursts of color - they run side to side with respect to the knitted item. The same thing is true of self-striping yarns, except the segments of color are significantly larger. Anyway, were I to overlay a vertical pattern repeat, such as cables, on top of horizontal coloration, the result can only be described as "poopy." Yes, that's a technical term which means, "neither the pretty color, nor the pretty pattern shows through."
I decided that I'd be bored to tears knitting a simple stockinette stitch sock for my Sockapal-2-za pal. Also, I did a few rounds of simple stockinette, and this is not one of those yarns which forms interesting stripes as it's knit up - the bursts of orange and teal are only 4 stitches long. Therefore I started with a pattern repeat which had 4 knit stitches as its basis, then added a little "glam" without compromising the horizontal nature of this handpainted yarn.
So there you have it!
Posted by Kathy at 01:20 AM | Comments (38)
June 14, 2005
Waschmaschinenfest
Waschmaschinenfest 40° heiß waschbar weich und saugfähig strapazierfähig nicht filzend nicht einlaufend äußerst ergiebig hautsympatisch.
Pardon?
No, I haven't taken up German, but I've taken up German yarn!
&nbsp
I got my Sockapal-2-za Sock Pal info from Alison this afternoon. My Sock Pal's identity will remain secret from all of you throughout this event, but not his/her socks!
This is the yarn for the socks - Opal Handpainted - bouncy, springy, soft! Not exactly my colors (I'm not a fan of brown), but my Sock Pal will like it, I think. There's no gauge and recommended needle size listed, but it looks like it wants a US 1 or 2. It wants it, it wants it good! I have no idea what the label says, other than, "Opal Handpainted Sock & Sweateryarn, 100 g skein, ca. 425 m, 75% Schurwolle, 25% Polyamid." Oh, and of course it also says, "Happy Knitting." Those Opal folk, gotta love them, first they confuse me with their German, but then they wish me Happy Knitting in perfect English :).
The pattern? I'm still thinking. A part of me wants to knit a simple stockinette stitch sock (alliteration, anyone?) in order to preserve the lovely colors and any striping that may develop. Another part of me, the part you know so well, wants to add just a little glam, a little patterning or something. Not cables or lace - that would be useless with this pretty yarn - something simpler. I'll keep you updated.
Posted by Kathy at 10:31 PM | Comments (19)
The heat is messing with my head
In case you haven't heard, it's hot. How hot? HOT. My brain is liquefying. Everyone has the air-conditioning on, and as a result, we had a citywide power outage today, just lovely. No A/C, no traffic lights, no blenders at Starbucks to make Frappuccinos, you get the idea.
I've been thinking crazy thoughts. I blame it on the heat.
1. The sweat is making my eyes sting, and my blurred vision has magnified grandma's feet to ginormous proportions. How ginormous? Ginormous enough to fill these socks:
Yes, I finished the first of my grandma's Best Foot Forward socks. It is pretty and soft, that's for sure, but it is also way too long. My finger is indicating where my toes end. Yes, grandma's feet are longer than mine, but not THAT much longer. I'm currently working on the second sock, which I plan to make a good 2-3 repeats shorter. If that length seems right, I'm going to frog the toe of the first-born, longer twin and make him grandma size.
2. The humidity is messing with my yarn. Okay, maybe it's not the humidity per se, it's just wetting the yarn using whichever means. I decided to wash my swatch for the Fibo, just to make sure the gauge remained the same before and after blocking. You guessed it, the gauge changed. Now, you saw me struggle with the beading, and of course I was basing all my calculations on the gauge of the unwashed yarn. I figured, it's Rowan, it's the precise yarn called for in the pattern, and I got the precise gauge when I swatched with the precise needle size recommended. But life is never easy like that, is it? The idea of figuring out the beading again makes me just a tad nauseous.
3. Through an exchange with a friend, I now have enough yarn to finish the Adrienne Vittadini nightmare. And for some reason, I'm really itching to do so. Even though it causes blood and pain and tears and back pain and the sleeves need to be taken in big time.
The weather. It's the weather.
P.S. Please, please, please, go to Beth's blog and look at this bunny. Why am I such a sucker for a cute angora bunny?
Posted by Kathy at 01:05 AM | Comments (12)
June 12, 2005
The results are in!
Hello, wonderful knitbloggers. I post some bead pictures and 47 comments later (as of Sunday noon), I think I can safely say that all of you have opinions! I won't go into details of how I scored your responses, other than to say it was consistent bead to bead. Here are the results:
So it looks like you guys like #3!
I bet you're all wondering which one is the color of the Honda?
This isn't my neighbor's Honda, I wasn't able to take a picture of it because it's not parked in its usual spot right now. But I'm pretty sure this one is the same color, and I'm pretty sure this color is called, "graphite pearl." In real life, the Honda color is very close to the color of silvery-gray hematite.
I guess you can tell that I'm leaning towards beads #4 or #10. I spent some time with Colleen and Paula this weekend, and in addition to having a blast with them (note: must meet up with them again), they were able to advise me on bead selection in real life. They had the brilliant idea to look at the beads from a distance, and told me that, excluding the white beads, the only ones you can see from 10 feet away are #4. I agree that #3 and #10, which you guys prefer, are subtle and sparkly and lively, all at the same time, but the fact is you can't see them against the fabric from 10 feet away. I tried to capture that with my digital camera, but I think you just have to be there. I will consult with my Sunday Stitch 'n Bitch today, but not before I'll go to Beadworks and get beads #4!
Posted by Kathy at 12:03 PM | Comments (12)
June 10, 2005
This one will be fun!
I went to Beadworks today, and those folks sure have a lot of beads! So many, in fact, that I had difficulty choosing!
The fun part is that I get to show you the beads, and, if you're so inclined, you can tell me which ones you think look best against this Rowan 4 ply Soft; I appreciate your input!
The first photo was taken outside, in "direct" sunlight (as direct as muggy summer days get), and the second was taken indoors in indirect sunlight. I marked each bead with a number for easy identification, and put the numbers off to the side so that they don't obscure anything.
Do I have an opinion? Of course I do! I like the Honda-colored beads best. Which ones are the Honda-colored beads? Now that would be no fun!
P.S. I'm also very close to finishing the first sock from my grandma's Best Foot Forward pair.
P.P.S. I'll show the swatch and beads in person to those of you who I'll see this weekend.
Posted by Kathy at 07:47 PM | Comments (48)
Honda! Pikachu!
It is figured out. At least for now. You know things change as soon as you start knitting and realize, oh shit, I placed this bead right where I'm supposed to decrease. Blah, we'll get there when we get there. I have to get BEADS! Diana, are you listening? It's BEAD time!
How many beads? Well, the neckline needs only 434, but I want more. Here's my thinking: because I didn't want any beads below my bust, there will be just six beaded rows, spaced closely together. Kinda little, isn't it? I will do my best to make the beads stand out while not looking like I'm an eighties flashback, but still, just six rows.
Diana (yes, that same trouble-maker Diana) suggested that I make one beaded row right after the ribbing on the hem and cuffs. I think that will be okay, I'll put them maybe every 4 or 5 stitches, not too flashy. What do you think? So then I need about 100 more.
Off to Beadworks I go! Need about 550 beads! There's a Honda I see parked on my street, and I think Honda-colored beads will go perfectly with the Rowan yarn I'm using for the Fibo. Must match color of Honda!
And just for a little fun, these black-and-white printouts I keep photographing splayed out on my floor are actually in color on my computer:
OH. MY. GOD. Pikachu has chicken pox!
Posted by Kathy at 01:14 AM | Comments (9)
June 09, 2005
Test knitters are goddesses
Well, it's clear enough I can't get my shit together when it comes to the Fibo (evidence here and here). I work too hard, I don't work hard enough, it comes out too big, it comes out too small, I rely too much on math, I don't use math enough, I should ditch the pattern, but I want it to look like the picture, I use too many obscure geometry tools, I haven't yet whipped out my abacus (is there any doubt I know how to use one?), I worry how it's going to fit once I change everything, I should just squint one eye and wing it, and so on. Maybe the beaded sweater was just meant to be knit the way it's written? Maybe this particular design is too rigid to allow alterations to de-poof the sleeves and make them longer and rearrange the beads following the Fibonacci sequence? Whatevs, dudes, I'm leaving it alone for now.
Some knitting things in my life are going quite well, though! I don't think I'm revealing a secret (because I've told this to so many of you in individual e-mails), but I've been working on patterns for the Tivoli t-shirt in extended sizes!
I often notice that knitwear patterns just proportionally increase or decrease various measurements for multiple sizes. It makes sense to make a bigger bust circumference for a bigger person, but does it also make sense to make bigger armholes or a bigger neck opening? Or make the garment longer? I am learning like the rest of us, so when thinking about making larger and smaller Tivolis, I recruited real people, with real shoulders and arms and bums. We made a deal: I would ask them for their measurements (and some were really out there), and I would create a Tivoli pattern to the best of my garment-construction knowledge. They would knit the pattern and give me feedback. Then, I would make the new size available to the public.
Because my test knitters are loyal blog readers and I like to think of them as my friends (awww!), I did not get all Grumperina on them, and let them use whatever yarn with whatever gauge they wanted :). I think that's only fair. Perhaps confusing in the long run (uhm, for this size the pattern is written in Yarn X, and for this size the pattern is written in Yarn Y), but observe as I don't care. Lalalamwahahalala!
After receiving the test knitters' measurements, I wrote the patterns, and that was really painless compared to freakin' de-poofing the Fibo sleeves. A little time went by, and I saw the pictures of the first completed Tivolis from Carolyn and Tara.
And then I got very emotional. There was a bit of calling the co-workers over to my computer and letting them marvel at the t-shirts (they couldn't understand how a well-fitting tee someone else was wearing made me so happy), and a lot of clasping of my hands in delight, and maybe even a shriek of glee :). Why?
When Joelene knit a beautiful iPod cozy, I was so happy! However, there was no surprise because I knew the cozy would fit. Unlike people, all iPods (of the same model) are all the same size! So, knitting an iPod cozy following the pattern is guaranteed success.
Not so for the Tivoli tee! How could I know that the numbers and directions I think would make Carolyn and Tara good-fitting shirts would actually work out? (And in the case of Carolyn's pattern, they didn't at first: what you see is the second version of Carolyn's Tivoli.) It's hard to describe, but writing a pattern that I will never knit, based on someone else's dimensions is a very distant, removed, uncertain process. I write, knit 36 stitches then SSK, but I'll never touch the yarn and the needles and actually do it. Weird.
But now they're done, and I took one look at them, and they were well-knit, good-fitting, and Carolyn and Tara are happy. Folks, how can I argue with that?!?
Why do I have to be such a sap? I guess a good-fitting pattern does that to a woman.
Bottom line: two more Tivoli sizes are available! Finished bust dimensions: 31" (knit from Debbie Bliss Cathay) and 37" (knit from KnitPicks Shine). Click on the sidebar icon to read all about it!

Posted by Kathy at 10:59 AM | Comments (33)
June 08, 2005
Beer-mediated design
I was feeling so good about my grandmother's Best Foot Forward Socks, that I decided it was perhaps time to work on the Fibo. I medicated myself with 1.5 bottles of Stella Artois (I'm SO not kidding), and in my half-jittery, half-delusional state once again took out the measurements and the charts.
You thought the protractor was bad? Mwahahahaha!!!!
THAT, folks, is called a COMPASS! When was the last time you used one of those? Me? Ooooh, circa 1994.
Shit.
However, there is mental progress on this little design:

If I get rid of the puffy sleeves and keep the neck opening the same size, it becomes too wide, like a boatneck.


If I get rid of the puffy sleeves and make the neck opening smaller, it involves a lot of math and I haven't fully explored this option yet.


If I get rid of the puffy sleeves by, simply, making them a little smaller and keeping the overall raglan shaping and neckline the same, it's a bitch to figure out where the beads go. (That's what I'm trying to figure out in the graph above).
Is there a point where one says, this design is written the way it is for a reason, and because of the puffy sleeves is not easily given to customization? Or even, if the knitter's alternations involve moving the raglan seam, then it is impossible to keep the same neckline? How do I know when this point is reached? What if I think I've reached it (yes, that's what I think), but continuously doubt my math re-design skills? - maybe I'm just missing something, maybe I'm not thinking hard enough? And then there's the blog pressure... I feel like you guys (based on your comments) really expect me to figure this out. And when will I have done enough math and used enough obscure math instruments to say, it can't be done? Sigh.
Edited to add: This entry is most fitting for today, because it is filled with Maths and rulers and compasses and other engineer-like stuffs, all of which I learned from my engineer dad, whose birthday it is today! Happy birthday! (No, he didn't teach me to knit) (Yes, he gave me that particular compass)
Posted by Kathy at 10:07 AM | Comments (22)
June 06, 2005
A little frogging never hurt anyone
Warmth and durability: two very good things. When it comes to socks for my grandma, I want them to be warm (knit from at least sport weight yarn) and durable. Warm because my grandma is, you know, typical grandmother age and her footsies get cold, and durable because she doesn't take off stuff I make for her: even if I made hot pink socks with blue pom-poms she wouldn't take them off; in fact, she would proudly show them to anyone who cared to look. For sock yarn, durability usually comes in the form of 20-25% nylon content, and that just doesn't exist in sport or worsted weight wool good for socks. Improvisation begins, and you know I'm a fan of that :).
Nothing exciting happened until I got past the slip-stitch flap heel on my grandmother's newest socks, so I won't bore you with details.
Once I was ready to work on the sole of the sock, I decided to follow the instructions for the padded footlet in the latest issue of Interweave Knits. It's a clever concept - the entire sock sole is knit with doubled yarn. Some rounds every stitch is made with doubled yarn, and other rounds are worked with a single strand, with every other stitch being slipped. Does this sound fussy to you? It is. That's a good way to describe this pattern - fussy.
Fussy doesn't mean impossible, so I knit a few rounds following the pattern, and hated the result. I'm already working with DK-weight yarn on tiny (US 1.5) needles, and doubling the yarn caused the end product to be stiff like cardboard. Yuck. Also, the sole became way too wide and the sock too big overall. So I ripped until the sock heel. I would be willing to give the padded sole a try if I work with thinner yarn - I think I would be much happier with the results.
Then I decided I would use nylon reinforcement thread for the sole. I didn't want the reinforcement yarn to obscure the pretty pattern on top of the foot, so I held the two together only during the sole stitches. Ha! Yes, you're thinking the right thing - two ends to weave in for every round: one at the first sole stitch where I attach the nylon thread, and one at the last sole stitch where I drop it. It's a bit slow to knit this way, even though I wove in ends as I went, but just like the fussy padded footlet, I would have continued if the method worked for me. It didn't. The nylon reinforcement made the sole very inflexible and not stretchy: the sock no longer hugged the foot. I can only imagine how much more yucky it would be if I used the reinforcement on all the stitches lower than the heel, so at least my thinking in using it on only some of the stitches was in the right direction. Anyway, I wasn't happy, so I ripped it.
Ripping socks is so painless, don't you agree? I have absolutely no mental hang up about it, I just do it, I don't think twice.
What's next? I'm going to use something that I know will work :). I will knit socks in total peace without changing anything, and then once I'm all done, I will weave in reinforcement thread into the sole from the wrong side. I did it in my grandma's last pair of socks, and the inside looked like this:
Here's the obligatory picture of the sock-in-progress:
P.S. I tell you a little secret, you all come a little closer: I figured out how to re-work the sleeve shaping of my Fibo! And when I say that, I mean, were I to allow myself to take out the graph paper and the pattern right now, I know the Maths I'd need to do. But I'm keeping myself away for just a little bit longer :).
Posted by Kathy at 08:28 PM | Comments (16)
June 05, 2005
How knotty are your needles?
I recently purchased a pair of Bryspun Bry-Flex Circular Needles. It was my first time seeing them, but I didn't realize that this entire line is brand new! Well, in an effort to help and inform the knitting community, I decided to write a little review.
I LOVE these needles! How much do I love these needles? Enough to try them out, then call the store* and order four more sets in different sizes.
Now, I break down my review into a few categories:
Availability and price: As far as I can tell (this is a brand new line, bear with me), Bryspun circular needles come in four lengths: 16", 24", 29", and 40". They come in whole US sizes, 3-15. The cost is (roughly) $7-9/set depending on size and length.
Composition and general look: Bryspun circular needles are made from the same material and have the same look as Bryspun double-pointed and single-pointed straight needles. Knitter's Review tells us that the dpns are "highly recommended by knitters with arthritis or other hand-related problems, these needles have a warm feel and are flexible to the touch," which is true for the new circulars as well. The highly-defined tip which makes Bryspun straights so comfortable and popular is maintained in the new line of circular needles (yes!).
Feeling of the needles: Bryspun circulars are feather-light. For folks like me who are used to some needle weight in our hands, this may take a bit of getting used to! My size US 5, 24" Bryspun circular weighs 5.3 grams; for comparison, my size US 7, 20" Addi Turbo (the one and only Addi I own) weighs 5.8 grams. The needle part of the circular is wonderfully flexible. At least for me, the lack of flexibility where the needles meet the cord (approximately where my hands end and my wrists begin) is often a source of discomfort and cramping. Bryspun circular needles have enough "give" to follow the curve of my arm and not put my wrists in an unnatural position.
Feeling and flexibility of the cord: Often the trademark of circular needle "goodness," Bryspun circulars' cords are amazingly flexible. They remind of Denise Interchangeable Needles cords - sort of like a flexible filled straw - except Bryspun cords are thinner and even more flexible. I can tie the Bryspun cords into knots, and they stay that way, or I can wrap them around my pinky into a coil. When I'm done with my nonsensical tests, the cords relax back to their original state with a gentle tug.
Knotty needles!
"Join": Really, there is no needle-cord join to speak of. The two meet with a small step or bump, but in a completely seamless transition. I tried them out on my lace scarf, because, to me, lace knitting (and unknitting) is the ultimate test of good join construction. I found these needles to have a very smooth join that did not catch the stitches at all, and allowed the yarn to slide over very fluidly.
Smoothness and speed of knitting: These needles are very smooth and allow yarn to slide across the needle surface very quickly. I do believe they have a bit more grab than Addi Turbos, but not nearly as much as even other metal needles like Susan Bates
and INOX. Bamboo needles are in a league of their own on this one - not even comparable, and likely suitable for completely different projects and yarns. The famous Bryspun tips boss around even the splittiest of yarns in my stash.
Conclusions: Go get some! I do not yet (6/5/05) know of any online retailer except Oregon Trail Yarn on eBay, which is selling these needles in the 16" length only.
*The store where I purchased my Bryspun circular needles, both in person and over the phone with shipping service is: Wild & Woolly, 7A Meriam Street, Lexington, MA, (781) 861-7717, wwoolly@aol.com.
Posted by Kathy at 12:58 PM | Comments (16)
June 04, 2005
Knittery day
Do you know what's the most stupid-looking thing in the world? Me. Okay, me in a certain situation - trying to knit in the English (right-hand hold, throw the yarn) method. I might as well be a fish trying to peel a banana. Or be deep-sea fishing with a banana. The lure of stranded knitting is out there, though: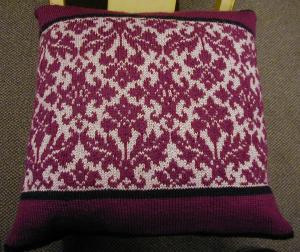 Pass a tissue, I'm drooling!
Of course I have investigated, purchased, and tried Strickfingerhuts (aka, knitting thimbles), but, eh, they are too darn big for my fingers. Next think you know, it's me, four Band-Aids, funny-looking coil on my finger, and needles being tossed at the wall. So, learning to knit two-handed, in the traditional way Elizabeth Zimmermann does in her videos, is what I'm opting for.
Along those lines, today I took a color-work class at the Knitting Room along with my friend Rosann. Although I was pretty clear on how to strand "in theory," it was nice to have scheduled stranded-knitting time, so that I can practice my English knitting. From the class itself I learned a lot of little tricks and gathered many observations about color-work knitting. Here's a picture from the class:
The pink and white swatch is mine! The heart is worked in intarsia (which I already knew how to do), and the rest of it is stranded. You can see I totally screwed up took some liberties with the "garter stitch" border.
How do I feel about stranding? Comfortable and curious enough to start a small project. I have some lovely worsted weight merino wool in a wine red and rose pink that's itching to be a hat, I think. Any hints about where I can find a pattern for such a thing?
From the class Rosann and I proceeded to visit the sale to end all sales at Wild & Woolly Studio in Lexington. There was a ton of yarn on sale, and I actually bought some, without a specific project in mind!
This is 10 balls of Lana Grossa Cool Wool 2000, 100% wool. I've definitely noticed this yarn before: versatile gauge (24 sts/4 inches) and it feels and looks remarkably like Rowan 4-ply Soft. Notice the lack of pinkness and redness. I'm not sure how that blue is looking on your monitor, but it's not a "baby" blue, it's very much a "Rowan" blue. Ten balls translates into 1750 yds, enough for a small sweater like the Vintage Pink Cardigan (i.e., 3/4-length sleeves, doesn't go past the hips, no fancy collar). I also got a pair of Bryspun circular needles - wow, the cord is so weird! All flexible and wobbly! I'll have to try them out. With needles, I like to have one of each kind, because you never know which kind will boss the yarn around the best. I'm such a needle ho (other than Addis, whose blunt tips I detest).
Tomorrow, an update on grandma's blue socks.
Posted by Kathy at 10:35 PM | Comments (12)
June 03, 2005
Sock heaven
I have so far encountered only one minus to knitting my grandma's Best Foot Forward socks: dark blue doesn't photograph well to show off the patterning. Oh, if all my projects were this "flawed," sigh :). Nonetheless, my best photographic attempt:
This yarn knits up very evenly, which you can see in the uniformity of those columns of knit stitches on a purl background. The pattern is SO easy. It's like one step, no, like half a step more complicated than a plain ribbed sock. I love using slippery aluminum needles with very pointy tips for this project - it's a pretty hefty yarn (sportweight) to be used with US 1.5 needles (thanks, Johanna), and a needle with a blunter tip just wouldn't be able to squeeze between the stitches.
And are you seeing my tubular cast-on? It's a beaut, I tell you, a beaut! Jody reminded me that Montse Stanley's Knitter's Handbook has a recipe for making the tubular cast-on without scrap yarn. (1) By the time I got her comment, I had already cast-on :-D and (2) M. Stanley's version is the one which drove me bonkers last time (granted it was the tubular cast-on for 2 X 2 ribbing rather than 1 X 1, but you get the idea).
Anyway, I ended up using this link which I found on fluffa's website, but not before I once again proved myself to be a doofus and a dorkus enormousous. See, I thought I was all clever when I read the instructions and with my magical powers figured out how to adapt them to circular knitting. If I was smart, I would have used Google and would have found, for example, this site, which already explains it! There's a word for this - unventing? Uninventing? Being a giant dork/doofus?
So, the socks are off to a happy, frog-less, tubular start, and I think they will move along rather quickly with the sportweight yarn.
You know what happens next...
So I was thinking of changing some things because this is too simple. Are you laughing at me? It's allowed, I'm laughing at myself :). In particular, the Padded Footlets (scroll about 1/3 down) in the Summer issue of IK have double thickness of yarn to cushion the soles. This is very interesting to me because the sole is where grandma wears out her socks the quickest. I started reading the instructions, and this is definitely one of these things that makes zero sense until you're actually doing it. I will knit in peace until I get to that point, and then I'll see if I can adapt the footlet sole instructions to work with this sock.
Socks for grandma, socks for Sock Pal (coming soon!), how about socks for me? Toot the horn, Lou read my mind and came to the rescue! (Did you see the shawl pattern that she's graciously put on her blog? GORGEOUS! With BEADS!) I did some computer stuff for her, and in exchange she sent me a most pleasant surprise:
Heaven! I'm in heaven! Lou, thank you so much! This is a lot considering how little work I put into helping you, and I appreciate your gift very much. The yarn is called Fortissima Cotton by Schoeller Esslinger, it is 75% cotton, 25% nylon, 26 sts/4 inches. It feels like a very soft cotton, let's say somewhere between Rowan's 4-ply cotton and Rowan's Wool Cotton. Lou sent me enough yarn for a small tank top or a nice scarf, but I'm thinking socks for me :). There's enough here for two pairs, let's start with one and see how it goes. I'm on the lookout for a pattern, I may have found one in Knitting on the Road which will need some modifications, but I haven't finished looking through all my stuffs yet. This yarn is a wonderful opportunity to make pretty socks - it is a solid, light color, so it will show off stitches wonderfully. It's not meant for a stockinette or ribbed sock: it has more noble aspirations :).
---
Betsy made this button. She, too, has been reading my mind:
This has inspired me to make the following buttons:
I used Google Images and searched for the word "trinket" for most of the images in the background (if you can make them out).
Posted by Kathy at 01:41 AM | Comments (11)
June 01, 2005
Finally, a post where things work out
You are in for a pleasant change. I know my last few post were all, "garrrrrrr!" and that you're all thinking my hair is completely gray by now. Well, all your advice was not wasted: I have paused and caught my breath (mainly because my little hamster Axon is not doing so well and I spent a lot of time home today focusing on him and his obnoxious brother instead of knitting). No need to move from one complicated nightmare sweater to another one. The AV sweater is in its GAP jail bag, the Fibo charts are paper-clipped to the pattern and in the bookcase, so it's time to a nice, pleasant post. This one is like where the Tivoli works out and looks good :).
Today is my grandma's birthday! Grandma didn't teach me to knit, but I inherited my obsessive-compulsive tendencies from her (and my dad), which can be both a blessing and a curse, right? There's no better way to celebrate grandma's birthday than to start a pair of socks for her!
A little while back I picked up some KFI Cashmereno (unfortunately, no website) on sale at Woolcott with the very intention of knitting socks for grandma! It is made in Italy, 55% merino wool, 33% microfiber, 12% cashmere, which adds up to 100% buttery goodness.
Each 50 g skein has 135 meters (148 yards), just in case you're curious. It's generally knit on US 5-6 to a tension of 22 sts/4 inches. However, for a sock you can imagine knitting this yarn on smaller needles for a denser, more durable fabric. Alison did it and so can I.
This morning after dealing with my little fuzzball and the disaster that is the Fibo, I read your comments and started flipping through my sock books with the intention of finding a pattern for the KFI. And look at this beauty called Best Foot Forward from Knit Socks!
by Betsy McCarthy:
Coincidence #1: the pattern is written for women's large/men's medium size, which is my grandma-ma's size. Her street shoe size is around 9 or 10, and her footsies are wide. (This, apparently, did not get passed down to my mom or me.) No modifications will be necessary.
Coincidence #2, the big one: the pattern is written for KFI Cashmerino. Are you floored?!? Come on, play along, go sit on the floor! No modifications will be necessary.
Coincidence #3, another big one: they say to use US 1.5 needles, which I know exist, but are nonexistent in my needle case. Eh, I knit fairly tightly, I decided I would go with some US 2s. But wait! I took out my needles and started to put them through the gauge check to see if any 2s were smaller than the others. Here are my Bryspun 2s:
And here are my INOX aluminum 2s:
Wow, that INOX is sure small for a 2! Will it fit into the US 1 slot?
Just barely, with a bit of force. If this isn't the perfect candidate to be a US 1.5, I don't know what is! No modifications will be necessary.
As nifty as a protractor is, what I really want right now is some calipers... Alert: dorkus enormousous on the loose! Hehe :)
The only thing that I will do differently about this sock is try the tubular cast-on. I've tried it in the past and it hasn't worked out for me, but I admit I didn't push the issue. That's it, that's the only challenge in this project. I feel like I can breathe, I can sing, I can dance!!! Did someone slip a happy pill into my diet Coke?
---
I've joined! You know I'm not a joiner: I will never knit a Crapotee, I will never be a Secret Chachka Collector, but one thing I joined is the Sockapal-2-za hosted by Blue Blog Alison. This will be a good one because it's an even exchange! I give you socks, and someone will give me socks!
So, it looks like June will be filled with sock knitting (for grandma-ma and sock pal) and finishing up lace scarves, and I'm thrilled about it. It's time to enjoy my knitting :).
Posted by Kathy at 09:44 PM | Comments (22)
Can someone force some dpns into my hands, please?
The AV sweater has been folded up neatly (with just a tinge of anger) and put away into a GAP bag, where all bad projects belong. You know those GAP bags - navy blue and completely nontransparent. There ya go, you will not see the light of day until I say so!
I received the two freebie skeins of the Merino Style. Just to clarify, I would have run out of yarn whether the skeins were short 3 grams or exactly 50 grams each. It just so happened that when I called KnitPicks for an explanation of skein underweight, they offered to mail me two skeins as compensation. Great, now I don't have to place an order. Anyway, of course they are a different dye lot because I bought the original batch way back in February. They look close, but the new batch seems redder to me. I don't know, don't quote me on that until I take the wool outside and compare in daylight. However, not all is lost: my friend Alasdair has one skein of the dye lot I want and has agreed to trade! Woohoo!
So, now I technically have enough wool to finish the second sleeve. What to do next? I don't know. Frogging and re-knitting is out, the yarn won't be able to handle it, and neither will my sanity. Elizabeth and Emily from my Tuesday knitting group advocate finishing the second sleeve exactly as the first, then taking in some width on the sleeves, stitching a dart, and cutting off the excess. Sort of what I did in the picture, except permanently instead of just basting, and with scissor involvement. Diana approved (of course). All those decisions will have to wait. For now, we move on to new things.
Remember the Fibo? It is my modification of this beaded sweater (from Vintage Knits
by Sarah Dallas):
I'm itching to select and purchase the beads so I can get started, but first I have to do the Maths to figure out exactly how many beads I need (since I'm modifying the bead pattern). I thought that this would be a pretty simple thing because at least there's a size in the pattern which fits me and I wouldn't have to worry about re-sizing... just re-beading. Right? Wrong!!!
The pattern is written to have armhole-to-hem length of 11.5". Uhm, let's try 13.5" for some modesty.
The shaping was pretty decent, actually, but while we're at it, I decided to modify it just slightly.
Of course I need to write directions for three-quarter length sleeves, but at least I thought the sleeve cap shaping would be all taken care of: I would just have to extend those capped sleeves. Right? Wrong!!!
The sleeve shaping is written to give that cute puffy capped look. Which is fine, but it means I can't just extend them down, I have to rewrite all the shaping. Shoot me, shoot me now.
The non-standard raglan seam (you see how it doesn't go to the corner of the neckline?), as far as my math skills can tell, is only there because of the puffy capped sleeves. With standard-shaped sleeves, it can't be there. Total bummer, I really liked that accent.
So, to be perfectly honest, I spent a few hours last night working on this - TV off, complete concentration - and it was very frustrating. I mean, more frustrating than the usual pattern rewrite because here it's not just changing row and stitch gauge (in fact, in this pattern I'm not doing that at all, my gauge is dead-on), and it's not just adding an inch to the bust (again, not doing that here, just knitting the 36" size), I am changing how the garment pieces look and fit together.
How complicated could this be? I HAD TO GET OUT THE PROTRACTOR! Are you following me? Evidence:
Oh shit. Can someone force some dpns into my hands and make me work on a simple project? Where I don't have to fire up six calculators and get out my protractor and turn gray trying to figure out how to move the raglan seam so I don't get puffy sleeves? Because I just had one of those, and I'm pretty much fed up with doing all the calculations and the writing, and not a lot of knitting. Pass me a sock, wouldja?
Posted by Kathy at 10:23 AM | Comments (16)