« January 2005 | Main | March 2005 »
February 27, 2005
Things are happening
In Oscar speech fashion:
Thank you everyone for your advice about the pink Louet yarn for my Vintage Pink Cardigan from Interweave Knits.
judyouzts - I'm glad you're enjoying my blog, and you aren't the first to tell me that pink looks good on everyone.
CatBookMom - I agree that the coincidences were almost a bit much, and the pink (I think) is even lovelier in real life.
Sara - I love working with Louet and it doesn't disappoint. I'm not sure why it's not more popular, because the yardage is excellent! I think it's not distributed as widely as, let's say, Debbie Bliss.
June and 1nderlandwoman - I'm destined, you are both right.
yarnhappy - thank you, I hope the pink looks good in real life and in pictures, and thank you for your comment about my lacy scarves.
My knitting posse - you know who you are, I would not be giving this speech if it weren't for your constant support and advice... and reminding me that patterns using needles larger than US 7 are not for me :).
So, the verdict is that I'll be making the Vintage Pink Cardigan using the Pink Panther (rrarrr!) Louet. There, I said it :).
Posted by Kathy at 08:46 PM | Comments (1)
February 26, 2005
Do they talk to you, too?
Dear Stitch, my knitting god,
I believe you are trying to communicate with me. As dense as I sometimes am, I think the message is coming through. Let's see if I got it right:
First, Jenifer from Knitting at 5337 asked me about Louet Gems, which prompted me to pet it as I was writing a quickie review. Mmmm, Louet, I love you so much.
Second, I remembered that one of my local yarn shops, the one which carries Louet, is having a winter clearance to make space for new spring goodies. Mmmm, winter clearance, I love you so much.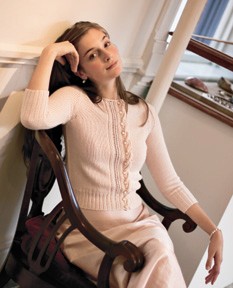 Third, it has already occurred to me that the Vintage Pink Cardigan from the Spring 2005 Interweave Knits is knit at 24 sts/4 inches, which also happens to be the recommended gauge for Louet Gems Merino Opal. Coincidence?
Fourth, I don't insist on making a pink sweater like the one in the magazine, but I'm not opposed to it, and Louet does make a lovely pink called "Pink Panther". Rrrarr! I love pink.
Prompted by these weird coincidences, off to the LYS I went. Their current selection of Louet is very meager because they're just trying to get rid of their leftovers. Just a skein of this, two of that, and then a whole bin of three different shades of brown that can only be described as variations on poop - yuck!
But what was hiding between all the poopy-colored yarn? Some pink goodness, which I promptly placed in my basket, lest anyone else snatch it from under my nose. I quickly looked over both shoulders to make sure no one saw me take the goods. I'm possessive when it comes to yarn. I went to a corner of the LYS to contemplate.
How many skeins of Louet did I calculate I needed to complete this sweater? 5.8.
How many skeins were there at the LYS? Exactly 6.
Were they all the same dye lot? Yes.
Were they on sale? Yes.
In the words of our great President, shock and awe. I paid my $64.80 (would have been $72 full price), and went home.
Dear Stitch, the message is clear, but there's only one question remaining - is this pink the pink for me? Some pinks make me look washed out, with my pale skin and all. I'm still pondering this point, and plan to take a skein of the yarn to my knitting group to get some live opinions. In the meantime, I snapped two photos - one indoors and one outdoors - to see if the readers have any opinion: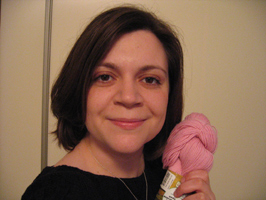 &nbsp&nbsp&nbsp&nbsp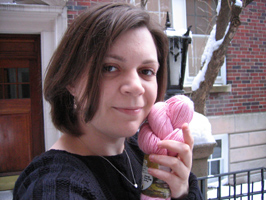 What do you think? Will this work?
To further shed light on this situation (or perhaps to utterly confuse myself), I took some pink clothes out of my closets, and compared the skein of Louet to them: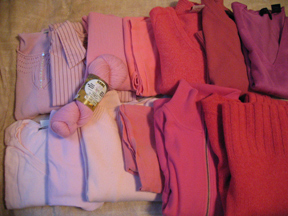 Before you say anything, yeah, I have a lot of clothes, and a lot of pink clothes. Hehehe, hoohoohoo, I'm just thinking how much more ridiculous this picture would look if I compared the skein to my pink underwear and bras instead :).
I felt really reassured when I noticed the pink Louet nearly perfectly matched a favorite sweater of mine (the one which the top of the skein is touching).
In conclusion, Stich, the god of knitting, I understand. I will do my best to produce a quality garment from this Louet.
Your most humble follower,
Grumperina
Posted by Kathy at 10:57 AM | Comments (1)
February 25, 2005
Why I love Louet
Jenifer from Knitting at 5337 asked whether I agree that Louet Gems Merino sportweight (that weight is called Opal) is similar to Koigu Premium Merino.
If you hold a hank of Louet and a hank of Koigu next to each other, I can see why people would say they are alike. Both are tightly-spun merinos, Louet is a 3-ply, while Koigu is a 2-ply. The resulting yarn in both cases has little beads of texture along its edge, almost like delicate lace. The weights are similar - Koigu is fingering, and the Louet I'm talking about here is sportweight. Louet also makes a line called Pearl, which is probably even more similar to KPM because it's fingering, but I have no experience with it. Nonetheless, KPM and Louet Opal could be potentially used for similar projects. Louet comes in more subdued, earthy tones, while KPM comes in every shade under the sun.
I think KPM is a bit softer, and produces a buttery fabric. Louet is also soft, but it has this "great sweater yarn" feeling to it - this stuff isn't going to fall apart or pill in three days! The reason for the difference in softness, I think, is that Louet is superwash merino, while KPM isn't. An ideal project for Louet - sportweight socks, sweaters (I'm considering Louet for this bad boy), baby clothes of all kinds (especially). A garment made out of Louet will withstand repetitive baby pukings and washings. An ideal project for KPM - shawl, adult sweater for someone who'll take really good care of it. I guess anything that you know will be handled delicately.
Finally, the price comparison. KPM is $11 for 50 grams/176 yards of goodness, Louet Opal (sportweight) is $12 for 100 grams/225 yards. Louet Pearl (fingering) is $7 for 50 grams/185 yards. Need I say more? :)
Enjoy your KPMs and your Louets, they both rock!
Posted by Kathy at 10:13 AM
February 24, 2005
block lace much?
My knitting group meets at a cozy coffee shop, and has been doing so for almost a year. I started attending this group in October, and even though it's terribly out of the way for me, I haven't been able to stop :). The people are fantastic, and as a group we have decided to make a wall hanging for the coffee shop. Each of us has pledged to make one or two 8" squares, and we plan to stitch them together to make the finished project. The wall hanging was originally conceived as a Christmas/holiday gift, but what knitter has the time to knit a little extra something during the holidays? So now our squares are due on March 15th (the Ides of March), and with the seaming, the wall hanging will be probably done by Cinco de Mayo.
I pledged to make one square, and it was automatically assumed that I'd use some kind of small needles, or some kind of thin yarn, or some kind of lacy pattern with weird cables, or a combination of the above. Ha!
Yes, that's what I did :) (minus the cables). I consulted my Barbara Walker Treasuries for inspiration, and decided to combine two lacy patterns for my square. I used Louet Gems Merino sportweight and US 3 needles to make my square.
Lace comes alive after blocking; in this case, the size increased dramatically. After making a swatch and blocking it, I calculated how big (or small) I'd need to make my actual square: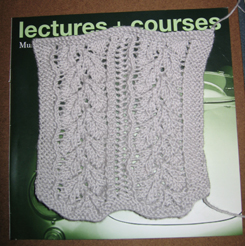 Here is the unblocked square. The piece of paper beneath is actually 8" x 8", while the square is a measly 6" wide and 7" high. This gives you an idea of how much the square will have to stretch.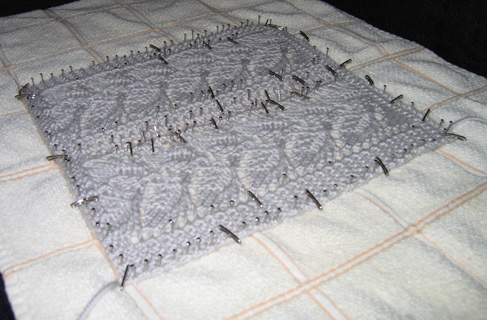 I used hundreds of pins to make sure the square blocked to a perfect 8" x 8" and that all the patterning showed off nicely. Betsy said the square reminded her of Hellraiser in this state. Personally, it reminded me of braces.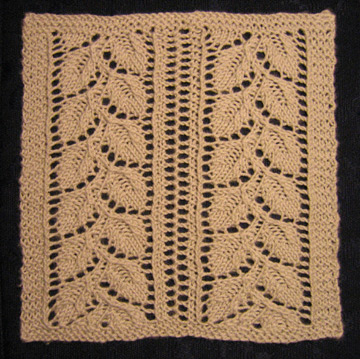 And here it is, the finished square! I'm very happy with how it turned out. Making this square taught me to always make a gauge swatch when doing lace, if the final size matters.
In other news:
What's this?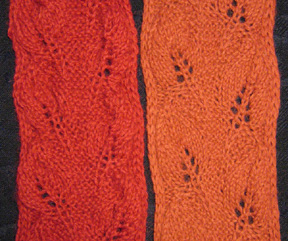 I'm at it again. In the right corner, in the rose corner, we have the current champion, Backyard Leaves 1! In the left corner, the raspberry corner, we have the challenger, Backyard Leaves 2!
Backyard Leaves 2 is precisely identical to the first one, except the yarn is a different color. The rose-colored one is all mine, but the raspberry one will be for my friend Egle. And since we've been talking about blocking, how about those scarves?!? Blocking made a huge difference here, I think, making the finished scarf flatter, and the leaves pattern more visible.
Posted by Kathy at 09:12 PM
February 21, 2005
A bit of this and that...
1. I was supposed to go on a trip to WEBS today, but it's been cancelled at the last minute due to the monster snow storm that's taking place right this very minute. After I found this out, first I pouted (a lot), and then I decided it was time to take action.
2. Let's recap my WIMs:
1. Adrienne Vittadini sweater from the Fall 2004 book, the tension for which is 19 sts/4 in.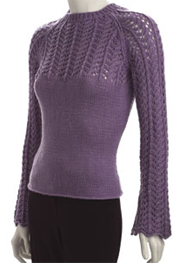 2. Vintage Pink Cardigan from Interweave Knits, the tension for which is 24 sts/4 in.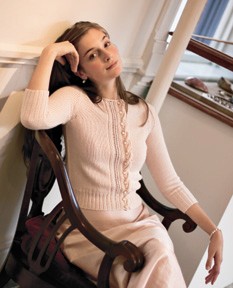 3. Hooded pullover from Knitting Woman's website, the tension for which is 12 sts/4 in (by the way, I have completely and fully translated the pattern at this point).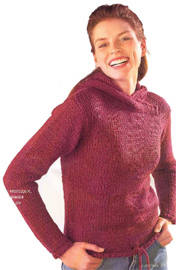 I am happy to report that by taking away the WEBS trip, I have now purchased yarn for #1, and a skein to test out for #2 (just one skein for now because I want to see if the color is right). I'm still thinking about #3, because I'm not sure how much I want a heavy sweater at a gauge of 12 sts.
3. I was reading EZ's Knitting Without Tears
. I haven't read it before for whatever reason. Now that I've actually picked up the book, she's quickly becoming my personal hero. I love the way the book is written, and I love how she addresses the reader, and once I get my own copy, I'm going back and underlining the important parts as I would in a textbook. Some of my favorites so far:
"If you hate to knit, why, bless you, don't; follow your secret heart and take up something else."
"When wondering how much wool to buy, ask the saleslady. She knows by experience. If she doesn't know and isn't interested, go to another store."
"Tight knitters lead a hard and anxious life." (yes, I'm a tight knitter)
And, so far, my very favorite quote:
"Some knitters get an enormous charge out of employing the most difficult methods and performing the job perfectly. They will obviously want to twist both the knit and the purl stitches in ribbing, and have my blessing."
Thank you for your blessing, EZ. I was just praising the beauty of twisted knits and purls yesterday, and those who go to knitting group with me may testify that I like nothing more than knitting entire garments with itsy-bitsy-tiny size 2 needles :).
Posted by Kathy at 11:11 AM
February 19, 2005
Backyard Leaves scarf is done
Betsy was talking about the Clapotis* and said that it's one of these patterns that is just so well-thought out and carefully designed, making it truly outstanding. I completely agree with her about the Clapotis pattern, and think that Backyard Leaves by Annie Modesitt is in the same truly outstanding category. Just everything about the design is brilliant - from the way the leaves run in opposite directions, to the smooth waves the edges form, to the nifty pointy ends of the leaves. In fact, I'll be making another one of these scarves immediately**.
Tada!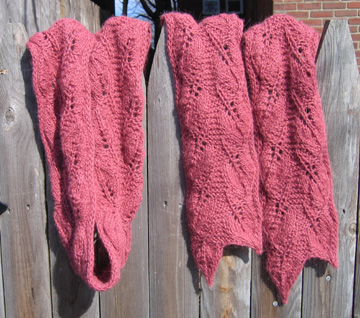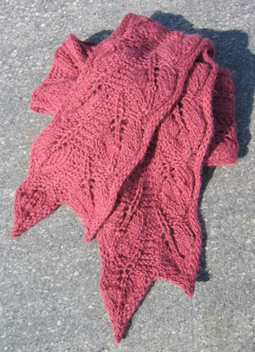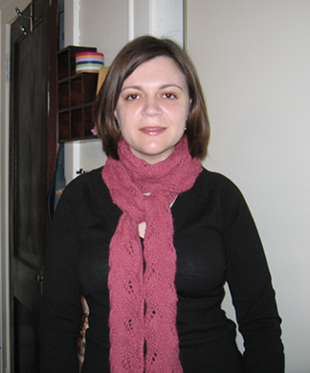 That's me, sporting my new scarf.
I used the entirety of 4 skeins, and my Backyard Leaves ended up being 4 1/4" wide by 90" long - that's enough to wrap twice around my neck and have plenty left over to tie in the front. The pattern (which uses a slightly thicker yarn) makes a scarf that's 5" wide and 78" long, for comparison.
I love it!!!
Some more comments are on my knitting webpage.
*I am still determined to NOT make a Clapotis. I will live vicariously through the hundreds (literally) of Clapotis knitters out there.
**The second Backyard Leaves scarf will be identical to the first, except I will use the raspberry color of elann's 100% Peruvian Collection alpaca, and I will give it as a gift to my friend Egle.
Posted by Kathy at 08:38 PM
February 15, 2005
The Knitting Relationship
My breakdown of the knitting relationship in stages:
1. Capturing attention. You've spotted it! Just like you spot a cute guy or girl in a coffee shop, or that paperback you've always wanted to read in a used-book store, you've spotted the perfect yarn or the perfect pattern. You touch and look, then walk around and check out the competition, only to frantically rush back when you see another knitter fondling what, really, is meant to be yours. The glee in your heart as you stand in the checkout line, or finally receive the order you placed online, plants a huge grin on your face, even if you save it until you're alone in your apartment.
2. Courtship. It's yours, all yours! You get it home, place it on the coffee table, and admire it from different angles. But not for too long - as soon as all the essential components are there (yarn, pattern, needles), you cast on. Ahh! You know what I'm talking about, that first row you knit with a new yarn, it's better than... many things :). You are still trying to establish the rules of the relationship with your yarn - how tightly does it like to be knit? What kind of needles work best with its texture? Everything is new and exciting!
3. Early love. You can't wait to knit! If you aren't working on your project, you are thinking about it. You can't wait to keep knitting and seeing the item develop in front of your eyes. At the movies, at dinner, while you dream, all you can think about is that tricky border and that lovely texture. Your SO is afraid you're seeing someone else named 'Pearl,' because you say his name in your sleep. Life is gooood.
4. Monotony. You've figured it out. Now there's nothing new. Yes, this is exactly how it looked two rows ago, two days ago. Yes, you already know that after the green section of the yarn, the gray will come. Is there really a back to this thing, too? You look ahead at the pages of the pattern and can't believe that one measly sweater has four parts... and there's a collar, too? This is getting ridiculous. You contemplate making a placemat out of the intended scarf, a vest out of the sweater. You start hiding the project in non-transparent bags in hopes of forgetting it.
5. Cheating. You've had enough. Yeah, yeah, you loved it once, but the front took four weeks, and you're skilled at proportions, and adjusting for your serious lack of motivation you've calculated that the sweater will be done in... August?!? A wool sweater in the middle of summer? You roll your eyes. You're ready to feel something new on your needles, so in secret you surf the web for new project ideas and stop by your local yarn shop. You come home with a plastic bag and your project shoots you an angry glance. What? Oh that? It's nothing, just some stitch markers, hehe. There's no way you could start a new project while your unfinished one is looking at you, so back in the non-transparent bag it goes! The feel of new yarn and new needles is making you woozy. This is what's knitting is all about. Yes, you weren't intending to make cotton socks in the middle of winter, and, yes, you grabbed the first yarn which slyly winked at you at the yarn shop, but damn it, you needed a change! Isn't that a good enough reason?!? Shut up, brain. You need cotton socks. Now. In lawn green, thank you very much.
6. Reconciliation. You come running back. While cleaning the back of your closet, you come across a non-transparent bag and open it up against your better judgment. Ahh, that's what it is. Instead of being repulsed, you touch the fabric and suddenly remember why you started the project in the first place. Wow, the yarn is spectacular, and the color goes so much better with your skin tone than that hideous lawn green. And the design is so clever, that tricky border really makes the edges so interesting! You cautiously knit a few rows to see if your hands remember how to handle the yarn and pattern, then jump into it head first. The next thing you know, you've finished a sleeve in one evening. You are on your way to being soul mates once again.
7. Nagging. Just... one... more... row! After your reconciliation, you knit like crazy. You don't stop to think and admire your work, you just knit until your wrists go numb. Your friends haven't seen you in a few weeks, but that's okay because you've just got a few more inches to work. But exactly when it's almost over, it seems your needles have been paralyzed. The project just sits there, laughing at you. You force yourself to knit the same way you forced yourself to have that "bubble gum" flavored medicine as a kid. And nothing works. All of a sudden you can't remember the simplest of decreases and your seaming would allow passersby to discern the color of your lingerie. Utter frustration at the most inappropriate time. It's a battle between your brain telling you, "do it!" and your hands saying, "whateva!" You've included "ability to seam" in your prayers, never mind that it's the only thing in your prayers, you have never before prayed in your life, and that you've been a conscious atheist for the past 15 years.
8. Closure. You place the finishing touches. You already had the psychiatrist appointment scheduled, but somehow things have resolved themselves before you reached full-blown insanity. Seaming wasn't so bad after a few shots of vodka, and you decided that a turtleneck wasn't your style anyway, thus reducing your finishing work to a simple crewneck collar. You're glad that you added an extra inch to the length, and your perfect choice of style, color, and yarn even amazes yourself.
9. Admiration. It's everything you hoped it would be. Your project says, "Not bad, kid, I knew you could do it." "Thanks," you say, "we make a good team."
As for the lawn green cotton socks, that's another story...
Where are you right now in your knitting relationship? Me and my alpaca lace scarf are around stage 6 or 7. Which means we'll be admiring each other sometime soon :).
Posted by Kathy at 12:12 AM | Comments (1)
February 13, 2005
My whims on WIMs
As though I don't have enough planned...
Kristina brough the new copy of Interweave Knits to knitting group tonight and of course another work in mind has formulated in my head. Interestingly, the first thing that I noticed in the magazine was the advertisement for the new Adrienne Vittadini pattern book, but I'm not buying any more of her patterns until I make one from the pattern book I already have - let's see how well they fit me. Anyway, this also caught my attention: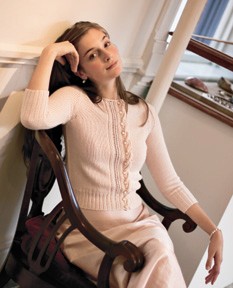 The pattern is called Vintage Pink Cardigan, and it's knit in light worsted/DK alpaca/silk blend.
Okay, it's gorgeous.
Here's the thing: I know I'd have to modify the pattern right off the bat. Cardigans never fit me because they come apart at the bust, so I'd either have to make extra increases or make short row darts or something. I would also consider making the sweater as is, and sewing the opening shut. This is what I do for all the blouses I own. What makes me even more doubtful is that this sweater, more or less, has an intricate design running vertically down the middle. I do not own any sweaters which are designed this way, so I have no idea whether this style would go to me. I know, I know, I should get myself to Macy's and try something like this on, then decide whether this project is worthwhile. And it's not like I don't have plenty of other works in mind!
Posted by Kathy at 07:32 PM
February 12, 2005
I got the third!
Other than swatching for the KnitPicks review, I have not knit one row this entire week. I've been busy with work-related stuff, sigh.
But look what the knitting fairy brought me a few days ago: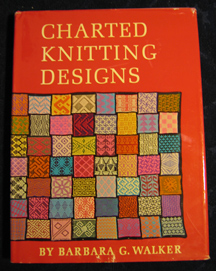 I got this out-of-print hardback edition on eBay, and it's in great condition. The dust jacket is a little worn and the pages are a bit yellowed from age, but it looks untouched otherwise. I paid $38, including shipping. This is a little more than what I paid for the first and second editions, but ... I wanted it! If you were the one bidding against me just seconds before the auction's end, I'm sorry. I did outbid you. I eBay a lot, and I know how to make sure I get the item if someone is also bidding at the last moment.
I take it back. I'm not sorry, I'm gleeful :-D. Now I got the first, second, and third out-of-print hardback editions of Barbara Walker's Knitting Treasuries. Woohoo!
Posted by Kathy at 05:36 PM
February 11, 2005
Clapo... NO!
I love the Clapotis. I have not made a Clapotis, but the design is SPECTACULAR. I'm a difficult person to please, and I don't dole out adjectives like 'spectacular' often. Kate Gilbert, are you reading this? You are brilliant for designing the Clapotis.
However, everyone and their mother is knitting a Clapotis. In particular, Betsy is making a gorgeous one. And everyone else is making one. And I'm sick and tired or reading about it... the Clap, Clapotwo, Clapothree, blah blah blah.
I'm taking a stand. I will knit something more original. I will not look like everyone else. I am my own boss! (insert Eric Cartman voice) I do wha' I want!
I feel what I feel when I think about Fun Fur. This is very sad, because the Clapotis is... spectacular. Sigh.
Posted by Kathy at 12:26 AM
February 08, 2005
Revisiting the AV sweater
I feel that the post where I talk about my new project, the Adrienne Vittadini sweater, needs a follow-up, since I've found a yarn to make it - woohoo!
The suggested Adrienne Vittadini yarn is completely out of my budget. I considered your suggestions, and surfed the web here, there, and everywhere, and here's what I was thinking. First, I very much like Karabella Aurora 8. This is a yarn I've seen at the LYS and have had the chance to touch. Very soft, plush, and some of the colors are right up my alley (#2, #5, #20... some others not carried at WEBS). However, it's still a bit too expensive and recently I ran into someone wearing a scarf made of it. Very interesting coincidence: the pattern for the scarf I'm currently knitting (halfway done, by the way) is written for Karabella Aurora 8. Anyway, I ran into a woman wearing it made from the suggested Karabella yarn and it looked completely deflated. Like a cotton sweater worn to death. No thank you! This one is out.
The second yarn I spotted for the aforementioned AV sweater is KnitPicks Andean Silk. The gauge is right on, and the content is incredibly similar to the suggested yarn called Martina. The color I would use is called 'sangria', a wine red that's not bad at all*. However, from my KnitPicks review below, I wasn't so crazy about the yarn. In contrast, KnitPicks Merino Style and Elegance yarns impressed me very much. With respect to Merino Style, 'hollyberry' and 'storm' colors went really well with my skin. As for Elegance, I really liked 'ash.' But to be honest, I really liked the Merino Style, and probably wouldn't go for Elegance at all. The gauge of both Merino Style and Elegance is different from what's recommended (recommended is 19 sts/4 inches, and these yarns are 22 sts/4 inches). However, considering I'm going to have to rework the entire pattern anyway, why not squeeze in a gauge change while we're at it?!? I don't even know why I buy patterns any more, I rework all the important details anyway.
So, at this point I'm pretty much poised to buy the Merino Style in 'hollyberry' for my sweater, and I will, pending one other thing: I might be going to WEBS in a few weeks. A knitting friend has invited me to go, and who knows what goodies I'll find there. If the goods are good, they will be bought**. I just hope they take credit cards, otherwise I'll have to stuff my pockets with wads of twenties and it won't be a pretty site :).
*For all these different yarns, I stand in front of the mirror and put the skein next to my face - that's how I decide whether the color will go with my skin tone or not. I'm very pale with a bluish tint (really), so many yarns just blend with my skin.
**Someone got her tax return and wants to strangle her accountant for way overestimating how much estimated tax she had to pay last year. But that's okay, because now I got it all back.
Posted by Kathy at 01:04 AM | Comments (1)
February 07, 2005
KnitPicks review
KnitPicks very recently came out with their own line of yarns. Since they do not sell color cards, I ordered a bunch of different ones, and here is my review: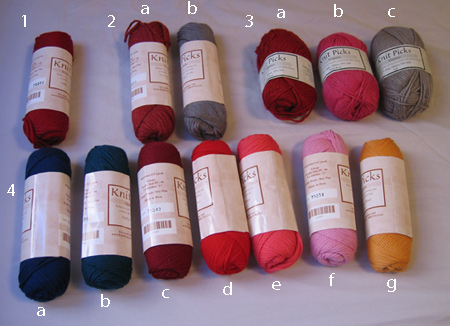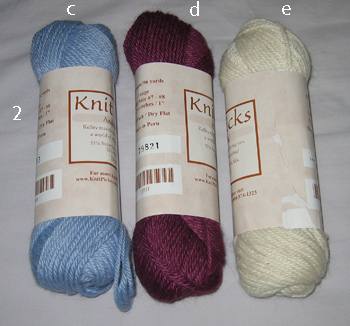 A note on color: All monitors differ, and the colors in the printed catalog differ, and my digital camera adds another source of variability. However, my monitor and my printed catalog are in decent agreement, and I have found that in real life, the yarn is in general lighter and brighter than the monitor/catalog. Some colors are very close to what's in the catalog, and others (rhubarb) couldn't have been further off.
1. Wool of the Andes: very nice basic wool. Yardage same as Peruvian Collection Wool from elann (110 yards per 50 g skein). Not super scratchy, would be good for outer garments, hats, mittens. Pretty tightly spun, would be good for cable work, open work. No halo. I only got one skein, the color is cranberry.
2. Andean Silk: disappointment. Something was off in making this yarn. Although the yarn is very soft, it seems scratchy to me. I do not think I would be able to wear it next to my skin. It is typical 'alpaca', and has those long, straight fibers sticking out, giving the yarn a halo (and probably a tendency to shed a little bit). The silk gives the yarn a nice sheen, and the individual plies of the yarn are clearly distinguishable because they are not spun together tightly. It is not as stretchy as wool yarns, and I think for that reason it might not make a great sweater, or even hat. On the other hand, I could see this yarn used for a scarf or a shawl. I think seeing the individual plies would distract from cable and open work, and I would bet the yarn would split easily, making it not the best candidate for such knitting anyway. Yardage is comparable to Adrienne Vittadini's Martina (96 yards in 50 g for KnitPicks, 109 yards in 50 g for Martina), although this yarn is much cheaper. The colors I got were: (a) barn red, (b) slate, (c) bluebell, (d) sangria, and (e) cream.
3. Elegance: Remarkably similar to Andean Silk, except this yarn is super soft and doesn't seem scratchy (I'll have to swatch to be sure). It has a halo, but none of the long alpaca fibers sticking out like the Andean Silk (or elann's Peruvian Collection Alpaca, for that matter). Again, doesn't seem as stretchy as wool (hello, it's alpaca, of course). Has a great sheen to it, individual plies are distinguishable, may not be the best for cable and lace work. The softest yarn of all the ones I ordered. Yardage same as elann's Peruvian Collection Alpaca, but this stuff is definitely softer and doesn't shed as much. Yardage much better than Debbie Bliss Baby Alpaca Silk, but I don't know how it compares in 'softness.' The colors I ordered were (a) barn red, (b) wild rose, and (c) ash. Ash was my favorite color.
Update! I've swatched this bad boy. Yummy and delicious.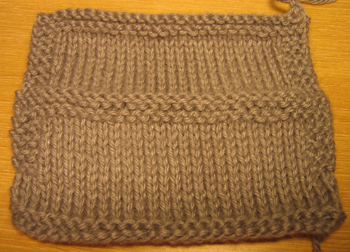 The silk content of the yarn definitely makes itself known - the swatch is smooth and slinky. Stitches are easily seen, as are the individual plies, even though there is a soft halo. Despite not having wool content, the fabric seems to be quite stretchy. I rubbed the fabric against each other (as hard as I would were I trying to get a stain out of cotton) and noticed some fuzzing. Uhm, I'm not sure if it was more or less than normal (?). Well, it didn't fall apart, how's that? :) My gauge on US 5 needles is 23 1/3 sts per 4 inches, and on US 6, it's 21 sts per 4 inches. Right in line with what KnitPicks predicts. Yes, this yarn is wearable against bare skin - I tucked the swatch under my shirt and was irritated to the same extent wool irritates my skin, which means for everyone else it will be fine. I wound the ball on my wool winder, and the yarn seems completely free of defects and irregularities.
4. Merino style: love it! Feels very nice. I expect to be able to wear it next to my skin, but I have to knit up a swatch first to be sure. Pretty tightly spun, no halo, would be good for cables and open work. Very soft, springy, does not appear like it would split easily. Yardage comparable to Patons Classic Merino Wool (50 g, 123 yards here versus 100 g, 223 yards for Patons). I got the following colors: (a) dusk, (b) storm, (c) hollyberry, (d) maple leaf, (e) rhubarb, (f) petal, and (g) harvest.
Update! I've swatched this bad boy. And I'm in love with this yarn.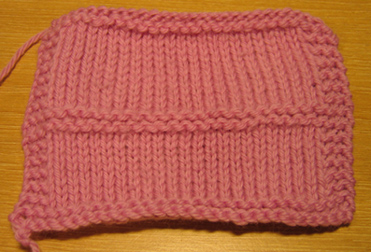 Just an all around great yarn. Very soft, flexible, slides smoothly on needles. Very nice stitch definition, and no halo. I think it would be great for a sweater, and it's definitely wearable against bare skin, determined the same way as Elegance. Oh! The end of the yarn that runs to the middle of the skein is gently tucked under the label - no more fishing for that end in the middle of the skein, only to pull out what seems like half of it! I did the rub test, just like with Elegance (I'm really quite vigorous, I have to "vigorously shake tubes" all the time at work), and I noticed some fuzzing and pilling. With Elegance, it was more of a fuzzing, here it's more of a pilling. But, gosh, I hope I'm not that vigorous when I actually wear the sweaters! The swatch did not fall apart, that's a good thing. My gauge on US 5 needles is 23 1/3 sts per 4 inches, and on US 6, it's 22 1/3 sts per 4 inches. Right in line with what KnitPicks predicts.
However, is there trouble in paradise?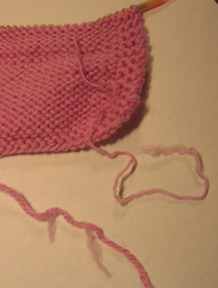 As I was swatching, I noticed that in two separate places within a few feet of each other, one of the yarn plies was torn! Gasp! So, after I was done with my swatch, I rewound the skein using my wool winder, and found no further problems. In fact, now I can testify that the color, yarn thickness, and tightness of spin are uniform throughout the majority of the skein. As I mentioned, Elegance didn't have any defects, so I'm going to guess that this was just a small defect in this one skein. By the way, I love this 'petal' color! Too bad it nearly matches my skin tone :(.
Here are the four yarns in similar colors close to each other: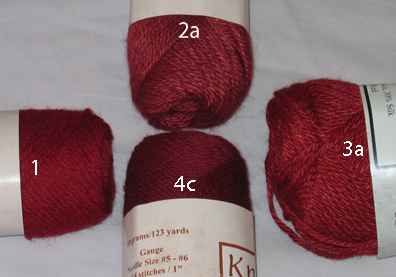 Conclusions: I might have a sensitivity to alpaca, just like to mohair, because I find it soft and itchy at the same time. The merino seems like a nice yarn for the price. Considering Elegance is only $1 more than Andean Silk, buy the Elegance. Rewind all yarn skeins and hanks before using them, to make sure there are no "surprises" hiding inside (I hope I'm not suggesting anything new here).
Posted by Kathy at 05:24 PM | Comments (2)
February 04, 2005
Tricotage
There is a wonderful word in Russian, 'tricotage.' The root is French: tricot means knit. In Russian, 'tricotage' refers to a fine knit fabric, such as the stuff used to make t-shirts. More often than not, 'tricotage' is cotton, very stretchy, and your sewing machine's worst nightmare.
I bought a long-sleeved shirt made out of 'tricotage' some time ago. Although its sleeves were three inches too long (you can see that on the mannequin) and it had an awkward ribbon tie in the front, I really liked the way it fit, so I decided to keep it and do some alterations. Oh, and it was on sale, that helped matters :).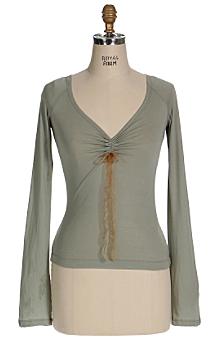 Here is where the sleeves came to when I bought the shirt: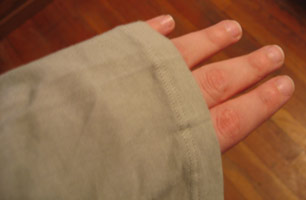 Pretty ridiculous.
My mom is a great seamstress, and my mom's uncle is a professional tailor, so I've grown up around fabric chalk and taking measurements and fancy sewing machines. However, I haven't used any of that equipment. Until now. Fabric chalk and brand new gingher scissors* in hand, I got to work.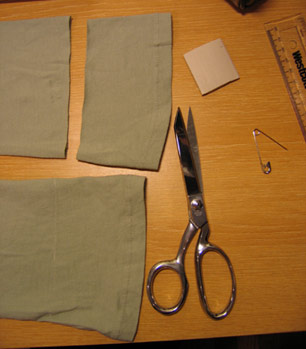 Sewing tricotage on a sewing machine is not trivial at all. It's very stretchy and it's therefore very easy to pull it too much when feeding it into the sewing machine. Plus, the sleeves of this tee are bell-shaped. Plus, I've used the sewing machine only once before (I still take out the manual to figure out how to thread it - yikes!). I will fully disclose that I had to baste the fabric into place and that it took me more than one try to be satisfied with the result, but I did it!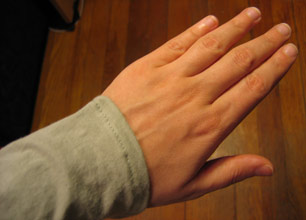 Ahh, the length is much better. And here's what it looks like on the inside - you can see the two rows of stitches: I made one small fold, then stitched, to secure the fraying, and then a bigger fold (followed by stitching) to make the edge.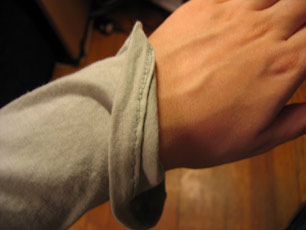 I took care of the ribbon tie by hand, leaving a small part of it in for scrunchiness, but sewing the openings shut and cutting the extra. Here's a photo of the finished product, modeled by yours truly (a little fuzzy, sorry):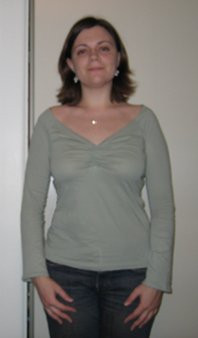 The first time I used a sewing machine it was to sew thin plastic to handknit fabric. And now tricotage. I really don't take the easy way out, ever :).
*The gingher scissors were a New Year's gift to myself. I got tired of using Fiskars, especially considering my pair is blunt, blunt-ended, and meant for cutting paper. I couldn't believe how sharp and smooth the ginghers were. I liked the full-metal construction and the feeling of weight in my hand. Wow. Talk about nice scissors!
Posted by Kathy at 09:48 PM
February 03, 2005
An interesting possibility
Through fluffa's website I came across this Russian knitter's website called Knit Your Own Karma. "Knitting Woman," that's what the owner of the website calls herself, has just completed a fabulous hooded pullover, and has included links to both pictures of it, and instructions. How is one supposed to knit this fabulousity? By knowing Russian, and translating the pattern, of course! My reading skills in Russian are questionable, at best, and my knowledge of knitting terms in Russian is non-existent, but I think with my mom's help, we could figure it out. Ooo, ooo, is this another project?
So far I have been able to ascertain the following: the tension is 12 sts and 15 rows/10 cm. This is bulky yarn, and the project would go quickly. Interestingly, the pattern calls for US 8 needles, and 'Knitting Woman' used US 7. So I guess it's bulky yarn knit pretty tightly. In the US, yarn like this would be worked on US 10-11, I think. The pattern is written in one size - 42/44. I'm not sure what this means, because I'm 100 cm around the bust (is that a size 50?), but also have European jackets which say 40 on the tag. Go figure! However, knowing the tension and that they ask to cast on 54 sts, this size will work for me!
Interesting possibilities :). Maybe I'll make it?
Posted by Kathy at 08:42 PM
February 01, 2005
Will someone wipe up my drool?
A friend from the about.com knitting forum posted this link to some absolutely gorgeous handpainted yarns. It's hard to pick a favorite, but I'm quite enamored with Little Cayman.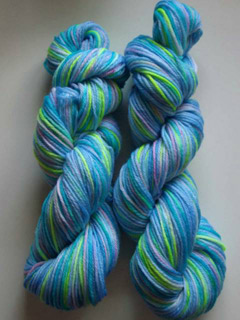 What's your favorite? And, please, pass a hankie, I need to wipe up my drool.
Posted by Kathy at 01:44 PM
alpaca meets lace
Now that grandma's socks are done, but I'm still researching the yarn for my Adrienne Vittadini sweater, I'm working on another exciting project.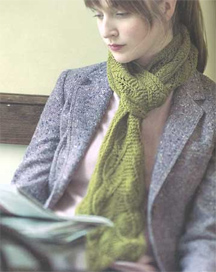 I first spotted the Backyard Leaves scarf when I borrowed Scarf Style
from the library. It didn't make a big impression on me at the time. Then I saw a sample scarf knit up at Woolcott, a local yarn shop, and was very impressed with the intricate design. I requested the book again from the library, ordered some yarn, and got started on Sunday.
The yarn I'm using is 100% alpaca from elann.com. It is sleek, slick, a little fuzzy, and unlike wool, not very stretchy. It reminds me of angora a lot, except not as itchy (I'm mildly allergic to angora). I picked out two colors, antique rose and raspberry, with hopes of keeping one and returning the other. However, I liked both colors so much that I decided to keep 'em both.
On Sunday I asked some fellow knitters which one would suit me better, and the group voted 'raspberry.' So I went ahead and cast on with the antique rose because despite their vote I realized that's the one I wanted to use :).
Working with this yarn is wonderful. It is so soft and buttery. It has great stitch definition, more defined than wool, I'd say. After working two repeats of the pattern, I think this alpaca will work well for the pattern.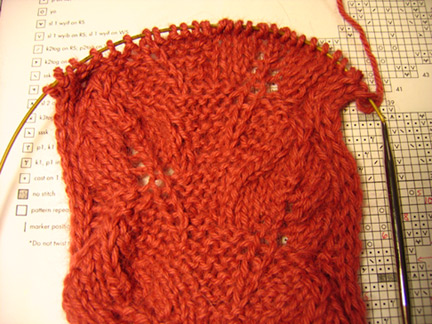 The pattern is complicated (16 different types of stitches are used), but not impossible. It has the most clever little border formed by a combination of slipped and knit stitches - compact, firm, very neat. Here's a close-up of one of the leaves: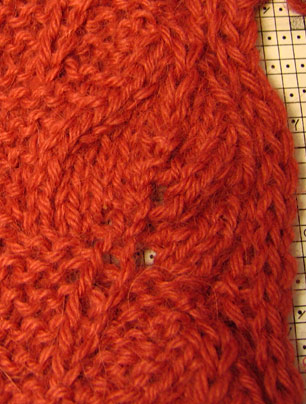 I think this will be an enjoyable project while I mull over yarn selection for the sweater :).
Posted by Kathy at 10:31 AM