« What's on my knitting needles? | Main | EZ videos »
January 20, 2005
Suggestions solicited
I've eyed me a sweater. I've made several baby sweaters, but this will be the first adult-sized sweater, and it will be for me! I saw an ad for the Fall 2004 Adrienne Vittadini pattern book, and fell in love with the one on the cover: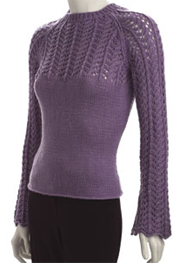 Isn't it pretty? I see only one modification I'd like to do: I want the lace to start approximately at armpit level.
The yarn used for the pattern is, of course, Adrienne Vittadini brand, called Martina. Martina is 70% merino wool and 30% silk, 11 wpi, 19 sts/4 inch on US7. One ball has 50 grams, 109 yards, and costs more than my rent... I mean, $15. I need 11 balls to complete the project (11 x $15 = $165). Ha! Not a grad student's stipend.
I am soliciting suggestions for an alternate. I already have two in mind, but I won't bias you. I would like the replacement yarn to be the same gauge, and either 100% wool or a wool blend (alpaca, cotton, silk, synthetic is fine; mohair and angora are no good). Lavender doesn't look good on a pale person like me, so I was thinking of making the sweater crimson/garnet/cranberry. Oh, and less than $80 would be great :).
I eagerly await your suggestions :).
Posted by Kathy on January 20, 2005 07:11 PM
Comments
To cut down on spam, comments are moderated. You may not see your comment right away, but rest assured that it's been received and will appear shortly. Comments are closed a few days after posting.