January 31, 2005
Grandmother's socks completed!
This Saturday I forced myself to sit still and knit in order to finish grandma's socks. Anything short of that wouldn't have worked :). I washed and blocked them overnight, and took photographs on Sunday (which, by the way, was a gorgeous winter day). And here they are, in various settings: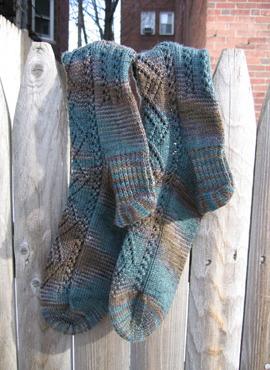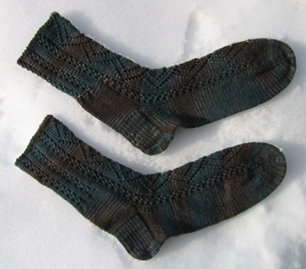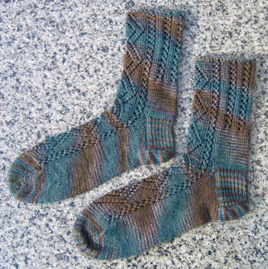 Because I wanted to make sure this pair of socks lasts longer than just a few months like the previous pair, I decided to add reinforcement thread into the soles of the socks. I couldn't very well hold the two together and knit because the yarn is handpainted, so I wove the thread in a manner one weaves in ends. Here's what the sole of the sock looks like on the inside: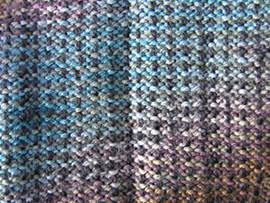 I mailed the socks to my grandma this morning, so Wednesday or Thursday I'll hear from her to see if she likes them :).
Posted by Kathy at 06:13 PM
January 28, 2005
Hello, precious!
Look what I got in the mail yesterday: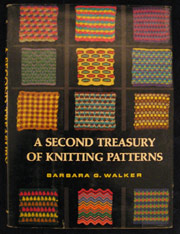 Barbara Walker's Treasuries are considered the best stitch dictionaries around, and I agree. The hardcover editions are out-of-print, and have to be hunted down as used copies on Amazon or eBay. I got this one on Amazon, and it's in excellent condition. The dust jacket is a bit worn, and the pages yellowed, but it looks untouched otherwise. It was a great bargain at less than $30 including S&H, and now joins the first Treasury (in similar condition, also from Amazon, also slightly less than $30) on my bookshelf.
I have not knit a row since Sunday. Grandma's socks are starting to drag and I want to finish them quickly. Sigh.
Posted by Kathy at 08:27 PM
January 23, 2005
Re-sizing, aka, grumble
Time for a little venting. Adrienne Vittadini sweater. Sizing. Grumble.
I took out a few of my favorite sweaters and measured their bust at underarm and length to shoulder. They are all a little different, but I think for my (soon to be) AV sweater, I want the bust to be 36.5-37", and length to shoulder to be 22-22.5".
Now it becomes complicated. The AV sweater pattern is written for 35, 39, 43, 47, 51" bust measurement. So already I'm going to have to adjust the width of the sweater. But this is not the biggest problem considering this: the sweater pattern is written for 23, 23.5, 24, 24.5, 25" length-to-shoulder measurements. Who are these people with such long torsos? (This isn't true of all AV patterns; others in the book are closer to my desired sweater length) Because the body of the sweater is shaped, it's not just a matter of making it shorter. I'm going to have to take some measurements and probably compare this sweater pattern to others in the book, and then make some serious adjustments. Grumble.
Grumble.
Posted by Kathy at 07:13 PM
January 22, 2005
EZ videos
I rented two "Knitting Workshop with Elizabeth Zimmermann" videos from the library, and really enjoyed watching them. She is such a cool cucumber, she doesn't make anything seem complicated. Cutting your knitting or making fancy seamless shoulder shaping is as complicated as casting on a stitch! I picked up a few interesting tidbits - she doesn't make a slipnot when she starts casting on, just like me! She purls using the Norwegian purl, and she knits very loosely. Fascinating. The videos were pleasantly homemade - she talks to Meg Swansen off-camera, drops needles and tangles her wool all the time. One of my favorite parts is when she is talking about putting pockets into sweaters as an afterthought, and just on a whim cuts the vest she's wearing to show how she would unravel the wool and put a pocket in there! She has a bit of "heretic" in her, and says "they said I wouldn't be able to put shoulder shaping into a seamless sweater, so I showed them" and "for whatever reason they wanted a seam down the side of a sweater, so I made a phony one." I like how she doesn't talk down to the person on the other side of the television, nor makes the lessons too cutesy and non-serious.
Posted by Kathy at 06:14 PM
January 20, 2005
Suggestions solicited
I've eyed me a sweater. I've made several baby sweaters, but this will be the first adult-sized sweater, and it will be for me! I saw an ad for the Fall 2004 Adrienne Vittadini pattern book, and fell in love with the one on the cover: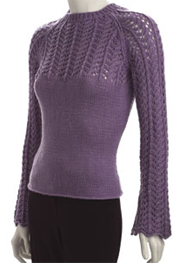 Isn't it pretty? I see only one modification I'd like to do: I want the lace to start approximately at armpit level.
The yarn used for the pattern is, of course, Adrienne Vittadini brand, called Martina. Martina is 70% merino wool and 30% silk, 11 wpi, 19 sts/4 inch on US7. One ball has 50 grams, 109 yards, and costs more than my rent... I mean, $15. I need 11 balls to complete the project (11 x $15 = $165). Ha! Not a grad student's stipend.
I am soliciting suggestions for an alternate. I already have two in mind, but I won't bias you. I would like the replacement yarn to be the same gauge, and either 100% wool or a wool blend (alpaca, cotton, silk, synthetic is fine; mohair and angora are no good). Lavender doesn't look good on a pale person like me, so I was thinking of making the sweater crimson/garnet/cranberry. Oh, and less than $80 would be great :).
I eagerly await your suggestions :).
Posted by Kathy at 07:11 PM | Comments (2)
January 18, 2005
What's on my knitting needles?
I have a few things brewing in the back of my head, but only one thing actually on my needles. I like to work on one thing at a time, I think because I like to finish something before I start the next thing.
I made a pair of socks for my grandmother back in October, and she loved them. They were sportweight with simple horseshoe cables, and came out great, if I do say so myself.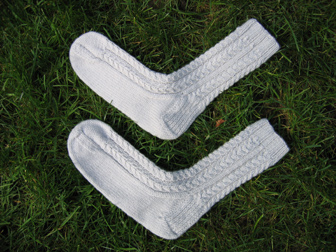 Grandma wore this pair of socks every day (my mom tells me), and they have pretty much disintegrated. So, granddaughter to the rescue! I'm making her another pair.
The pattern is from Knitting on the Road
by Nancy Bush, called New England.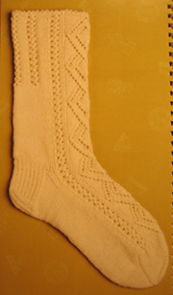 The yarn I'm using is Lorna's Laces Shepherd Sock. This yarn splits easily and is therefore a major PITA. But it makes a good-lookin' sock, I tell you that! Here's the wound ball of yarn and the beginnings of the first sock.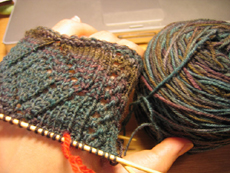 At this point I have finished the first sock, and have barely started the second. I want to be done soon so I can start the other projects in the back of my mind :).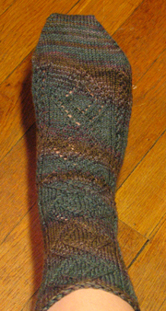 Posted by Kathy at 10:44 PM